Tools developer 3d-io has released Unwrella 4, the latest update to its UV unwrapping plugin for 3ds Max and Maya, adding new UV packing and UV projection systems.
The update – which is free to all existing users – actually shipped last month, but we only spotted it when 3d-io released a video tour of the new features, embedded above.
A well-established UV unwrapping solution
First released in 2008, Unwrella is a one-click solution for unfolding 3D models, intended to create an efficient, user-customisable UV layout, with minimal texture stretching.
UV seams are naturally generated along features of the model where they will be less noticeable, like grooves or ridges, but can also be placed manually for finer control.
The plugin comes with separate unfolding modes for organic and hard-surface assets, and the UV layouts generated are designed for use with game engines as well as in offline work.
3d-io memorably describes it as "the tool for bullshit jobs", streamlining routine texturing tasks for character design, game development and architectural visualisation.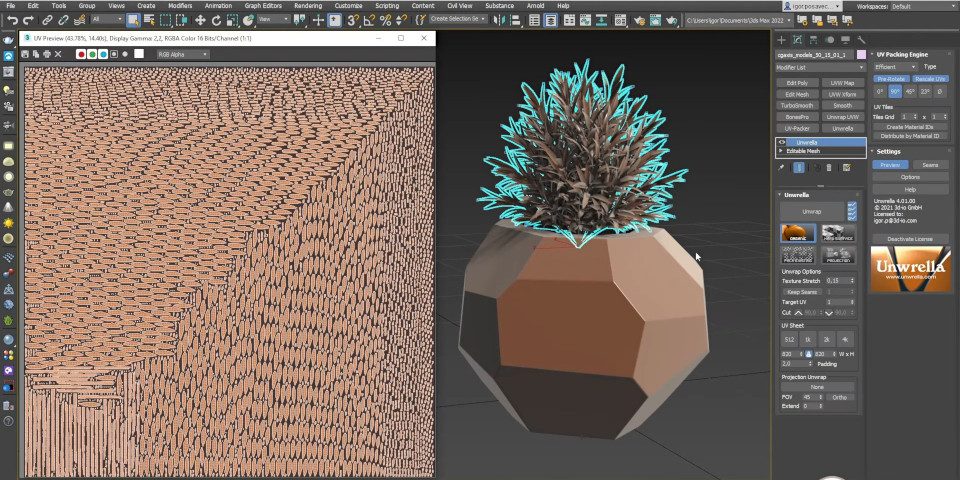 New in Unwrella 4: automated UV packing from UV-Packer
The main change in Unwrella 4 is the integration of UV-Packer, 3d-io's UV packing tool, now available free for 3ds Max and Blender.
It automatically arranges the UV islands of a 3D model to minimise wasted space, reducing total file sizes for sets of texture maps.
The system is resolution-independent – so packing times remain constant, regardless of the resolution of the textures – and supports tiled UV layouts, used in applications like ZBrush.
The UV-Packer technology is multi-threaded and, according to 3d-io, is capable of "crunching thousands of UV islands and millions of polygons in minimum time".
New Projection unwrap mode for objects only seen from one side
In addition, Unwrella gets a new Projection mode, joining the existing Organic and Hard Surface modes.
It is designed for situations in which only one side of an asset will be seen from the scene camera, and generates UVs only for the visible side of the mesh, saving UV space.
The release also updates the plugin's UI and makes "hundreds" of fixes and performance improvements.
Pricing and availability
Unwrella 4 is available for 3ds Max 2015+ and Maya 2015+, running on Windows only. The latest release, Unwrella 4.02, improves the accuracy of the new Projection unwrap mode
A new licence of either edition costs €149 ($185). The update is free to existing users.
Read an overview of the new features in Unwrella 4 on the product website
Tags: 3d-io, 3ds max, arch viz, architectural visualization, character design, character modeling, free update, game art, game development, hard surface, Maya, new features, organic, plugin, price, projection unwrap, system requirements, texturing, Unwrella, Unwrella 4, Unwrella 4.02, UV island, UV packing, UV projection, UV unfolding, UV unwrapping, UV-Packer, vfx, visual effects