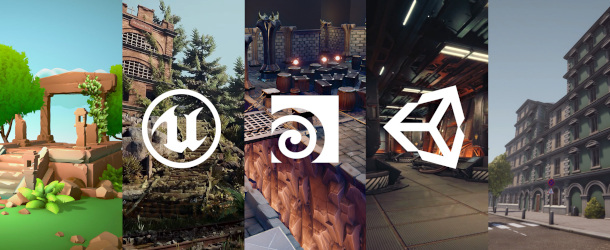 SideFX has made Houdini Engine for UE4 and Houdini Engine for Unity free to all users.
The plugins enable users to import edit procedural assets created in Houdini into Unreal Engine or Unity and edit them natively inside the game engine during game development or virtual production work.
The functionality was already free for artists or indie studios with revenues under $100,000/year via a Houdini Engine Indie licence.
Import and edit Houdini .hda assets inside other DCC applications and game engines
Houdini Engine enables artists to import procedural assets created in Houdini into other DCC applications, and edit them inside the host app.
SideFX develops connection plugins for 3ds Max, Maya, Unity and Unreal Engine – the one for Cinema 4D is no longer listed on its website – and studios can create custom plugins via the Houdini Engine API.
Unity and UE4 plugins can now be used free by large studios, not just indie artists
Today's announcement makes it possible for larger studios to use the Houdini Engine plugins for Unity and Unreal Engine for free on their commercial projects.
To use the plugins for 3ds Max, Maya or proprietary software, or to batch process Houdini renders or simulations on a render farm – another function of Houdini Engine – studios still need commercial licences.
Studios will also need a commercial licence of Houdini itself.
According to SideFX's FAQs, this "will be called upon 'under-the-hood' when the plug-in is processing assets. And then you need your licenses loaded into the license manager to make them available".
Pricing and system requirements
Free licences of Houdini Engine for UE4 and Houdini Engine for Unity can be accessed by installing Houdini 18.5.499+, which runs on Windows 8+, macOS 10.13+ and many Linux distros.
Studios can then get up to 10 free global floating licences online via the SideFX store; further licences are available on request.
Use of Houdini Engine with other software requires a paid licence, which costs $499/year for a node-locked licence, or $795/year for a floating licence.
Houdini itself costs between $1,995 and $6,995 for a perpetual licence, depending on which edition of the software you buy, and whether you need a node-locked or floating licence. Find full pricing here.
Read SideFX's online FAQs about how to get Houdini Engine for UE4 and Houdin Engine for Unity free
Tags: 3ds max, batch processing, Cinema 4D, FAQs, free, game art, game development, Game Engine, Houdini, Houdini 18.5, Houdini Core, Houdini Engine, Houdini Engine for UE4, Houdini Engine for Unity, Houdini Engine Indie, Houdini FX, indie artist, indie studio, Maya, price, render farm, SideFX, system requirements, UE4, Unity, Unreal Engine, virtual production