Sunday, December 13th, 2020

Posted by Jim Thacker
Get 75 free 3D plants suitable for North American forests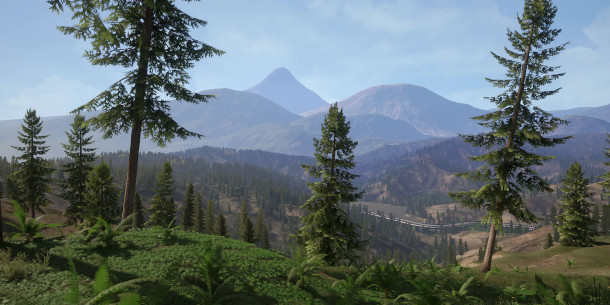 Epic Games has partnered with content creator DigitalTris to make 75 models of North American forest trees and ground plants free to download from the Unreal Engine store.
The Realistic Forest Pack forms part of Epic's free marketplace content for the month – which also includes 200 free grunge decals – and will be free until the end of December 2020.
Free plant models typical of northwestern North American forests, from trees to grasses
The Realistic Forest Pack comprises 75 digital plants: all species typical of northwestern North American forests, including Alaska cedar and quaking aspen, plus ferns, cattail, clover, grasses and flowers.
All of the plants are compatible with Unreal Engine's Pivot Painter tool and include PBR materials and procedural foliage volumes.
As well as the individual plants assets, the pack includes a 4x4km overview map with the plants distributed over terrain, plus a set of modular road and bridge parts.
The assets come with up to three LODs; texture resolutions range from 1,024 x 1,024px to 8,192 x 8,192px.
System requirements and availability
The Realistic Forest is available free via the Unreal Engine Marketplace during December 2020. It is compatible with Unreal Engine 4.22+.
The marketplace usage rights permit assets not created by Epic Games itself to be exported to other game engines and DCC software, although obviously, some features require UE4 to work.

Download DigitalTris' Realistic Forest Pack of 3D plants from the Unreal Engine marketplace