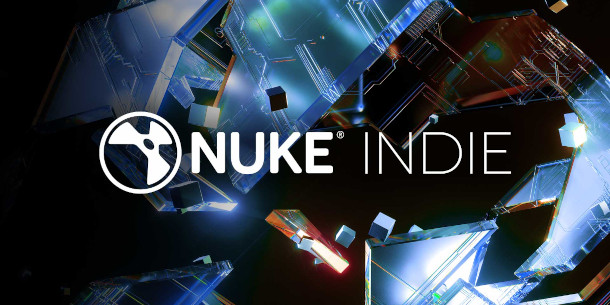 Foundry has released Nuke Indie, a new $499/year edition of the compositing software aimed at freelancers and artists starting up in business for themselves.
The new edition is based on Nuke Studio, and includes its editorial and review capabilities; and exports at resolutions up to 4K; but saves in its own file format and lacks full Python or plugin support.
Nuke Indie was announced during the company's Foundry Live events during what would normally have been the week of Siggraph 2020, alongside Nuke 12.2, NukeX 12.2 and Nuke Studio 12.2.
'Lightly restricted' but lacks many of the limitations of Nuke Non-Commercial
Nuke Indie fills a gap in Foundry's product line-up between the free Nuke Non-Commercial, aimed at people learning Nuke, and the full editions of the software, which start at just under $5,000.
In contrast to Nuke Non-Commercial, Foundry describes Nuke Indie as "lightly functionally restricted".
It includes features not available in the non-commercial edition, like the Primatte and Ultimatte chroma keyers, the WriteGeo node, the option to export LUTs and EDLs, and support for external video monitors.
The main remaining restriction is a lack of support for the H.264 video codec and AAC audio codec, although Foundry tells us that this is primarily a licensing issue.
Nuke Indie's maximum export resolution is also higher than Nuke Non-Commercial: 4K rather than full HD, although you can only render on a single machine, not via a render farm.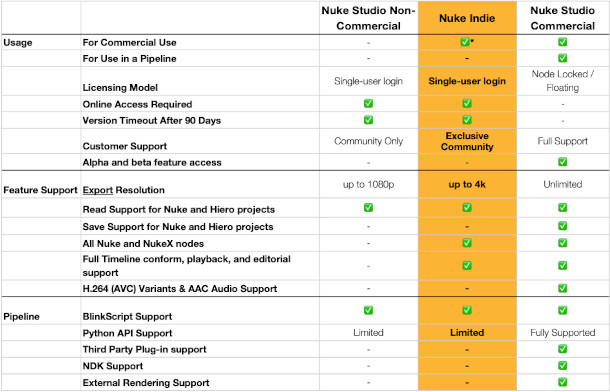 Designed for solo use, not pipelines
Nuke Indie is designed not to work in pipelines – you aren't intended to use it as a cheap extra licence – so it reads in files from commercial editions of Nuke, but exports in its own encrypted file formats.
Like Nuke Non-Commercial, it also lacks support for Python scripting beyond "small levels of automation", although BlinkScript is supported; and it lacks support for the C++ SDK or third-party C++ and OFX plugins.
Foundry told us that it was considering whitelisting key plugins like Mocha Pro in future, and that it was "looking forward to feedback" from users on the issue.
Intended – and priced – for serious commercial work
A crucial difference to Nuke Non-Commercial is that Nuke Indie can be used for commercial work, at least if you earn under $100,000/year: the same cut-off as for the Indie editions of 3ds Max, Maya and Houdini.
Like them, Nuke Indie is rental-only, although it's significantly more expensive: at $499/year, it's around twice the price of 3ds Max or Maya Indie.
It's also close to twice the price of a perpetual licence of the other main node-based compositor on the market: Blackmagic Design's $299 Fusion Studio.
Foundry told us that it feels Nuke Indie is "very affordable to the professional user", and that the price had been set as being equivalent to two days' earnings for an average freelance Nuke compositor.
As well as freelancers, the firm told us that it expected Nuke Indie to appeal to solo artists working on commercials, corporate video, episodic content for TikTok and Instagram, and even personal projects.
Pricing and system requirements
Nuke Indie is available for for 64-bit Windows 10, CentOS 7.4+ Linux, and macOS 10.14+. The software is rental-only, with subscriptions costing $499/year.
Use is restricted to artists with annual gross revenue of under $100,000/year, and is limited to one licence per user or organisation. It cannot be used in pipelines with other commercial Nuke licences.
In addition, users must not have held active maintenance or support to Nuke, NukeX, Nuke Studio or Foundry's Production Collective in the previous 36 months.

Read more about Nuke Indie on Foundry's website
Read Foundry's online FAQs on Nuke Indie
Tags: 3ds Max Indie, 4K, broadcast monitor, C#, commercial use, comparison table, compositing, conforming, Editorial, encrypted file format, export, FAQs, Foundry Live, freelancer, Fusion Studio, Houdini Indie, licence conditions, limitations, Maya Indie, node-based, nuke, Nuke 12.2, Nuke Indie, Nuke Non-Commercial, Nuke Studio 12.2, NukeX 12.2, OFX, plugin, price, Primatte, Python, resolution, resolution limit, restrictions, scripting, SDK, shot review, Siggraph 2020, solo artist, system requirements, timeline, Ultimatte, WriteGeo