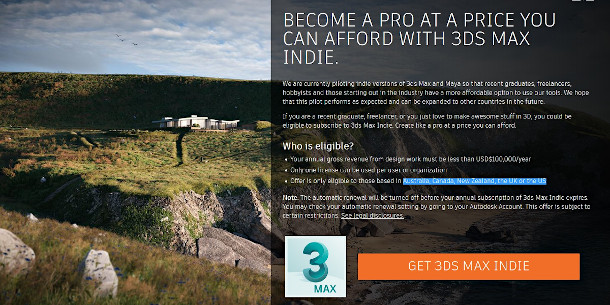 Updated: Autodesk has now rolled out 3ds Max Indie and Maya Indie worldwide. Full details here.
Autodesk is to roll out 3ds Max Indie, its $250/year subscription to the 3D animation software for artists earning under $100,000/year, to a wider range of countries.
The company hasn't announced a timescale for the worldwide rollout, but said that the Indie subscription had now "gone beyond a pilot program".
Use the full version of 3ds Max for $250/year
Launched last summer, 3ds Max Indie provides users with a gross annual revenue from design work of under $100,000/year with a single licence of the full version of the software.
The program, which was initially described as a "limited-time offer", is currently only available in Australia, Canada, New Zealand, the UK and the US.
During the Q&As following last week's livestream to mark the release of 3ds Max 2021, Chip Weatherman, Autodesk's chief product owner for 3ds Max, said that Autodesk "will be putting it [3ds Max Indie] out worldwide at some point".
You can hear the relevant section at 01:58:40 in the recording of the livestream.
Autodesk hasn't announced a timescale for the wider rollout, or whether it will also apply to Maya Indie, Autodesk's equivalent subscription program for Maya users.
Pricing and system requirements
3ds Max Indie is available for Windows 7+. Licences are available on a rental-only basis to users earning under USD $100,000/year, with subscriptions costing around $250/year.
The exact figure varies between countries in which the Indie program is currently available: Australia, Canada, New Zealand, the UK and the US. In the UK, it's currently just under £290/year.

Visit the 3ds Max Indie offer page
Tags: $250/year, 3ds max, 3ds Max Indie, autodesk, conditions, freelancer, indie artist, indie pricing, Maya, Maya Indie, offer, pilot program, price, release date, restrictions, subscription, system requirements, worldwide