Adobe has previewed an interesting new AI-driven system for generating 3D materials from single source photos during a livestream on its 3D and AR products.
The toolset, codenamed 'Materia', will be available in the next release of Substance Alchemist, Adobe's material-authoring software – Substance Alchemist 2.2, if the firm sticks to its current version numbering.
The technology will also be integrated into Capture, Adobe's free iOS and Android app for capturing looks, materials and patterns from photos taken on mobile devices.
New AI-based system de-lights source images and generates accurate normal and height maps
Although both Alchemist and Capture have existing toolsets for generating materials from source images based on old standalone tool B2M (Bitmap2Material), Materia promises to be a smarter alternative.
It automatically de-lights colour textures, removing shadows and highlights from the source image.
As a result, Materia should distinguish correctly between dark areas of the source image caused by ambient lighting, and those caused by colour variations in the surface.
The algorithm – which has been trained on photogrammetry data sets using machine learning techniques – also generates much more accurate normal and height maps.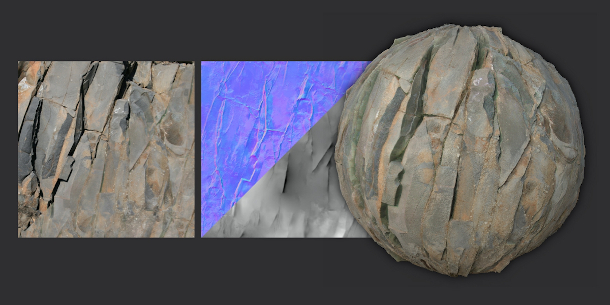 As evidence of the quality of its output, Adobe showed the image above, described by product manager Jérémie Noguer as "probably the worst [hardest] example you could find".
A second demo image showed Materia recreating tufts of grass from a photo of a ground surface.
According to Adobe, Materia works with "pretty much anything", although it needs more testing with images of fabric – a popular request in the audience Q&A at the end of the livestream – as the algorithm was not trained using images with transparency.
Pricing and availability
Adobe hasn't announced a release date for Substance Alchemist 2.2, although the update is due in the "next couple of months".
The current release, Substance Alchemist 2.2, is available for Windows 8+, CentOS 7.0/Ubuntu 16.04 Linux and macOS 10.12+.
Subscriptions to all of Adobe's Substance tools cost $19.90/month or $219/year for artists and studios earning under $100,000/year; and $99.90/month or $990/year for other users.
Capture CC is available free for Android 7.0+ and iOS 11.0+. Adobe plans to incorporate the Materia technology into the app "by the end of the year".

Visit the Substance Alchemist product website
Read a full list of new features in Substance Alchemist in the online release notes
Tags: Adobe, Adobe Capture, AI-based, AI-driven, B2M, Bitmap2Material, convert photo to PBR material, convert single image to 3D material, machine learning, Materia, material authoring, material creation, new features, Photogrammetry, price, release date, Substance, Substance Alchemist, Substance Alchemist 2.2, system requirements