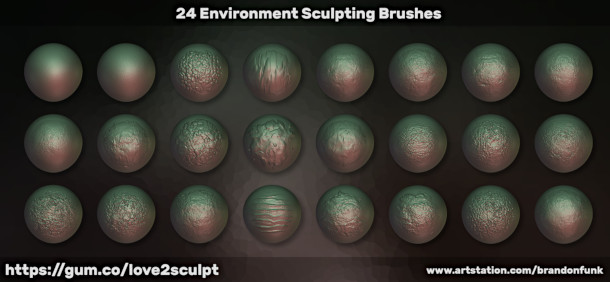 3D artist Brandon Funk has released a free pack of 24 environment sculpting brushes, spanning a range of natural and man-made materials.
The brushes, which include asphalt, cobble, dirt, rubble, mud, plaster, rock, sand and vegetation, are designed for Blender, and are provided in a single .blend file.
However, the download also includes the source images, so it should be possible to use them with any sculpting application that can handle alpha textures in PNG format.
The files are available through Funk's Gumroad store via the link below: the download itself is actually a text document with the URL of a Google Drive containing the files.
Download 24 environment sculpting brushes from Brandon Funk's Gumroad store
(Enter a figure of $0 to download them for free, or make a voluntary donation)
Tags: alpha, asphalt, Blend, Blender, Brandon Funk, cobblestone, dirt, download, free, ground texture, mud, plaster, PNG, rock, rubble, sand, sculpting brush, straw, vegetation