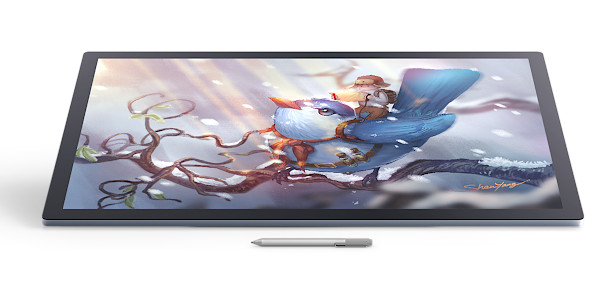 Autodesk has made SketchBook, its professional digital sketching software, available free on all platforms: Windows and Mac desktops and Android and iOS mobile devices.
The company will continue to sell paid-for Enterprise licences for studios needing multiple seats of SketchBook, and says that the software will continue to be developed.
A robust sketching tool with roots in professional concept design
Originally developed by Alias, and acquired by Autodesk along with Maya, the software began life as SketchBook Pro, a streamlined sketching tool aimed at concept artists and product designers.
Over time, it evolved into a more general-purpose package for sketching and illustration, with Autodesk introducing a consumer edition and mobile versions, and eventually dropping the Pro edition entirely in 2017.
By the time SketchBook 4.0 for iOS and Android were released last year, the desktop version was rental-only, with a subscription to the entire product family costing $29.99/year.
The mobile apps were free, though it took an in-app payment of $4.99 to unlock the pro tools.
Still being developed actively, at least for enterprise users
Although SketchBook is now free to individual users, Autodesk continues to offer enterprise licences of the software, aimed at studios that need multiple seats of the software, for $85/year.
According to the company's FAQs document, SketchBook is "not being retired" and will continue to be developed "to enable designers, architects, and animators to capture conceptual art and designs".
While "not all functionality" will end up in the free edition, users will "continue to enjoy the robust capabilities of SketchBook and benefit from ongoing enhancements, free of charge".
Streamlined design workflow and well-regarded mobile editions
Those robust capabilities include the standard features you would expect in a professional tool: a choice of natural media brush types, image-editing tools, layers, tablet support and PSD export.
Recent reviews praise the software's shallow learning curve, contextual interface, and streamlined workflow.
The mobile editions are also well regarded, with both Android and iOS editions currently outscoring Adobe's Photoshop Sketch on Google Play and the Apple App Store.
Availability and system requirements
SketchBook 8.6 is available for Windows 7+ (there is a separate Windows 10 edition) and macOS 10.12+. The mobile editions are available for Android 4.0.3+ and iOS 10.0+, and are version 4.1 and 4.3, respectively.
The desktop versions are free to download. To use them for longer than seven days, you'll need an Autodesk ID, although you can register for one for free. The mobile versions can be installed in the usual way.
Updated 6 February 2018: Autodesk has released an update removing the need to log into an Autodesk account to use SketchBook, making it possible to use the software without an internet connection.
If you're an existing subscriber, your payments should stop automatically for the desktop and iOS editions, although you'll need to cancel your Google Play subscription manually.

Read Autodesk's FAQs about the decision to release SketchBook for free
Download the free Windows and Mac desktop versions of SketchBook from the product website
Tags: Android, autodesk, Concept Art, concept design, digital painting, download, free, illustration, iOS, Mac, macOS, SketchBook, SketchBook 4.1, SketchBook 4.3, SketchBook 8.6, sketching, system requirements, Windows