Originally posted on 25 June 2021. Scroll down for news of the price changes.
Autodesk has spun off SketchBook, its digital sketching software, to a new company, Sketchbook Inc.
The apps will continue to be available from the Apple, Google and Microsoft app stores, where they can currently be downloaded for free, but delivered by their new owners.
Another change of owner for the veteran digital sketching software
The spin-off marks the latest change of ownership (and name: it has now lost the capital 'B') for Sketchbook, which was orignally developed by Alias and acquired by Autodesk along with Maya in the 2000s.
At Autodesk, it went through a number of further changes in format and pricing, eventually ending up in 2018 as a free app for Windows, macOS, Android and iOS, with a separate commercial Enterprise edition.
After that, things seemed to stagnate: the last update to the desktop version was in 2019, which was to remove the need to log in to use it, although the mobile editions were updated more recently.
The app's social media accounts also went silent, with tweets from Sketchbook pausing in December 2020.
Now developed by the people 'who built and evangelized' the brand
This week, Autodesk broke that radio silence to announce that development of Sketchbook has been taken over by a new independent company, Sketchbook Inc.
"While we value SketchBook and feel an obligation to the community … we also recognize that much has changed at Autodesk," wrote Autodesk VP for automotive, concept design and XR Thomas Heermann.
"After careful consideration and evaluation, we found the perfect home for SketchBook with a company formed by people who previously built and evangelized the SketchBook brand."
The new firm is headed by CEO LeeAnn Manon and chief product officer Chris Cheung: both Autodesk veterans, although neither was working for the company at the time of the spin-off.
Cheung was previously part of the SketchBook Pro product team at Autodesk, before going on to head up work on Mischief, Foundry's now-discontinued digital sketching software.
"The plot has suddenly thickened," he posted on LinkedIn earlier this week. "If fantasy, industry folk lore, and the state of current affairs have taught me anything, it is that under the right conditions, at specific points of time and space, indeed, anything is possible."
The announcement has come as welcome news for many veteran Sketchbook users, with concept artist and illustrator Richard Yot describing it on the Foundry forum it as "my favourite drawing app of all time".
New updates planned, but no real details yet
The Sketchbook apps – Sketchbook Pro for macOS and Sketchbook for Windows, Android and iOS – are currently in the process of being moved from Autodesk to Sketchbook on the corresponding app stores.
All Some are currently still available for free and, with Autodesk having ended sales of the commercial version earlier this year, there's no information on how the new owners plan to fund development.
Sketchbook says that is has "a roadmap of updates planned, many of which are based on requests from Sketchbook users. And some new ideas too, which we look forward to sharing soon".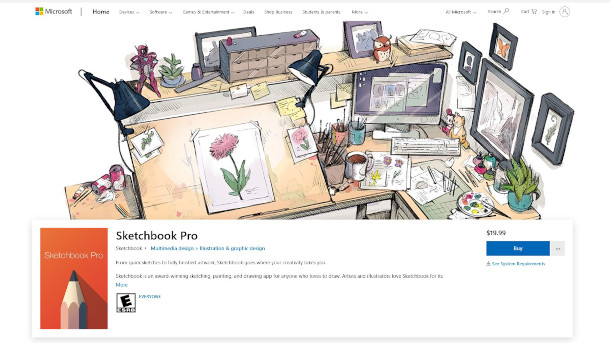 Updated 14 July 2021: Sketchbook has answered the question of how future development will be funded by making the desktop editions of the software paid-for products.
Both the Windows and macOS editions of Sketchbook Pro now cost $19.99: not free, but by the standards of professional graphics tools, not that expensive either.
Sketchbook has also ruled out a subscription model, so the software is a one-off purchase. You can read more about the firm's future plans in its new online FAQs.

System requirements
Sketchbook Pro is available for Windows 10 and macOS 10.11+. New licences cost $19.99.
Sketchbook is currently still available free for Android 5.0+ and iOS 11.0+.

Read Autodesk's announcement that Sketchbook is being spun off to an independent company
Visit the Sketchbook product website
(Includes links to downloads)
Tags: Android, autodesk, Chris Cheung, Concept Art, concept design, development plans, digital painting, digital sketching, download, FAQs, free, illustration, iOS, iPad, LeeAnn Manon, macOS, Mischief, perpetual licence, price, product roadmap, SketchBook, Sketchbook Inc, SketchBook Pro, subscription, system requirements, tablet, Windows