Monday, March 26th, 2018

Posted by Jim Thacker
IKinema unveils Project Studio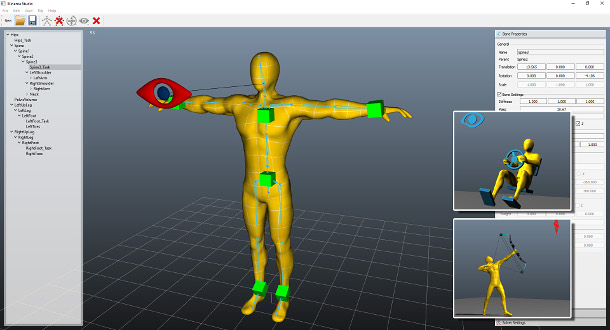 IKinema has announced Project Studio, a new framework aimed at game, mixed reality and virtual production work that lets users mix and match tools from its existing mocap data processing products.
The product, which is due to ship later this year, was first shown at GDC 2018 last week.
A 'growing overlap' between games and animation production tools
According to IKinema, the new framework is its response to the "increased demand for interchangeable high-performance 3D animation tools" across a range of industry sectors.
"We're seeing a growing overlap of industries requiring the same [tools] to power virtual animation projects," said IKinema technical director Ahmed Elhasairi. "It makes sense [to give users] flexible software choices."


Mix and match toolsets from Action, LiveAction and RunTime
The new Project Studio app lets users mix add-ons from IKinema's other products: Action, its mocap data cleaning and processing plugins, its LiveAction virtual production toolset, and its RunTime middleware.
As a use case, IKinema suggests combining RunTime's core rigging capabilities with the foot planting, penetration correction and data filtering tools from Action for virtual reality projects.
Rig settings are exported in IKinema's .ikn file format, which provides a two-way bridge to IKinema's run-time SDK, which integrates with a range of common game engines, and provides the core solving capabilities.
IKinema has confirmed that the individual products will remain available after Project Studio launches, but not whether there will be a cost saving to using the new framework over buying them individually.
Pricing and availability
Project Studio is currently in beta, with an estimated release date of Q3 2018. Anyone interested in testing it should contact the company directly. IKinema hasn't announced any pricing details yet.
Read the full announcement on IKinema's blog