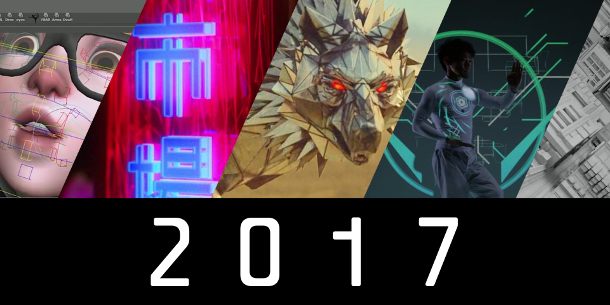 Last January, we posted a list of the 10 best visual effects breakdowns of 2016, as selected by our Facebook followers. It proved to be so popular that we thought we'd do the same this year.
Below, we've taken the breakdown videos that got the most interactions on the CG Channel Facebook feed during 2017, and divided them into 10 categories, from blockbuster movies to student projects.
We've spread the net wider than we did last year, so as well as visual effects, this year's list covers feature animation, motion graphics and – courtesy of the year's most-viewed breakdown – even projection mapping.
It goes without saying that all the CG on display is excellent, but bear in mind that this isn't a rundown of the biggest or best movies or TV shows of 2017: it's a run-down of the best breakdowns. Editing, presentation, and the quality of the making-of material on display all count for a lot here, too.
For a daily selection of animated shorts, cinematics, demo reels and R&D tests, follow us on Facebook or Twitter. But to discover the 10 best VFX and animation breakdowns of 2017, read on…
Best Movie Breakdown (Visual Effects)

Title: Doctor Strange | VFX Breakdown | Luma
Studio: Luma Pictures
Bending time, space and the audience's minds in equal measure, the big-screen debut of Doctor Strange, Marvel's surgeon-turned-sorceror, received a deserved nomination for Best Visual Effects at the Oscars.
Framestore and ILM also posted amazing making-of videos, but it was Luma Pictures' breakdown of its 200 VFX shots, particularly the kaleidoscopic opening London sequence, that really captured viewers' attention.
Tech notes: The London sequence was animated in Maya, with Luma creating new tools to preview the complex fractal geometry in the viewport, hand keying the motion to match that of 14 digi-doubles.
Read more about the making of Doctor Strange on Luma Pictures' website
Best Movie Breakdown (Animated Feature)

Title: KINGSGLAIVE: FINAL FANTASY XV | Breakdown Reel | Image Engine
Studio: Image Engine
Square Enix's animated feature based on the world of Final Fantasy XV divided opinion: critics panned the plot and characters, but praised the visuals for their beauty and "exceptional … level of realistic detail".
Nowhere is this more apparent than the climactic 23-minute battle sequence, created from start to finish by Image Engine, in which "Godzilla-sized" knights destroy a walled city. Carnage never looked so beautiful.
Tech notes: The CG city was assembled procedurally, with hero buildings placed by hand in Maya and destroyed using Houdini. Reference character animation was recorded using Xsens' MVN mocap suits.
Read more about the making of Kingsglaive: Final Fantasy XV on Image Engine's website
Best Broadcast Breakdown

Title: Game of Thrones – Season 7 – VFX Breakdown
Studio: Mackevision
As with last year, HBO fantasy epic Game of Thrones dominated our list of most-watched broadcast effects videos, including two excellent breakdowns of the CG dragons from El Ranchito and Image Engine.
However, it was show veterans Mackevison's work that got the most views, with its team of 40 VFX artists contributing 116 shots, from background architecture to stunning full-CG pitched battles.
Tech notes: Mackevison worked in 3ds Max, Houdini and – for the first time on Season 7 – Maya, using Golaem for crowd simulation. Rendering was done in V-Ray, making heavy use of the proxy system.
Read more about the making of Game of Thrones Season 7 on Mackevision's website
Best Commercial Breakdown

Title: Pepsi Arabia 'Hand in Hand, We Can' – Making Of
Studio: Glassworks Barcelona
As ever, the commercials category was hotly contested, with Mikros Image, Nki and Psyop all posting eye-catching breakdowns of new projects, along with last year's winners, Spellwork Pictures.
Top place went to Glassworks for Pepsi's 'Hand in Hand, We Can' campaign, showing six Saudi Arabian sports personalities facing CG obstacles ranging from wolves made of mirrors to giant wrecking balls.
Tech notes: Cinema 4D was used for a range of tasks, from animation and dynamics to crowd replication. Jawset's TurbulenceFD plugin was used for smoke and fire, and Arnold for look dev and rendering.
Watch breakdowns of more of Glassworks' ads on the studio's website
Best Game Cinematic Breakdown


Title: Animating Mei's Frosty
Artist: David Gibson
Studio: Blizzard Entertainment

Animator David Gibson was already well known for his tech breakdowns by the time he joined Blizzard, having previously posted a 10-minute video of his work on Evolve, Turtle Rock Studios' monster shooter.

This video, recorded for the Blizzard Museum, takes a similarly detailed approach, using 16x timelapse to compress all of Gibson's work on Overwatch character Mei's highlight intro into four minutes of screen time.

Tech notes: All of Gibson's work was done in Maya. The character was designed by Arnold Tsang, modelled by Renaud Galand and rigged by Dylan Jones, who also contributed workflow tools along with Lan Fang.

Watch more of David Gibson's process breakdowns on his Vimeo channel

Best Title Sequence or Ident Breakdown


Title: MAKING OF – Go Short Film Festival 2017 video ident and trailer – Don't Blink
Artist: Douwe Dijkstra

Visual artist and director Douwe Dijkstra's work for Nijmegen's Go Short international film festival isn't the most CG-heavy title sequence we featured this year, but it's certainly the most immersive.

His wonderfully imaginative trailer thrusts the viewer into the body of a festival-goer: an approach carried over into the making-of, showing the greenscreen shoot – and even the roto work – entirely in first-person.

Tech notes: The source footage was shot on a Sony FS7 professional 4K camcorder and edited in Premiere Pro, with compositing and effects handled in After Effects.

Watch more breakdowns of Douwe Dijkstra's work on his website

Best Motion Graphics Breakdown


Title: GHOST IN THE SHELL – REEL
Artist: Ash Thorp

The winner of the next category isn't a conventional motion graphics project, but it is by a contemporary master of the art: Ash Thorp's compilation of his work for the live-action remake of Ghost in the Shell.

A dazzling montage of imagery, ranging from semi-abstract experiments to final assets used in the film, the resulting reel crystallises the movie's dreamlike, neon-drenched aesthetic into three minutes of visual magic.

Tech notes: They vary greatly in style, but most of the in-software shots show Cinema 4D and OctaneRender, with a bit of After Effects thrown in, including the Magic Bullet Suite plugins.

Read more about the making of Ghost in the Shell on Ash Thorp's website

Best Real-Time Project Breakdown


Title: EXISDANCE – Real time tracking & Projection mapping
Director: Hayato Ando

The year's overall most-viewed breakdown was also one of its least conventional: a live-action dance piece, created in collaboration between Panasonic and Japanese creative agency P.I.C.S.

Alternately fluid and robotic, the project uses real-time projection mapping both to create a shifting digital backdrop for Japanese dancer Kikky and to transform his white-clothed body into a screen in its own right.

Tech notes: The project uses a mix of proprietary and off-the-shelf tech. Panasonic projectors, controlled by engineer Paul Lacroix's 3D tracking technology, project a stream of 'video textures' and 3D graphics.

Read more about the making of Exisdance on P.I.C.S.'s website

Best Technical Reel


Title: Rigging_Demo_Reel_2016
Artist: Deng Zhenggang

The year's most viewed tech reel from an individual artist came from Deng Zhenggang, then at Oriental DreamWorks – Li from Kung Fu Panda 3 pops up on it at one point – but now working at Mikros Animation.

An engaging collection of technical experiments, the reel includes an animation picker designer and a full-body muscle system, but the highlight is the exquisitely expressive cartoon facial rig shown at the start.

Updated: The original opening image for this article included a still of Li from Kung Fu Panda 3, but Zhenggang tells us that while he worked on the character, he didn't develop that particular facial rig.

Tech notes: The facial rig and the muscle system are both implemented inside Maya. The animation picker designer is proprietary software.

See more of Deng Zhenggang's work on his Vimeo channel