Friday, December 15th, 2017

Posted by Jim Thacker
Autodesk discontinues Stingray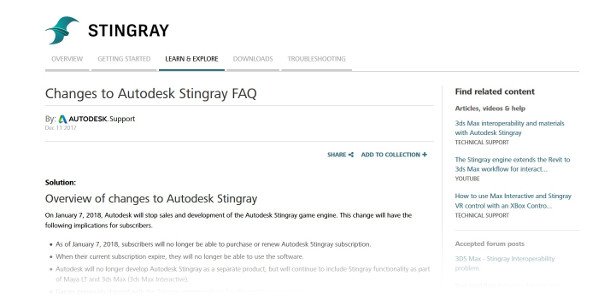 Autodesk is to stop sales and development of its Stingray game engine from January 7 2018.
The software will continue to be bundled with Maya LT, and users will still receive tech support, but no new features will be added, and product functionality "cannot be guaranteed after January 7".
Dropped in favour of greater collaboration with Unity and Unreal Engine
The news that Autodesk is to discontinue Stingray comes just two and a half years after its launch.
While the the engine survived the company's cull of its other games middleware earlier this year, that proved to be a temporary stay of execution, given Autodesk's recent round of job cuts.
From the start, Stingray faced tough competition from more established free game engines: something Autodesk acknowledges in its FAQs document about the decision.
"Our customers are increasingly standardizing on two game engines, Unity and Unreal Engine, for both games and VR/AR authoring," it states. "Both engines have built extensive content and resource ecosystems for developers to leverage. We feel we can better serve our customers by working more closely with Unity and Unreal Engine rather than trying to develop our own alternative."
The last release of the engine, Stingray 1.9, will continue to be bundled with Maya LT, Autodesk's game-dev-focused edition of Maya – "for now", at least – but there will be no further updates.
Implications for 3ds Max Interactive
When Autodesk first acquired the technology that would become Stingray from game developer Bitsquid, back in 2014, it also pitched the technology at architectural visualisation, not just game development.
Accordingly, 3ds Max 2018.1, released earlier this year, introduced 3ds Max Interactive, a new "VR engine" with Stingray "at its core".
Although 3ds Max Interactive got an update last week to accompany the release of 3ds Max 2018.4, the new features were largely those from Stingray 1.9.
Autodesk's FAQs don't state explicitly state whether 3ds Max Interactive will itself see any future updates, but we've contacted the company and will update when we hear back.
Updated: Autodesk told us: "Like any feature, [3ds Max Interactive] will be developed based on usage and user feedback. As a public company, we can't reference roadmap specifics."
Read Autodesk's FAQs document about its descision to discontinue Stingray