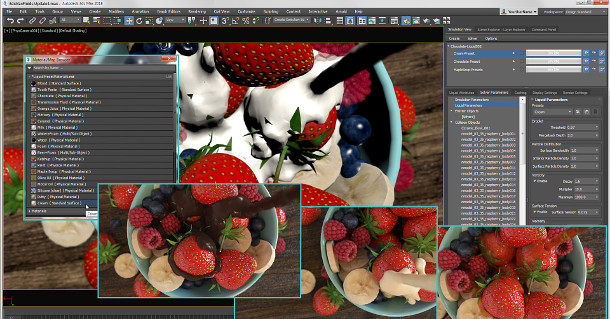 Autodesk has released 3ds Max 2018.4, the latest update to the 3D modelling and animation software, extending its new Fluids simulation toolset and making 3ds Max Batch a standalone executable.
The firm has also released 3ds Max Interactive 2.0, an update to the version of its Stingray game engine aimed at architectural visualisation work, and now bundled with 3ds Max subscriptions.
Fluids toolset gets new options for iterating simulations, presets for common liquid types
The main changes to 3ds Max itself affect the Fluids simulation toolset introduced in 3ds Max 2018.3
The toolset, which is based on the same technology as Maya's Bifröst – see the differences here – creates art-directable simulations of liquids of a range of viscosities, and can export the results as Alembic meshes.
To that, 3ds Max 2018.4 adds new functionality for iterating on simulations, including the option to use the result of one sim as the starting point of another.
The functionality, also introduced in Maya earlier this year, is useful in situations that need a 'run up' – for example, for water to reach the bottom of a waterfall.
The update also introduces the option to project UVs directly onto the liquid volume, and to export data in Krakatoa's PRT format directly from the context menu of a selected solver.
In addition, there are now presets for common types of liquid, including milk, honey, oil, blood and chocolate.
Changes to 3ds Max Batch and Scene Converter
3ds Max Batch, the UI-free mode for background rendering or simulation introduced in 3ds Max 2014.2, is now a standalone executable with new options including the power to load scene files via batch script.
Scene Converter, 3ds Max's tool for converting legacy scenes for use in the current version of the software, gets new options to remove missing legacy assets. Dependencies for those assets are shown in tooltips.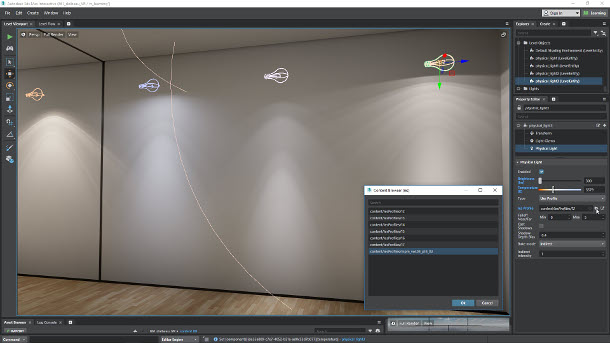 3ds Max Interactive 2.0 adds support for IES lights, more customisable tonemapping
Outside of the core application, 3ds Max Interactive, the version of Autodesk's Stingray game engine now included with 3ds Max subscriptions, gets a number of new features.
On its release in 3ds Max 2018.1, Autodesk described 3ds Max Interactive as a "VR engine" with Stingray "at its core" that would be tuned to the needs of visualisation rather than games work.
Since then, Autodesk has more or less moved out of the games middleware market, announcing in July that it was discontinuing sales of is other middleware tools.
The new features introduced in 3ds Max Interactive 2.0 are largely those introduced in Stingray 1.9 this summer, including a new physically based light type with support for IES lighting profiles.
The clear coat material has been updated to improve energy conservation, and users now have the option to disable the default tonemapping or extend it through the use of custom plugins.
Workflow changes include the option to add frequently used assets or folders as favourites in the Asset Browser, and usability updates to the Texture Manager.
Programmers get the option to debug a project's Lua code in Microsoft's Visual Studio Code editor.
Pricing and availability
3ds Max 2018.4 is available for Windows 7+. The software is available on a rental-only basis, with new subscriptions priced at $185/month or $1,470/year.

Read an overview of the new features in 3ds Max 2018.4 on Autodesk's blog
Read a full list of new features in the online documentation
Tags: 3ds max, 3ds Max 2018.4, 3ds Max Batch, 3ds Max Interactive, 3ds Max Interactive 2.0, Alembic, asset browser, Bifrost, clear coat material, fluid simulation, fluids, IES, initial state, Krakatoa, liqud simulation, liquid presets, new features, physically based lights, price, PRT, Scene Converter, Stingray, Stingray 1.9, Texture Manager, Visual Studio Code