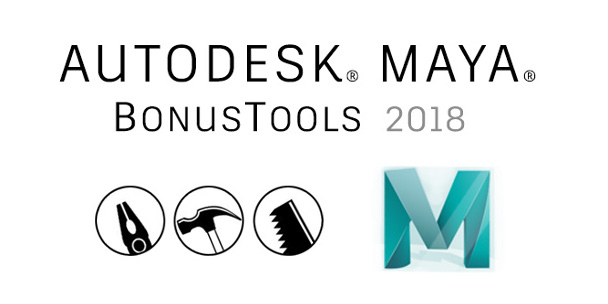 Autodesk has updated the Maya Bonus Tools, its free collection of add-on scripts and plugins for Maya, to support Maya 2018.
The Bonus Tools provide Maya users with a set of useful small features, particularly for modelling and UV editing, on an 'as is' basis, without active product support.
No new features this time: just compatibility with Maya 2018
Whereas recent previous updates have introduced a number of extra features, the Maya 2018 Bonus Tools is really just a compatibility release.
The online version history actually lists support for Maya 2018 as the only new feature, although the product page on Autodesk's App Store does also mention updates to Pattern Rename and Attribute Collection.
If anything, the update actually removes tools: some to Maya itself, some retired as obsolete, and one – the Navigate Graph option added in the Maya 2017 Bonus Tools – temporarily disabled due to a memory leak.
However, the release will still come as welcome news to users who rely on the existing tools in their workflows, and who have been unable to use them since Maya 2018 shipped in July.
Availability
The Maya 2018 Bonus Tools are available free for Maya 2015 and above running on Windows, Mac OS X or Linux – despite the name, the installer actually works on earlier versions of the software.
Maya LT users also get their own version of the Bonus Tools, which currently works up to Maya LT 2017.
Read a full list of changes in the Maya 2018 Bonus Tools
(Includes download link for the Maya 2018 tools)
Find tutorials for using the Bonus Tools on Autodesk's blog
(Includes download link for the Maya LT bonus tools)
Tags: download, free, Maya, Maya 2018, Maya 2018 Bonus Tools, modeling, new features, plugin, rigging, script, uv mapping, workflow