Wednesday, July 26th, 2017

Posted by Jim Thacker
Watch the best CG shorts from Siggraph 2017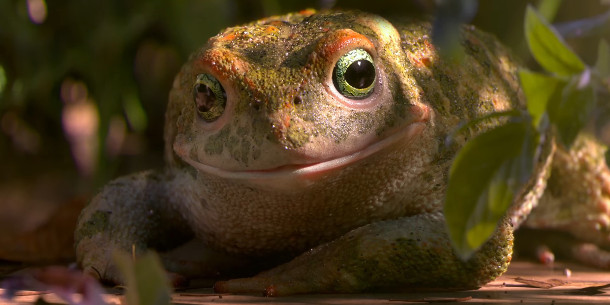 If you're going to be at Siggraph 2017 next week, one of the undoubted highlights will be the show's Computer Animation Festival, which brings together the year's best visual effects, animation and VR work.
But if you can't make it to Los Angeles in person, don't panic: we've rounded up the highlights for you.
Below, you can see 15 of the projects being screened in the festival's prestigious Electronic Theater: in some cases, the trailer, but in many, the complete short film.
We've left out the curated content – mainly visual effects breakdowns of longer movies – and the scientific visualisations (sorry, Seasonal Changes in Carbon Dioxide).
But the remaining animated and VFX shorts are some of the most striking you'll see all year, so grab a coffee, sit back and enjoy. Where possible, we've also linked to technical making-of material for each short.
Best in Show: Song of a Toad
Director: Kariem Saleh
School: Filmakademie Baden-Wuerttemberg
Overall CAF award-winner Song of a Toad is still doing the rounds of the festival circuit, so it hasn't been released in full online, but director Kariem Saleh's making-of video gives you a flavour of it.
A bittersweet commentary on people's personal baggage, and their wish to overcome it, the short depicts the legacy of its lead character's childhood as an irascible old toad that rides on his head.
The seven-minute short was created over a three-year period by a team of nearly 50 students and volunteers at Germany's Filmakademie Baden-Wuerttemberg, using an unusual real-time workflow.
As part of the EU-funded Project Dreamspace, Foundry developed a real-time prototype of Nuke that the animators could control with a handheld puppet rig in order to capture the motion of the characters.
Watch a video showing Song of a Toad's real-time compositing workflow
Jury's Choice: John Lewis 'Buster the Boxer'
Director: Dougal Wilson
Studio: MPC
MPC took home the Jury's Choice award for this appealilng Christmas ad for UK department store chain John Lewis, showing a family dog tormented by the local wildlife making us of his owners' garden trampoline.
To create the ad's six CG animal characters, MPC created its "most advanced rigs yet", layering muscle, fat, skin and fur, and developing new software to handle skin sliding.
The trampoline itself formed the spot's 'seventh character', with the deformation of the surface generated through simulations based on the animations of the animals themselves.
Watch the making-of video for Buster the Boxer
Best Student Project: Garden Party
Creators: Théophile Dufresne, Florian Babikian, Gabriel Grapperon, Lucas Navarro, Vincent Bayoux and Victor Caire
School: MOPA
Top French animation school MOPA – formerly Supinfocom Arles – took home the prize for Best Student Project for this beautifully rendered short about a frog and a toad at play in the gardens of a luxury villa.
Updated 26 October 2017: The full short has just been released online. You can watch it above.
Compositor Lucas Navarro's current demo reel (link below) gives a glimpse into how the short's elegant balance between photorealism and stylisation was achieved, using a combination of Maya, Arnold and Nuke.
Watch a compositing breakdown of Garden Party on Lucas Navarro's demo reel
Analogue Loaders
Director: Raphael Vangelis
Studio: Self-produced
"I use quite slow computers because I'm too lazy to upgrade them, so I look at loading screens quite a lot," says director Raphael Vangelis. "At some point, I thought: 'Why not make an animation out of them?'"
The result of that thought was Analogue Loaders: a charming two-minute stop-motion animation that uses 3D printing to turn the loading screens of websites like Twitter, Chrome and Vimeo into motion graphics.
Sadly, the process seems to have been counter-productive for Vangelis. "I wanted to make something fun out of something boring, but now it feels like I just looked at loading screens even more!" he says.
Watch Raphael Vangelis's making-of video for Analogue Loaders
Asteria
Creators: Alexandre Arpentinier, Mathieu Blanchys, Lola Grand, Tristan Lamarca, Thomas Lemaille, Jean-Charles Lusseau
School: ESMA
Two astronauts go to explore an unknown planet, only to have an unforseen situation put their professionalism to the test, in this student short from a team at leading French school ESMA.
Again, there's only a 30-second teaser for the short online so far, but you can get a good idea of its visual style from the Maya, Arnold and Nuke breakdowns in the team members' showreels linked below.
See modelling, rigging, animation and compositing breakdowns from Asteria
Canal 'Kitchen'
Creators: Maxime Luère, Leon Berelle, Dominique Boidin, Remi Kozyra
Studio: Unit Image
Unit Image's striking promo for France's Canal broadcast network compares the content of a TV channel to the ingredients in a restaurant kitchen.
In the resulting spot, dinosaurs are tipped into bowls along with eggs, miniature footballers dumped out of tins like caviar, and an unfortunate mediaeval knight peeled and shelled like a lobster.
This breakdown video shows the greenscreen and miniature shoots, while the one linked below focuses more on the CG work, which was created principally in 3ds Max, V-Ray and Nuke.
Watch Unit Image's making-of video for Canal 'Kitchen'
Elemental
Director: Adrian Meyer
School: Filmakademie Baden-Wuerttemberg
The trailer for the FMX 2017 conference, this striking Filmakademie student short turns four motion-captured dancers into the elements of earth, air, water and fire.
The dancers were recorded using the Ncam real-time camera-tracking system, and high-speed live-action footage was combined with CG animation and Houdini simulations to create the overall look for the project.
Watch Filmakedemie's making-of for Elemental
Final Fantasy XV 'Omen'
Director: István Zorkóczy
Studio: Digic Pictures
A "beautiful yet violent vision inspired by the world of Final Fantasy XV", this teaser for Square Enix's open world RPG shows King Regis, father of lead character Noctis, receiving an omen of a catastropic future.
The spot, lovingly rendered by Hungarian cinematics specialist Digic Pictures, wasn't its first encounter with the Final Fantasy universe: Digic also worked on full-length CG feature Kingslaive: Final Fantasy XV.
Read more about the Final Fantasy XV 'Omen' trailer on Digic Pictures' website
Our Wonderful Nature – The Common Chameleon
Creators: Tomer Eshed, Dennis Rettkowski, Michael Herm, Alexander Pohl
Studio: Lumatic
A sequel to Tomer Eshed's brilliant 2008 animated natural history 'documentary' Our Wonderful Nature, The Common Chameleon does for the life of reptiles what the original did for shrews.
Created by Eshed's new studio, Lumatic, the three-minute short shows an unfortunate chameleon facing disaster as it is confronted by a series of ever more intimidating – but oh-so-tasty – flying insects.
Read (a little bit) more about The Common Chameleon on Lumatic's website
Pirate Smooch
Director: Tobias Trebeljahr
School: Filmakademie Baden-Wuerttemberg
Another Filmakademie student short, Tobias Trebeljahr's animated ident for the ITFS 17 animation festival depicts a pitched battle between two pirate ships.
Created as a continuous 30-second virtual dolly shot, the spot depicts all manner of animated carnage before finally gliding up to reveal the two lookouts in the ships' crows nests kissing. Aww.
See a look development breakdown of Pirate Smooch on visual lead Carol Ratajczak's website
Poilus
Creators: Guillaume Auberval, Léa Dozoul, Simon Gomez, Timothé Hek, Hugo Lagrange, Antoine Laroye, David Lashcari
School: ISART Digital
This four-minute student short from French animation school ISART Digital recreates trench warfare more for pathos than horror, replaying World War I from the point of view of a cast of animated animals.
Sadly, there doesn't seem to be a complete making-of video online, but you can see individual shot breakdowns and turntables of some of the CG assets on the demo reels linked below.
See breakdowns of assets from Poilus on Timothé Hek and Antoine Laroye's demo reels
Résistance
Creators: Alex Chauvet, Anna Le Danois, Quentin Foulon, Fabien Glasse, Juliette Jean, Julie Narat
School: MOPA
The second MOPA student short to make this year's Electronic Theater line-up, Résistance depicts a totalitarian state in which humans are subjugated by giant insects.
Again, we could only find the trailer above online, but the reels linked below show the storyboard and animatic for key shots, along with turntables of some of the human characters.
See the previs for Résistance and turntables of the key characters
Scrambled
Director: Bastiaan Schravendeel
Studio: Polder Animation
After electronic gamer Esra misses her train late one evening, a discarded Rubik's cube tries tries to get her attention in an attempt to get solved, in Dutch studio Polder Animation's charming CG short.
A "side project that quickly grew larger and larger", Scrambled is still doing the rounds of the film festivals, but should appear on Polder Animation's website in full next year.
Read (a little bit) more about Scrambled on Polder Animation's website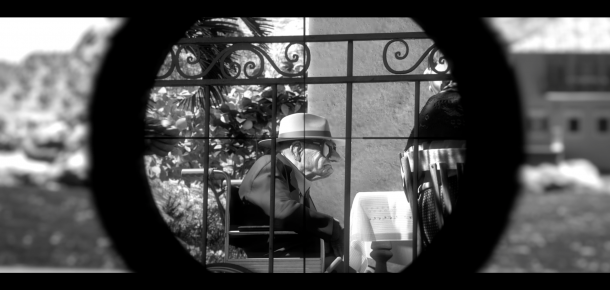 Sirocco
Creators: Avril Hug, Lauren Madec, Kevin Tarpinian, Thomas Lopez, Romain Garcia
School: MOPA
The last of MOPA's student shorts in this year's Electronic Theater, the moody, monochrome Sirocco depicts a mafia family gathering on the Sicilian coast.
At the minute, we can't even find a trailer online, but you can see turntables of the characters on team members Kevin Tarpinian and Avril Hug's demo reels, created in Maya, Yeti, Qualoth, Arnold and Nuke.
See character turntables for Sirocco on Kevin Tarpinian's Vimeo channel and Avril Hug's demo reel
Chevrolet 'The Human Race'
Directors: Rama Allen, Westley Sarokin
Studios: The Mill, Epic Games
An adrenaline-spiked AR project showing Chevrolet's 2017 Camaro ZL1 racing its FNR autonomous concept car, The Human Race acts as a proof of concept for both The Mill and Epic Games' technology.
Captured using The Mill's Blackbird adjustable live-action car rig and Cyclops, its proprietary virtual production toolkit, positional data from an Arraiy tracking system was fed directly into Unreal Engine.
The result – rendered with depth of field, motion blur, grain, noise and bloom, and composited live into the environment footage – set a new benchmark for photorealistic real-time effects.
Watch The Mill's making-of video for Chevrolet 'The Human Race'

See a full list of work screened in Siggraph 2017's Computer Animation Festival