Tuesday, April 25th, 2017

Posted by Jim Thacker
Foundry unveils Elara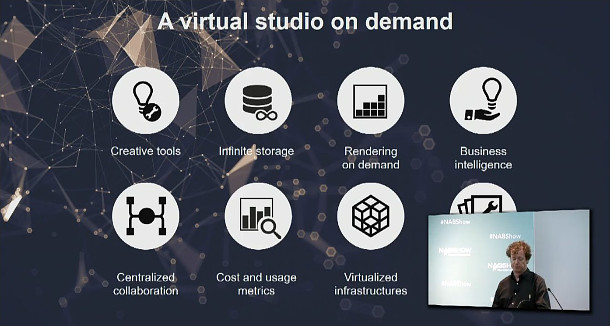 Foundry has unveiled Elara, a new cloud-based service it describes as a 'studio in a box'.
The platform, which went on show during the firm's livestream from NAB 2017, and which will enter beta this summer, will provide users with a complete online visual effects pipeline.
Services provided include software rental, collaboration tools, online rendering and business analytics – all accessed via a standard web browser, from any device, and paid for on demand.
In development for three years
Elara, under its original title of Production Pipeline in the Cloud, began as a UK government-funded research project between Foundry and Industrial Light & Magic.
By summer 2016, with initial research complete, and Foundry convinced of the commercial potential of the technology – now simply called Pipeline in the Cloud – it got an early demo at Siggraph 2016.
During NAB, Foundry put some flesh on the bones of that initial demo, showing footage of Elara in use on an actual film: Unremarkable, Jared Anderson's BAFTA US Student Film Award-nominated short.
A complete VFX production pipeline inside your browser
On logging in to Elara, which can be done from a standard web browser, on any device or operating system, the first step is to create an organisation – the virtual studio itself.
Organisations consist of projects and people, so the next step is to invite collaborators, who can be provided with access to a project with the same kind of permissions levels as in other collaboration systems.
People can also be assigned quotas – for example, for software usage, online storage, or rendering time – in order to cap costs, or ensure that one department stays within its share of resources.
The project files themselves live online, with users able to link existing cloud storage – Foundry mentioned Dropbox, Google Drive, Google Cloud Storage and Amazon S3 as possible options – to their Elara account.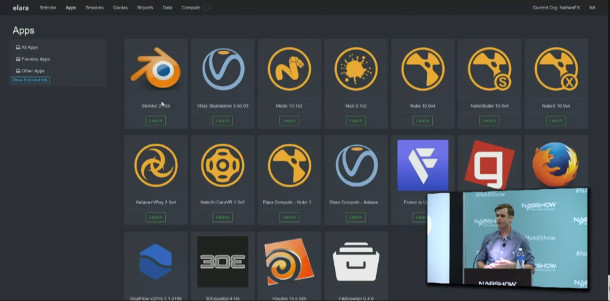 Use standard DCC software via your web browser
Project software can also be rented on demand through Elara: as well as Foundry's own tools Nuke, Nuke Studio, Modo, Mari and Katana, the pipeline for Unremarkable used Houdini and the V-Ray renderer.
The Apps screen shown during the demo also listed Blender, RealFlow, 3D-Equalizer and Gaffer, Image Engine's VFX application framework – although Autodesk tools were conspicuous by their absence.
The software runs in the cloud, with only the on-screen display being streamed to the user: the demo showed Nuke Studio, Katana and Houdini running inside a standard web browser.
However, Foundry noted that it will be possible to use Elara data with tools running locally, and that it will be providing an API to integrate Elara into offline pipelines.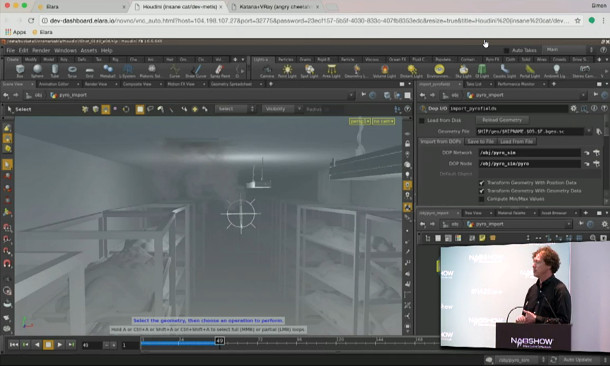 Houdini running inside a web browser, during an Elara production session.

With no need to download or process files locally, interactivity is "pretty good", according to Nathan Strong, Foundry's creative specialist, and Unremarkable's VFX supervisor.
"You forget you're working in a web browser pretty quickly," he said, noting that ARRI ProRes 4444 files play back in real time with GPU effects applied.
Foundry also describes the service as "secure by nature", noting that it is "no longer necessary to share data with a remote collaborator … all your collaborator receives is a pixel stream".
Rendering is also performed in the cloud, with the option to access "thousands" of servers – the demo showed a marginally less extravagant 701 render nodes in use, one for each frame of a VFX shot.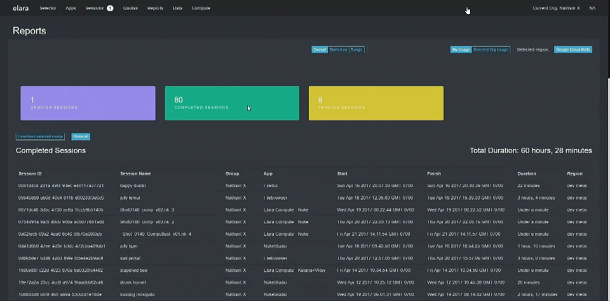 Built-in collaboration and analytics tools
Elara also features collaboration tools, with users able to copy and share a URL to join a shared session.
As well as simply reviewing shots together, users can actually take control of the relevant software, making it possible for one artist to view another's work in real time.
The system automatically records usage of its services, including the time and context of each session, providing project managers with business analytics like software and rendering costs.
The reports page can be filtered by job type, application and user, and it's even possible to view when individual artists logged in to work on the project, and for how long.
A new way for boutique studios and solo artists to produce visual effects?
Foundry lead engineer Simon Pickles described Elara as "everything you need to run a studio, delivered on demand [and] backed by a near-infinite resource of storage and computer power".
While the idea of renting a pipeline isn't unprecedented – StratusCore launched a similar service earlier this year – Elara has the backing of one of the VFX industry's biggest tools developers.
StratusCore's service is also priced very much with large studios in mind, whereas in its presentation, Foundry specifically namechecked smaller facilities and even solo users.
Although Elara's own pricing remains unconfirmed – as does the question of whether you will be able to use Autodesk tools through it – we can see the concept appealing to many artists.
As Pickles put it: "When [production] is 100% elastic and your team is 100% dynamic, it enables you to do post-production in a new way".
Due in beta this summer
Elara is currently in "active development", and is expected to enter beta in summer 2017. Anyone interested can sign up for updates via the link below.
Visit the Elara product website
(No more information yet, but you can register for updates)