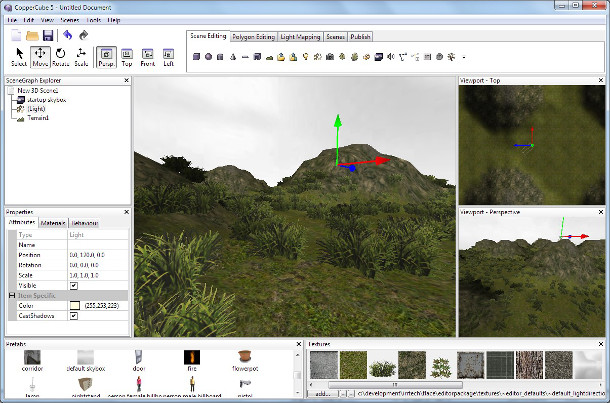 Ambiera has released CopperCube 5.0, the latest version of its 3D authoring tool for WebGL, HTML5, Flash and mobile games, adding a terrain editor, a new physics engine, and support for video playback.
Intended for use by non-programmers, CopperCube is a fairly full-featured environment for creating simple games, importing 22 standard 3D file formats, and supporting pre-built AI behaviours and particle effects.
New features across the board
New features this time round include a new terrain editor and procedurally generated trees; support for animation blending; and updates to the light mapper.
CopperCube 5 also supports video playback when creating output for Windows, WebGL and Flash; and includes a rigid-body physics engine when generating Windows and Mac OS X apps.
More advanced users also get a shader API, alongside the existing JavaScript-based scripting API. There is also a fairly extensive list of smaller new features, which you can find via the link below.
Pricing and availability
CopperCube 5 is available for Windows and OS X. The Basic edition costs €99 (around $125); the Professional edition, which gives you advanced tools like video playback and Oculus Rift support, costs €380 ($480).
Read a full list of new features in CopperCube 5
View interactive WebGL demos of CopperCube's new features
Tags: AI, Ambiera, authoring, CopperCube, CopperCube 5, environment, Flash, Game Engine, HTML5, lighting, mobile, new features, particles, physics, price, scripting, shader, terrain, texturing, video playback, WebGL