The trailer for Siggraph 2014′s Computer Animation Festival. This year's show introduces a range of new awards categories, recognising the best work in specialist fields. See all bar two of the winners below.
Siggraph's Computer Animation Festival always showcases a diverse range of work from the fields of CG animation and visual effects – but this year's award winners are its most diverse yet.
For the 41st festival, the organisers extended the traditional categories (Best In Show, the Jury Award, Best Student Project) with awards recognising excellence in specialist fields, from simulation to real-time graphics.
Even the grand prize winner, Tarik Abdel-Gawad's performance documentary, Box, blurs genre boundaries, blending live action, robotics and projection mapping in exciting new ways.
The best CG animation in the world
If you're in Vancouver between 10 and 14 August, you can see the winners live, along with the other 100-odd other ads, cinematics, shorts and simulations on show in the festival screenings.
But if you can't make it to Canada (or if you just want a sneak preview), we've rounded up the winners below.
Work doing the rounds of festivals often can't be posted in full online, so in some cases we've linked to a trailer or making of. And obviously, we haven't included Gravity, which won the award for Best Visual Effects.
But the remaining shorts are a feast for both eyes and brain – no matter which part of the industry you work in.
http://vimeo.com/75260457
Best In Show
Box
Director: Tarik Abdel-Gawad, Bot & Dolly
This year's grand prize winner documents a live performance using 3D projection mapping, robots and actors, exploring "the synthesis of real and digital space through projection mapping onto moving surfaces".
Director Tarik Abdel-Gawad cut his teeth in robotically driven cinematography as part of the small Bot & Dolly team that worked on the set of Gravity. Now a creative technologist at San Francisco-based design and engineering studio Autofuss, he applies those skills to installation and theatrical performance.
The results, here created in collaboration with design director Bradley Munkowitz, are curiously hypnotic – and all the more impressive when you remind yourself that the graphics haven't been added in post.
Read more about Box on Tarik Abdel-Gawad's website
Jury Award
Paper World
Directors: Dávid Ringeisen, László Ruska, Moholy-Nagy University of Art and Design
Work from European animation schools regularly scoops prizes at Siggraph. Paper World is no exception. The surprise is that it took an award outside the student category – and that it comes from a Hungarian school.
Student work from MOME, the Moholy-Nagy University of Art and Design, has recently been making rapid inroads into the festival scene, alongside established players like Germany's Filmakademie Baden-Württemberg.
Paper World, created for WWF Hungary by two MOME alumni, makes it quite clear why. The official trailer (above) is all too brief, but you can get a better feel for the short from animator Zoltan Szalay's reel below.
It's elegant stuff, and an interesting counterpoint to last year's Best Student Project award-winner: the similarly wildlife-themed Rollin' Wild.
See lighting and animation tests for Paper World on the short's development blog
Best Animated Short
Home Sweet Home
Directors: Pierre Clenet, Alejandro Diaz, Romain Mazenet, Stéphane Paccolat, Supinfocom Arles
This year's overall Best Animated Short – a new category this year – also comes from student animators, albeit from a school that will be more familiar to most Siggraph attendees: France's Supinfocom Arles.
Proof that you can anthropomorphise anything if you try hard enough, the beautifully rendered animation shows a house uprooting itself from its foundations to go on its own adventures.
Again, the official trailer is very brief, and there isn't much more in the soundless early cut on the Supinfocom website, but you can see more clips on Pierre Clenet's video channel: link below.
Watch shot breakdowns from Home Sweet Home on Pierre Clenet's Vimeo channel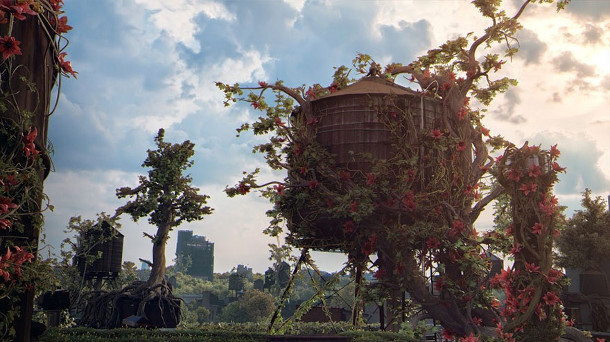 Best Student Project
Wrapped
Directors: Roman Kälin, Falko Paeper, Florian Wittmann, Filmakademie Baden-Württemberg
Although it comes from Filmakademie Baden-Wuerttemberg itself – and from the same team that created the excellent a.maize ident for the 2011 FMX festival – we drew a blank on Wrapped.
The only information we can find on the winner of the Best Student Project award comes from the Siggraph site itself, and consists of the still above, and the animators' (not terribly descriptive) statement:
"The world, with its never-ending interplay of eating and being eaten, takes on new dimensions when the unexpected forces of nature clash with the existing structures of our society. The only constant is change."
Visit the Filmakademie website
Best Visualization & Simulation
Kinematics
Directors: Jessica Rosenkrantz, Jesse Louis-Rosenberg, Nervous System
In contrast, there is a wealth of material available online for the winner of the new Best Visualization & Simulation award, created by generative design studio Nervous System – including the tool itself.
Created using JavaScript and WebGL, Kinematics is a system for '4D printing' that creates complex, foldable forms composed of articulated modules, turning any three-dimensional shape into a flexible structure.
The online tool, which combines computational geometry techniques with rigid body physics, outputs user-customised designs in a 3D printable form, creating anything from jewellery to housewares.
It can even be used to create clothing – or "intricately patterned wearables that conform flexibly to the body" – as can be seen in the short clip of a 3D printed bodice on Nervous System's Vimeo channel.
Read more about Kinematics on Nervous System's website
Try the Kinematics web app for yourself
Best Game
The Crew
Directors: Maxime Luère, Dominique Boidin, Rémi Kozyra, Unit Image
Unit Image's trailer for The Crew, Ubisoft's upcoming persistent open-world racing game, gathered a VES Award nomination earlier this year. At Siggraph, it went one better, winning the new award for Best Game.
The official statement that the full-CGI trailer juxtaposes "the two worlds highly valued by car lovers" – action scenes and "aesthetically pleasing advertisements" – is, frankly, baloney.
But there's no denying that Unit Image's animation captures the thrill of multi-player racing, and the sense of freedom from an open, largely destructible world. Hope the game itself is as good when it ships in November.
Watch the making of The Crew trailer on Unit Image's Vimeo channel
Best Real-Time Graphics
Ryse: Son of Rome
Directors: Chris Evans, Peter Gornstein, Martin L'Heureux, Crytek
The second games award, for real-time graphics, goes to another CG Channel favourite – Ryse: Son of Rome. An Xbox One launch exclusive, Crytek's action adventure got mixed reviews, but the visuals were great.
The video above is last year's E3 gameplay demo, but you can find all of the cinematics on YouTube if you search. Both gameplay and cutscenes use the same assets, and can be rendered in real time.
Read more about Ryse: Son of Rome on Crytek's website
Best Commercial Advertisement
Three, 'The Pony'
Director: Dougal Wilson, Blink Productions; VFX: MPC
Another VES Award nominee – and another CG Channel favourite – the winner of the Best Commercial category put MPC's visual effects chops to good use in a spot for UK mobile network Three.
Also screened on TV and in cinemas, The Pony got over four million views on YouTube inside a week, while its moonwalking star, Socks, got to moonlight as a knitwear model for an appallingly punning follow-up.
Read more about the making of the ad on MPC's website
Visit the official Siggraph 2014 Computer Animation Festival website
Tags: Alejandro Diaz, animation, Award, best, Bot & Dolly, Box, chris evans, cinematic, Computer Animation Festival, computer graphics, crytek, Dávid Ringeisen, Dominique Boidin, Falko Paeper, Filmakademie Baden-Wuerttemberg, Florian Wittmann, Home Sweet Home, Jesse Louis-Rosenberg, Jessica Rosenkrantz, Kinematics, László Ruska, Martin L'Heureux, Maxime Luère, Moholy-Nagy University of Art and Design, MOME, MPC, Nervous System, Paper World, Peter Gornstein, Pierre Clenet, real time, Rémi Kozyra, Romain Mazenet, Roman Kälin, Ryse: Son of Rome, short, SIGGRAPH, Siggraph 2014, Stéphane Paccolat, Supinfocom Arles, Tarik Abdel-Gawad, The Crew, Three 'The Pony', trailer, Ubisoft, Unit Image, visual effects, visualization, winners, Wrapped