Alfonso Cuarón's Gravity, with VFX from Framestore, Prime Focus and Rising Sun Pictures, tops this year's VES Awards shortlist, with eight nominations. Below, we've rounded up the contenders for best short-form work.
The Visual Effects Society has announced the shortlist for this year's VES Awards, due to be presented at the Beverly Hilton on Wednesday 12 January.
As you might expect, blockbuster movies like Gravity and Pacific Rim – or, in the animation categories, Frozen and The Croods – have picked up most of the media attention.
Meanwhile, Game of Thrones leads the pack in the broadcast categories, while Call of Duty: Ghosts, Crysis 3 and Ryse: Son of Rome all pick up nominations for real-time visuals.
However, you can't see those projects online in their entirety. (At least, not legally.) But you can see the nominees in the short-form categories.
The Mill leads the nominations for short-form work
The Mill's 'Perfect Day' and '98% Human' spots lead the pack here, with three nominations apiece – as does the studio itself, with six separate projects in contention.
Digital Domain has three projects in the running, Framestore two, and the remainder come from the UK's MPC and top French VFX houses Unit Image, Mikros Image and Digital District.
Below, we've rounded up all 15 commercials, movie trailers and cinematics duking it out in this year's awards, along with links to making-of articles and breakdown videos.
We've put projects with multiple nominations first; the rest are in the order the VES itself lists them.
http://www.youtube.com/watch?v=s0d9d-cdxhk
Sony PlayStation 'Perfect Day'
VFX facility: The Mill
Nominated for: VFX, Simulation, Compositing
Nominees: Charlotte Arnold, Joji Tsuruga, Gavin Wellsman, Olivier Mitonneau (VFX)
Joji Tsuruga, Gavin Wellsman, Nick Couret, Hassan Taimur (Simulation)
Gavin Wellsman, John Mangia, Leonardo Costa, Kristen Johnson (Compositing)
Read more about the making of the commercial
PETA '98% Human'
VFX facility: The Mill
Nominated for: VFX, Animated Character, Simulation
Nominees: Angus Kneale, Vince Baertsoen, Colin Blaney, Kyle Cody (VFX)
Vince Baertsoen, Alex Allain, Henning Koczy (Animated Character)
Vince Baertsoen, Jimmy Gass, Dave Barosin (Simulation)
Watch the making-of video for the commercial
Call of Duty: Ghosts 'Epic Night Out'
VFX facility: The Mill
Nominated for: VFX, Compositing
Nominees: Leighton Greer, Robert Sethi, Felix Urquiza, Chris Knight (VFX)
Chris Knight, Daniel Thuresson, Nick Tayler, Dag Ivarsory (Compositing)
Read more about the making of the commercial
Liberty Group Limited 'Answer'
VFX facility: Digital Domain
Nominated for: VFX, Environment
Nominees: James Atkinson, Rachel Mariscal, Scott Meadows, David Liu (VFX)
Greg Teegarden, Kevin Bouchez, Brian Creasey, Kurt Lawson (Environment)
Read more about the making of the commercial
Galaxy 'Chauffeur'
VFX facility: Framestore
Nominated for: VFX
Nominees: Helen Hughes, Simon French, William Bartlett, Stephen Cullingford
Read more about the making of the commercial
Smithwick's 'Squirrel'
VFX facility: The Mill
Nominated for: Animated Character
Nominees: Tom Bussell, Jorge Montiel, Tom Raynor, Leonardo Cost
Read about the making of the commercial
Three Mobile 'The Pony'
VFX facility: MPC
Nominated for: Animated Character
Nominees: Carsten Keller, Jake Mengers, Tim Van Hussen
Read more about the making of the commercial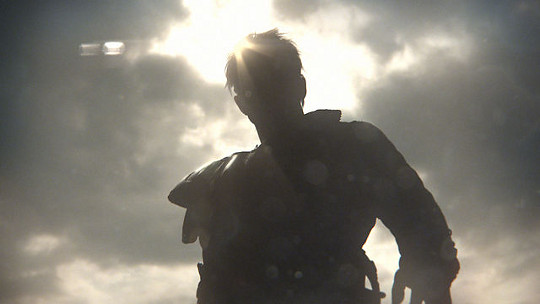 Click here to play the trailer on Vimeo
Mad Max 'Ethos'
VFX facility: Digital Domain
Nominated for: Virtual Cinematography
Nominees: Aladino Debert, Neil Huxley, David Liu, Michael Harbour
Watch a making-of video for the trailer
Murdered 'Soul Suspect'
VFX facility: Digital Domain
Nominated for: Virtual Cinematography
Nominees: Vernon Wilbert, Tim Jones, Rafael Colon, April Warren
Read more about the making of the trailer
Qualcomm Snapdragon 'Coming Soon'
VFX facility: Framestore
Nominated for: Virtual Cinematography
Nominees: Joshua Wassung, Shannon Justison, Shayne Ryan, Seth Gollub
Read more about the making of the commercial
The Crew (official trailer)
VFX facility: Unit Image
Nominated for: Virtual Cinematography
Nominees: Dominique Boidin, Rémi Kozyra, Léon Bérelle, Maxime Luère
Watch a making-of video for the trailer
http://www.youtube.com/watch?v=oIiHgD8v1jU
Toyota Avalon 'Formula'
VFX facility: The Mill
Nominated for: Simulation
Nominees: Ed Laag, Eugene Gauran, Josh Hatton
Read more about the making of the commercial
http://www.youtube.com/watch?v=301DzKfsIqY
Jean-Paul Gaultier 'On The Docks'
VFX facility: Digital District
Nominated for: Compositing
Nominees: Jerome Billet, Arnaud Leviez
Watch a making-of video for the commercial
http://www.youtube.com/watch?v=QQ9quMhfYho
Mercedes-Benz 'Sensations'
VFX facility: Mikros Image
Nominated for: Compositing
Nominees: Laurent Creusot, Pierre Emmanuel Genin, David Roubah, Damien Canameras
Read more about the making of the commercial
Sony PlayStation 'Greatness Awaits'
VFX facility: The Mill
Nominated for: Compositing
Nominees: Kyle Cody, Dan Difelice
Read more about the making of the commercial
Read the full list of nominees for the 12th annual VES Awards on the Visual Effects Society website
Tags: 12th Annual VES Awards, 2014, breakdown, cinematic, commercial, Digital District, Digital Domain, Framestore, Frozen, gravity, making of, Mikros Image, MPC, nominees, pacific rim, short form, shortlist, The Croods, The Mill, trailer, Unit Image, VES Awards, vfx, video, visual effects, Visual Effects Society, watch