Autodesk's 2014 games reel. The company has just announced new versions of its animation products, including Maya and Maya LT, 3ds Max, MotionBuilder, Mudbox and Softimage, to coincide with GDC 2014.
Autodesk has announced the 2015 releases of its animation products, including Maya and Maya LT, 3ds Max, Mudbox, MotionBuilder and the final release of Softimage, to coincide with the GDC 2014 conference.
The strongest Autodesk releases in many years?
In its pre-GDC press briefing, the company cited stability, scalability, innovation, and the ability to handle the large data sets generated by modern Hollywood and AAA productions as key drivers of the 2015 releases.
The features list of the six products, summarised in the official news release at the foot of this story, do indeed include functionality that falls under all four of those categories.
However, we rather suspect that whether you agree with the company's claim that the 2015 product line-up represents "our strongest releases in many years" depends on which of the packages you use.

Maya is arguably the strongest of Autodesk's 2015 releases, with new features including the ShaderFX shader-authoring toolset, Geodesic voxel binding, and the Bifrost fluid-simulation system (not shown in this video).
Maya 2015: tools to make TD tasks accessible to generalists
Of what Autodesk now describes as its two "hero packages", Maya 2015 is undeniably a substantial release.
The most attention-grabbing feature in the list is Bifrost, a completely new fluid simulation system based on the core technology behind Exotic Matter's Naiad, which Autodesk acquired in 2012.
Together with the XGen technology for hair, fur and foliage, and the updated Bullet physics plugin, Bifrost forms a set of tools designed to make tasks that were previously the preserve of TDs accessible to generalist artists.
Both XGen and the Bullet updates were originally rolled out in the 2014 Extension release, but become available to non-subscription customers for the first time here.

Geodesic Voxel Binding is a new system for generating skin weights semi-automatically when rigging. It has been added in both Maya 2015 and the cut-down version for indie games artists, Maya LT 2015.
New rigging, shader-authoring and modelling toolsets
However, Maya 2015 also includes a number of surprises, including Geodesic Voxel Binding: a new skinning system capable of generating weight maps automatically, even on non-watertight or non-manifold geometry.
The release also incorporates ShaderFX, the drag-and-drop shader-authoring tool based on Lumonix's plugin of the same name, originally rolled out in Maya LT 2014.
For modellers, the NEX toolset introduced in Maya 2014 has been integrated further, there are new Boolean and bevel tools, and Pixar's OpenSubdiv subdivision surface technology – originally demoed running in the Maya viewport as far back as 2012 – finally makes its official appearance.
Maya also benefits from the lion's share of the new interoperability features between products. All of the interoperability features listed in Autodesk's press release involve Maya in some way – of which, more later.
http://www.youtube.com/watch?v=jmhqeLZteUU
Outside tools introduced in past Extension releases, the changes in 3ds Max 2015 are largely under the hood. Viewport performance has been substantially improved over 3ds Max 2014, for example.
3ds Max 2015: updated and enhanced, but few new tools
If you use 3ds Max, the pickings are thinner, as the lengthy comments thread on Max Underground attests.
As with Maya 2015, the addition of ShaderFX will be a useful one for many games studios, enabling artists to work in a viewport environment that more closely mimics that of their game engines.
The Populate crowd-animation system introduced in 3ds Max 2014 now offers more standard behaviours, along with new skinning and level-of-detail controls for crowd characters.
There are also several more-or-less under-the-hood updates, including a revamped scene explorer, making it easier to navigate large scenes; improved viewport performance; and ActiveShade support for mental ray.
Other than that, it's mainly the things that were rolled out in the 2014 Extension release: a new toolset for working with point clouds, a new stereo camera plugin, and support for Python scripting.
The latter is significant for pipeline integration, and was a perennial user request – but, as with the other Extension tools, if you're on a subscription contract, you do already have access to it.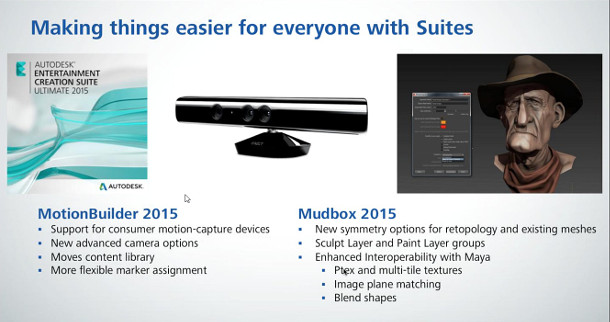 Mudbox 2015: new retopology workflows, better Maya interoperability
Outside the hero products, the updates are also smaller – if you're a non-Maya-user, at least.
Mudbox 2015 gets some interesting workflows for handling 3D scans, including the option to enforce perfect symmetry when retopologising asymmetric meshes; and new Sculpt Layer and Paint Layer grouping options.
Other than that – aside from a new Caliper tool, and better support for Windows 8 tablets – the new features are mainly designed to improve interoperability with Maya.
These include the ability to exchange Ptex and multi-tile UV textures, and blendshapes; and better image-plane matching, enabling artists to use the same reference images in the two packages without rescaling.
MotionBuilder 2015 and Softimage 2015
MotionBuilder gets new DoF and Follow Focus options, a new library of stock animations, and support for every indie artist's favourite mocap device, the Kinect, making functionality previously offered by free third-party tools like Brekel Kinect native to the application.
Softimage, as you might expect for an application that has now been officially discontinued, doesn't get very much at all: Alembic caching, and improvements to the existing ICE and Syflex cloth toolsets.

Maya LT 2015 adds support for Allegorithmic's Substances. Together with Unfold3D UV and functionality added in previous Extension releases, it makes the cut-down version of Maya a much more substantial package.
Maya LT 2015: far more substantial than the original release
The one package that doesn't fit neatly into this binary classification of "hero package" or "support app" is Maya LT, the cut-down version of Maya aimed at indie games artists that Autodesk launched last year.
Maya LT users have already seen the product evolve significantly, as Autodesk successively lifted its polygon export restrictions and added support for MEL scripting.
To that, the 2015 release adds support for Subtances, materials saved in Allegorithmic's procedural format; and Unfold 3D, the UV unwrapping toolset previously incorporated in Softimage.
Users can also access files stored in Dropbox or Autodesk 360 accounts directly through the Maya LT interface, including those created with Autodesk's 123D Catch and 123D Creature apps.
You can argue about how useful the latter is for professional work; but overall, Maya LT has undeniably become a much stronger proposition in the six months since its original release.
Read the official press release below: more detailed stories to follow
Below, you can read Autodesk's official company line on the 2015 product releases. Over the coming days, we'll be posting separate stories on the individual products and on the new Bifrost fluid simulation system.
Autodesk's 2015 animation product releases are expected to become available for download on 14 April.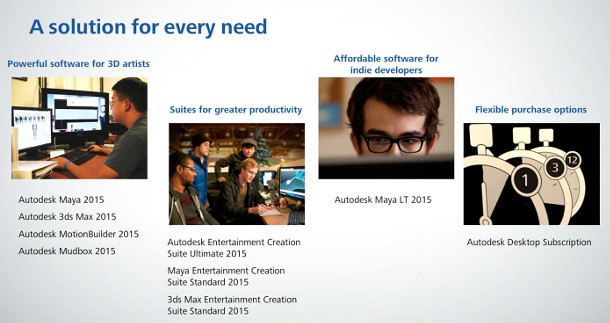 PRESS RELEASE (Excerpts)
Autodesk, Inc. unveiled the 2015 versions of its popular 3D animation tools: Autodesk 3ds Max, Maya, MotionBuilder, Mudbox, Softimage, and the newest addition to the lineup, Maya LT, a 3D animation and modeling tool for professional indie game makers. Autodesk also announced the availability of the 2015 Entertainment Creation Suite for 3D animation and visual effects.
"Our strongest releases in many years, the 2015 versions put more creative power back into the hands of the artists," said Chris Bradshaw, senior vice president, Media & Entertainment at Autodesk. "To achieve this, we redesigned core parts of our applications focusing on performance, ease-of-use and innovative new tools like Bifrost that make it simpler to do complex tasks. Whether our users are creating effects for a movie blockbuster, a game for one of the new consoles or developing a mobile app, the 2015 versions allow artists to focus on what they do best – storytelling."
Creating animation today is increasingly complex as consumer demand for bigger, better, more sophisticated computer graphics (CG) continues to rise. Autodesk 2015 animation software aims to provide the right tools for a 3D animation project. Every animation product has updates to enable artists to better manage complex projects and large data sets, while helping stay on schedule and on budget. Artists now have access to a variety of features ranging from high-fidelity interactive viewports, 'a what you see is what you get‖ work environment' and single-click, cross-product workflows and ability to use low-cost consumer devices to capture body movements.
Beta testers have been impressed with the new capabilities and the focus on improving everyday tasks for artists. "There are substantial, relevant and exciting enhancements across all of Maya," shares Clinton Downs, Head of CG, Method Studios. "From a personal perspective, I've used Maya since the beta (1997), and these enhancements feel like the type of leap we've only seen once, maybe twice before."
Highlights of the 2015 releases:
Autodesk Maya 2015 software adds new capabilities to the toolset such as the new Bifrost procedural effects platform which provides an extensible, artist-friendly workflow for complex simulation and rendering tasks, initially applied to near photorealistic liquids; XGen Arbitrary Primitive Generator for the easy creation of richly detailed geometry such as hair, fur, and foliage; Geodesic Voxel Binding method for skinning characters; ShaderFX, a new node-based visual interface for shader programing; support for Pixar's OpenSubdiv libraries; enhanced polygon modeling tools; and expanded UV options.
Autodesk 3ds Max 2015 software has been extended and redesigned to help improve performance, ease-of-use and management of complex scenes. New in 2015 is ShaderFX, a new node-based visual interface that allows game artists and programmers to more easily create advanced HLSL viewport shaders; point cloud dataset support for reality capture workflows; new viewport performance optimizations; a redesigned scene explorer to make it easier for artists to manage large scenes; ActiveShade support for the NVIDIA mental ray renderer; and new Python scripting support – a highly requested user feature for pipeline integration.
Autodesk MotionBuilder 2015 provides several features that advance motion capture workflow accessibility such as: a new plug-in for Microsoft Kinect to help capture body movements for use in MotionBuilder, Animatable Depth of Field and Follow Focus camera options to recreate elements of real-world cinematography, a robust content library with 100 commonly required character animations in the Autodesk FBX® format and flexible marker assignment to adjust character positions.
Autodesk Mudbox 2015 software boasts streamlined mesh refinement for retopologizing and new Sculpt Layer and Paint Layer groups for organizing and identifying particular layers in complex scenes. The release also has advanced interoperability with Maya 2015, an enhanced texture export and updating workflow, new caliper tool and support for Intel HD graphics 4000 on compatible Windows 8 operating system hybrid tablet/PCs.
Autodesk Softimage 2015 software helps streamline 3D asset creation and management with Alembic caching, enhancements to the ICE platform and animatable weight maps in Syflex cloth.
Autodesk Entertainment Creation Suite 2015 Extend Creative Capabilities
Each edition of the Autodesk Entertainment Creation Suite scales to match the diverse project and budget needs of teams around the world. Many of the Suites' features are built upon existing data exchange workflows that help improve product interoperability and foster greater team collaboration across projects. New capabilities are:
The ability to exchange Ptex and multi-tile UV textures between Maya and Mudbox helps facilitate an iterative round-trip workflow between Mudbox and Maya.
Enhanced image plane matching between Maya and Mudbox allows artists to use the same reference image without having to readjust the image to match.
Export Blend Shapes with multiple targets or Blend Shapes from Maya into Mudbox for sculpting, and then merge them back into the original Maya scene.
Import MotionBuilder character animations created in Softimage in a single step and export CrowdFX simulations from Softimage to Maya for inclusion with scene elements in one click.
Autodesk Maya LT 2015 Software Streamlines Indie Game Development
Maya LT 2015, the latest iteration of Autodesk's cost-effective 3D animation and modeling software for professional indie game makers, introduces a series of rich new features and integrations that help advance the 3D content creation process for indie game development.
The updated application has:
Cloud integration allows artists to browse, open, modify and save Dropbox or Autodesk 360 files to the cloud directly through the Maya LT interface. Leverage 123D Catch or 123D Creature files saved in Autodesk's 123D cloud storage as a reference for creating game assets in Maya LT.
Unfold 3D helps facilitate the seamless creation of UV maps from 3D models.
Substance Material Integration allows users to apply materials created in the Allegorithmic Substance Designer procedural texture creation tool to 3D models.
In addition to the new features, Maya LT 2015 also has the extension releases of Maya LT 2014, such as: support for MEL scripting, a send-to-Unity workflow, uncapped polygon export to Unity, the ability to export models or scenes up to 65,000 polygons in the FBX or OBJ formats, Human IK and IK Handle Animation, and Boolean operations on polygon geometry.
Availability
Product release dates vary by country. Autodesk Maya, 3ds Max, Entertainment Creation Suites, and Maya LT are also available in two configurations: as a perpetual license or desktop subscription.
Read more about Autodesk's 2015 releases on its AREA community website
Tags: 2015 releases, 3ds Max 2015, animation products, autodesk, Bifrost, Bullet physics, Caliper, entertainment products, GDC 2014, Geodesic Voxel Binding, interoperability, Kinect, Layer Groups, Maya 2015, Maya LT 2015, MotionBuilder 2015, Mudbox 2015, new features, performance, point cloud, Populate, Python, ShaderFX, Softimage 2015, substances, Unfold3D, viewport, XGen