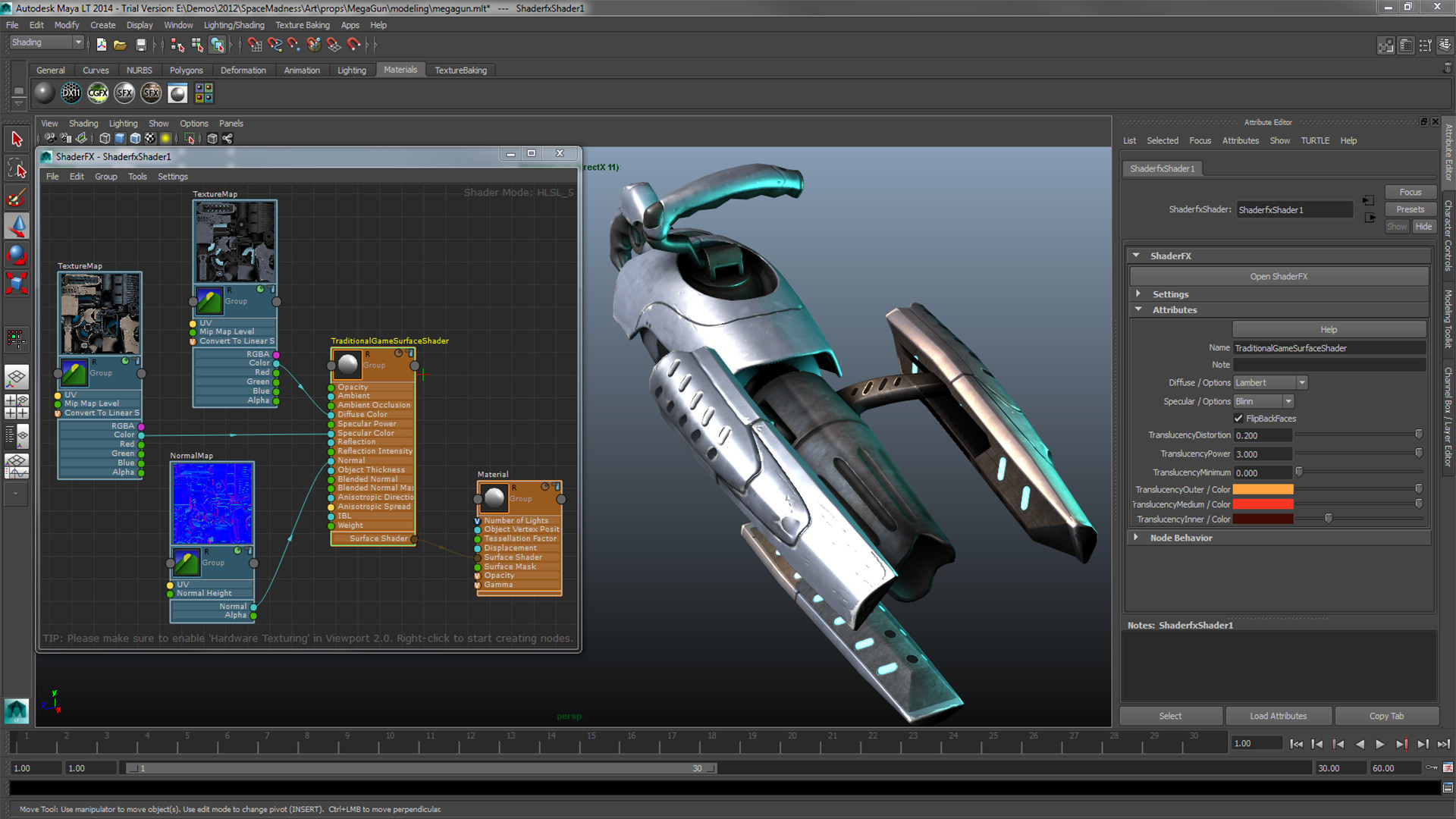 Released today, Maya LT provides the subset of tools from Maya 2014 most relevant to creating games assets, along with a few new features like shader-authoring toolset ShaderFX. It costs just $795.
Autodesk has released Maya LT, a new version of Maya aimed at indie game developers, and costing just $795.
Although the official news release (below) describes its features as having been "customized specifically" for games work, Maya LT is essentially a cut-down version of Maya 2014.
With a few interesting exceptions, its tools are identical to those within Maya itself; just a smaller subset of them. So what do you actually get for your $795?
Modelling, shading and animation
The modelling and texturing toolsets – which include the mesh decimation and retopology tools from digitalRaster's old NEX plugin introduced in the 2014 release – are largely unchanged.
Animation is also largely unaffected, barring a few minor omissions (the grease pencil tool from Maya 2014 hasn't been included, for example).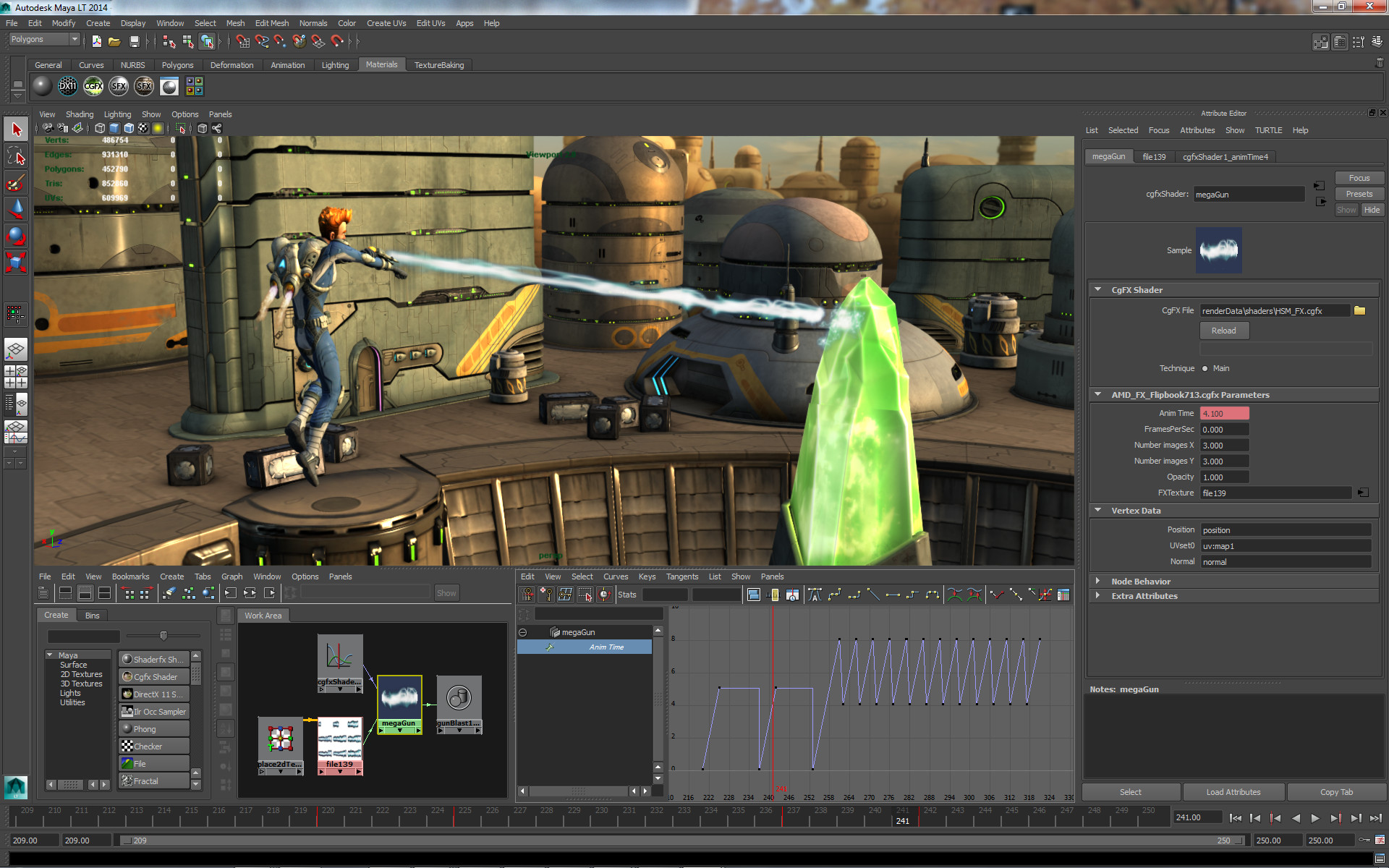 Like Maya 2014 itself, the Maya LT viewport supports DirectX 11, CgFX and HLSL shaders, enabling users to preview games assets directly within the software.
Few rendering options, no dynamics or simulation
Rendering is far more restricted, though. Maya LT can generate Playblasts, but mental ray has been removed.
Asked whether users would be able to generate still images for publicity purposes, or to gain sign-off on models, Autodesk suggested screengrabbing the Viewport 2.0 display or using a single frame from a Playblast.
And, as you might expect from a tool designed to export geometry, textures and baked lighting data to game engines, all of the simulation and dynamics tools from the full version of Maya have been removed.
There is one interesting new feature, however: ShaderFX, a drag-and-drop shader authoring tool. And if the name seems familiar from Lumonix's 3ds Max plugin, that's because its author, Kees Rijnen, now works for Autodesk.
No plugins or scripts, limited export formats
In some ways, the really interesting omissions in Maya LT aren't conventional features at all.
The plugin cannot save files in Maya's native MA and MB formats (although it can read them), instead using its own new MLT format; cannot use plugins; and does not come with any support for scripting.
The restrictions are essentially designed to prevent larger studios or general-purpose users adopting Maya LT as cheap alternative to full licences of Maya for modellers and animators.
And while the software exports standard FBX files, a maximum geometry count of 25,000 polygons per object means that this is definitely a tool targeted at indie and mobile, rather than AAA, games.
Out now to buy or rent
At almost $3,000 cheaper than Maya 2014 itself, Maya LT offers a lot of bang for your buck – providing you work in particular ways.
If you need a production-proven tool to create games assets, it may be exactly what you're looking for.
But it isn't a general-purpose 3D package, or a way to expand an existing Maya pipeline more cheaply. Autodesk isn't offering an upgrade path to Maya 2014 itself, so it isn't simply a way to dip a toe in the water, either.
All in all, it's an interesting move on Autodesk's part, and one we're sure will prompt a lot of debate online.
Maya LT 2014 is available now for Windows and OS X, price $795. Autodesk is also offering a range of rental options, starting at $50 per month.
Read more about Maya LT on the Autodesk website
(Includes download link for trial edition)
PRESS RELEASE (Excerpts)
Autodesk, Inc. (NASDAQ: ADSK) today introduced Autodesk Maya LT 2014, a new 3D modeling and animation tool tailored for independent and mobile game developers. Available immediately and compatible with certain industry-standard game engines, Maya LT draws inspiration from award-winning Autodesk Maya software to bring an intuitive, affordable new toolset for the creation of professional-grade 3D mobile, PC and web-based game assets.
"We see indie game developers as a key part of the industry, driving innovative new production techniques and gameplay," said Chris Bradshaw, senior vice president, Autodesk Media & Entertainment. "The market is fiercely competitive, and Maya LT can provide indie developers and small studios with a powerful, yet simplified workflow for designing and animating remarkable 3D characters, environments and props – at a price that fits within even the most modest budget. It's a practical solution that closely matches the needs of the mobile game development production cycle and helps developers rise above the noise and really shine."
Smaller studios like Phyken Media, creators of the mobile game Wizard Ops Tactics, saw both the economic and workflow benefits of the new product. "I jumped at the chance to try Maya LT, as the cost flexibility means we could grow the studio much more comfortably," said Phyken Media President Kunal Patel. "With an option like Maya LT, our small team can accept bigger challenges and take on various new types of projects that may require more artists without having to worry much about any large upfront expenses. We even found operating expenses are much easier to determine."
Maya LT for Game Developers
Maya LT debuts with an easy-to-navigate user interface (UI) and industry-renowned 3D modeling and animation tools that enable independent game developers to rapidly deliver 3D assets into game engines. The software integrates seamlessly into game development workflows with out-of-the box support for Unity 3D Engine and Unreal® Engine™ through the FBX file format for primary data exchange, and the ability to import certain 3D asset formats [Maya (.ma, .mb), Maya LT (.mlt), OBJ, FBX, AI, EPS] and texture formats (BMP, PNG, DDS, EXR, TGA, TIFF), as well as export 3D assets in FBX and .mlt.
Key Features
Maya LT has a number of features customized specifically for the needs of mobile and independent game developers: powerful modeling tools to help create and alter 3D assets of any size and export FBX files containing up to 25,000 polygons per object, animation tools that include a skeleton generator and inverse kinematics with Autodesk HumanIK, and high-quality viewport previews to help developers view assets as they would appear in game, reducing iteration and asset creation time. Other key features are lighting and texture baking, giving designers professional global illumination tools to help simulate near realistic lighting through baking lighting data into texture maps, and vertex maps.
Pricing and Availability
Autodesk Maya LT 2014 is now available for Mac and Windows at a starting price of $795* SRP per perpetual license. Term licenses will also be available as part of a monthly, quarterly or annual rental plan in the near future, starting at $50* SRP, $125* SRP and $400* SRP respectively.
*The Suggested Retail Price (SRP) shown is Autodesk's suggested price for the specified product and services in the United States. The SRP does not include any allowance or provision for installation or taxes. The SRP is displayed for reference purposes only, as the actual retail price is determined by your reseller. Other terms and conditions may apply. Autodesk reserves the right to alter the SRP, product offerings, and specification of its products and services at any time without notice, and is not responsible for typographical, graphical, or other errors that may appear on this site.
Tags: autodesk, cheap, FBX, feature set, Featured Articles, game developers, indie, limitations, low-cost, Maya, Maya 2014, Maya LT, MLT, mobile, new, price, ShaderFX, Unity