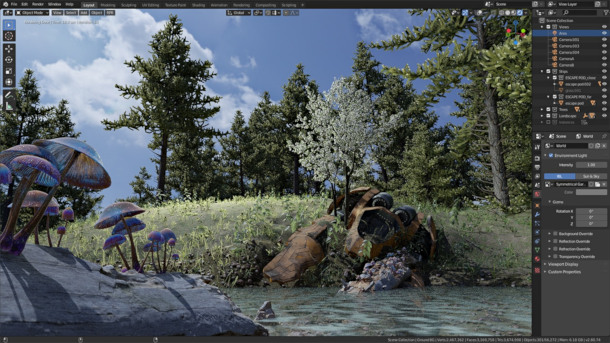 AMD has officially released Radeon ProRender for Blender 2.0, the latest update to the Blender edition of its free physically accurate GPU renderer, at Siggraph 2019.
The update rewrites the plugin to support Blender 2.80, and adds AMD's new AI-driven denoising system, adaptive sampling and the option to render large images as tiles.
The Maya edition of the renderer has also been updated, with version 2.7 adding support for tiled rendering, improved denoising, and support for portal lights.
AMD also announced new integrations of the renderer for a range of BIM, CAD and industrial design tools, including InstaLOD's Studio XL. A plugin for Unreal Engine is currently in beta.
Blender: support for Blender 2.80, AI-driven denoising, adaptive sampling and tiled rendering
First released in open beta earlier this year, Radeon ProRender for Blender gets a complete rewrite to support the new features of Blender 2.80, itself released during Siggraph.
ProRender now supports the most commonly used Blender shader nodes out of the box, including the Principled BSDF shader and Blender 2.80's new Principled Hair BSDF and Principled Volume shaders.
Some native Blender nodes, particularly noise nodes, are not supported – you can find a list here – but native Radeon ProRender nodes are provided for more "expert-level" set-ups.
Other changes include a new AI-driven render denoising system, which supplements AMD's existing GPU denoising technology, introduced last year.
The update also introduces support for adaptive sampling, focusing computational effort on the noisiest parts of a render; and for rendering images as tiles, making it possible to render at higher resolutions than would otherwise be possible in the GPU memory available.
Maya: tiled rendering, improved denoising and support for portal lights
The latest version of the Maya plugin, Radeon ProRender for Maya 2.7, also adds support for tiled rendering, and improvements to the AI denoiser.
In addition, portal lights are now supported for IBL, sun and sky lighting set-ups, and Maya ramps can be used as inputs for volumes – for "pressure and speed inputs in particular".
Changes to the renderer's native .rpr format, used for exporting sequences of frames, include the option to export as a single file, or as a compressed archive.
New integrations of the renderer for BIM, CAD and design tools
In addition, AMD announced new native integrations of Radeon ProRender in BIM specialist ACCA Software AIrBIM rendering system, used in the latest versions of its Edificius product range.
The renderer will also be integrated in upcoming releases of Studio XL, InstaLOD's software for tessellating CAD files to polygonal models, and z-Weave, z-emotion's 3D clothing simulation technology.
A plugin version of Radeon ProRender for Unreal Studio, Epic Game's work-in-progress Unreal Engine-based real-time visualisation platform, is currently in beta.
Availability and system requirements
Radeon ProRender for Blender 2.0 is compatible with Blender 2.80 on Windows 7/10, Ubuntu 16.04/18.04 and macOS 10.13.3+. It's a free download.
Radeon ProRender for Maya 2.7 is compatible with Maya 2017+, running on Windows 7/10 and macOS 10.13.3+. The Linux version hasn't been updated for some time now, and remains on version 2.1.
The renderer is hardware-agnostic, but for GPU acceleration, AMD graphics cards are "recommended". You can use any Intel or Nvidia card that supports OpenCL 1.2, but only on Windows 10 or Linux.

Read an overview of AMD's updates to Radeon ProRender at Siggraph 2019
Read a full list of new features in Radeon ProRender for Blender 2.0 in the online changelog
Read a full list of new features in Radeon ProRender for Maya 2.7 in the online changelog
Download Radeon ProRender for free
Tags: ACCA Software, adaptive sampling, AI-based, AIrBIM, AMD, architectural visualization, BIM, Blender, Blender 2.80, CAD, denoising, download, Edificius, free, GPU denoising, InstaLOD, Maya, new features, portal lighting, Principled BSDF, Principled Hair BDSF, Principled Volume, product visualization, Radeon ProRender, Radeon ProRender for Blender 2.0, Radeon ProRender for Maya 2.7, Radeon ProRender for Unreal Studio, render denoising, RPR, Siggraph 2019, Studio XL, tiled rendering, Unreal Studio, visualization, z-emotion, z-weave