Sunday, October 29th, 2023

Posted by Jim Thacker
Find free Blender resources and tutorials at BlenderNation Bazaar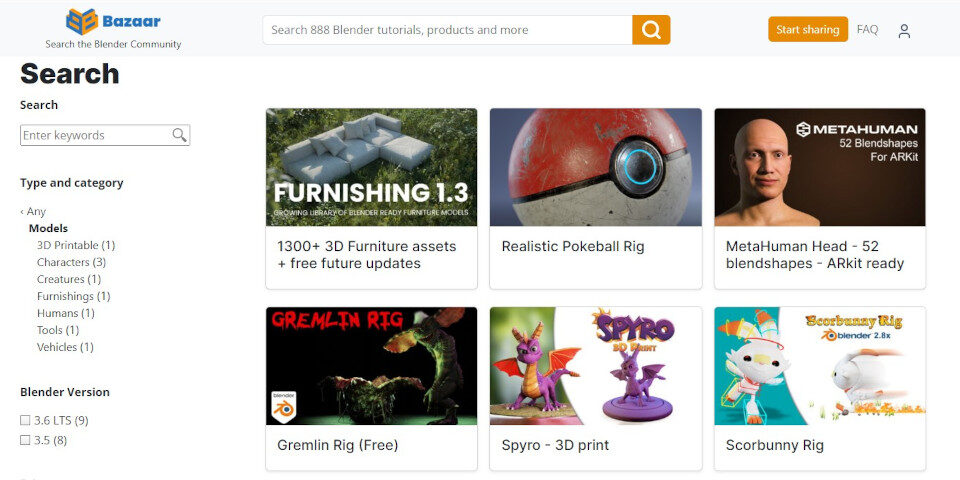 Blender news site BlenderNation has launched the BlenderNation Bazaar, a searchable directory of Blender resources.
It currently lists over 800 resources on key online marketplaces and training sites like YouTube and Gumroad, over 500 of them avaiable to download for free.
A searchable directory of Blender resources, curated by one of the best Blender news sites
For almost 20 years, BlenderNation has brought readers the news from the Blender community.
In that time, it has reported on a lot of third-party resources for the open-source 3D software, including models, textures, plugins and video tutorials.
The Bazaar is intended to make it easier for site users to find those resources, without having to trawl through archive stories, or search across multiple websites.
Search for Blender assets, add-ons and training across key third-party websites
Pitched as "the 'Yellow Pages' for the Blender Community, by the Blender Community", the BlenderNation Bazaar is a searchable directory of Blender models, assets and tutorials.
It lists content from across the web, including YouTube and GitHub, and key online marketplaces like ArtStation, Blender Market and GitHub.
At the time of writing, three days after it launched, the Bazaar features over 800 resources, 500 available to download for free.
Resources can be added by their authors, but resources are vetted for quality
Authors can add their own products by applying for an account, although new applications are vetted manually for quality: you can find guidelines in the online FAQs.
Free resources can be listed for free.
Commercial products can be listed by making BlenderNation a sales affiliate – the exact percentage is up to the creator – to fund maintenance and development of the Bazaar.
Read BlenderNation's announcement of BlenderNation Bazaar
Search for free Blender resources and tutorials on BlenderNation Bazaar

Have your say on this story by following CG Channel on Facebook, Instagram and X (formerly Twitter). As well as being able to comment on stories, followers of our social media accounts can see videos we don't post on the site itself, including making-ofs for the latest VFX movies, animations, games cinematics and motion graphics projects.