Friday, April 28th, 2023

Posted by Jim Thacker
LightWave Digital acquires LightWave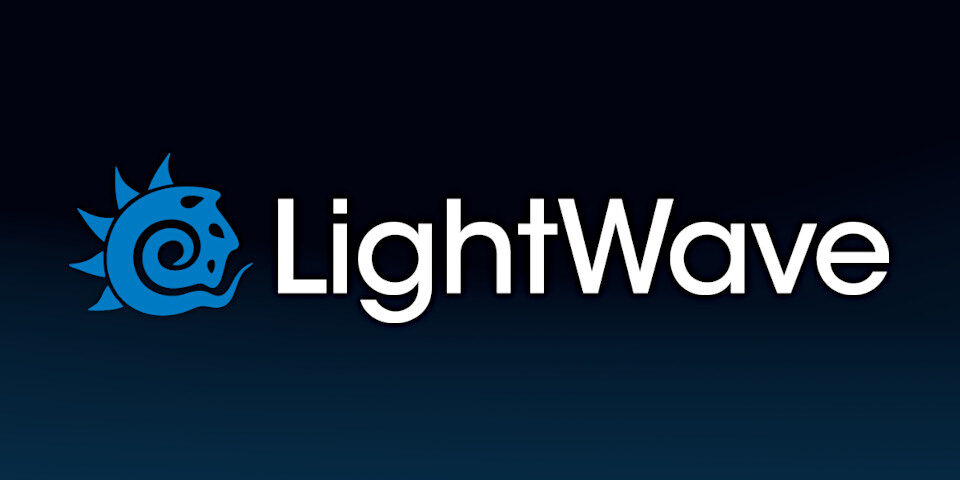 Originally posted on 7 April 2023. Scroll down for details of the completed buyout.
Veteran 3D animation software LightWave will soon have a new owner.
Lightwave Digital, a new group headed by former Darkside studio boss Andrew Bishop, is to acquire the software from current owner Vizrt, in a deal set to close on 27 April 2023.
The move should see development of LightWave restart, following more than two years of inactivity, with LightWave Digital taking over the existing product website, and its sales and support channels.
A new chapter for one of the VFX industry's longest-established 3D applications
Released in 1990, and available as a standalone application since 1994, Lightwave was one of the first professional 3D applications available for PCs as well as the then-standard Silicon Graphics workstations.
It gained a strong following in broadcast visual effects, where it was used on TV series like Babylon 5, Star Trek: Voyager and Battlestar Galactica, and although not as widely adopted in movie pipelines, was used in the production of Sin City, 300 and Avatar, and animated features including Jimmy Neutron: Boy Genius.
However, the number of studios using LightWave declined through the 2000s and 2010s, and after original developer NewTek was bought by real-time graphics firm Vizrt, development was suspended in 2020.
Deal to acquire LightWave from Vizrt expected to complete on 27 April 2023
News of the change of ownership was announced earlier this week, via a post on the Lightwave 3D – Salvation Facebook group directing users to a Discord server titled 'Welcome to the Future of LightWave'.
According to the FAQs section of the server, the deal is expected to close on 27 April, with LightWave Digital taking over ownership and restarting development of the software.
The existing LightWave website, product support channels and reseller network will also transfer to LightWave Digital, with "no change for existing license holders [expected] as a result".
New ownership team headed by former Darkside studio boss Andrew Bishop
The new team is headed by industry veteran Andrew Bishop, previously co-owner of LightWave-using VFX studio Darkside and its offshoots, and also previously responsible for the distribution of LightWave in the UK.
In a post on the LightWave forum, Bishop comments that he was asked by "a senior member of the Newtek team … to put together a team to save LightWave".
The new development roadmap for the software and practical details like pricing will not be made public until after the acquisition is completed.
However, Bishop comments on Discord that the new team – which includes other LightWave veterans like former beta co-ordinator Deuce Bennett – has "been planning for 3 years – thinking about things we want to fix and things we want to add".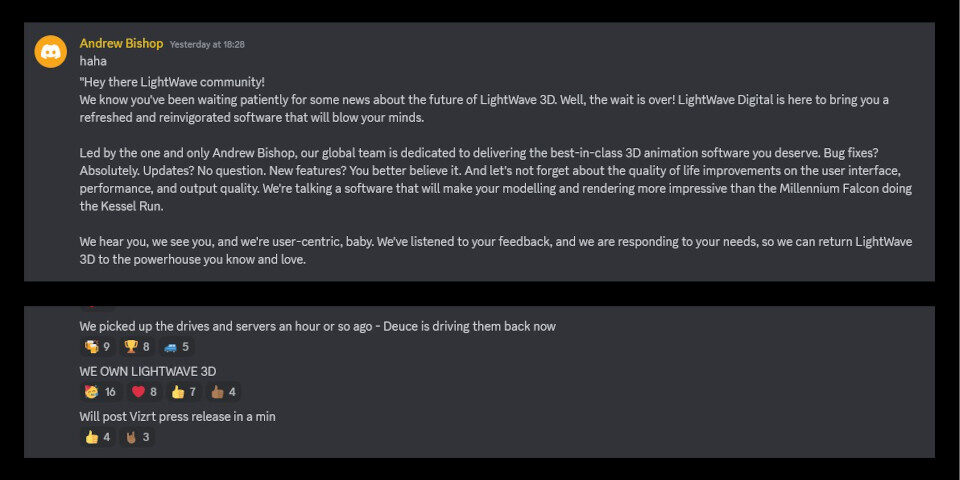 Updated 28 April 2023: LightWave Digital has now acquired LightWave.
Announcing the news on the Discord server, Bishop posted: "We picked up the drives and servers an hour or so ago – Deuce is driving them back now. WE OWN LIGHTWAVE 3D."
At the time of writing, neither the LightWave or Vizrt websites has been updated with the news, but you can find the text of the official announcement in the Discord post.
Vizrt CEO Michael Hallén is quoted as saying, "We did not make this decision lightly, but the aim has always been to ensure LightWave 3D has a future with a team that has a strong desire to breathe new life into [it]."
In another Discord post, Bishiop days: "So, now the hard work starts – I promise you guys, we will make this great again … over the next 5 years + we will transform LightWave back into a state of the art 3D package".
"We aim to have an upgrade out in around 6 months and follow that up with a second 6 months after that."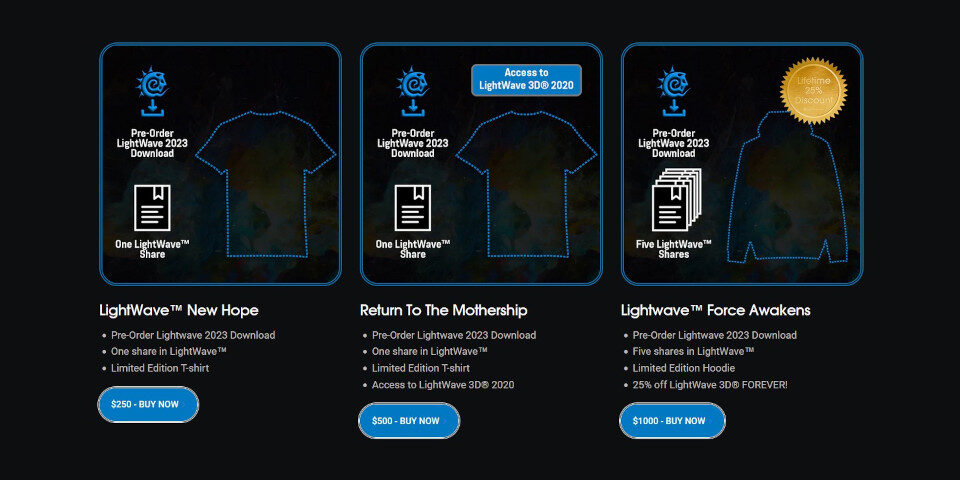 Updated 5 May 2023: LightWave Digital has now announced the upgrade path from the final Vizrt release of the software, LightWave 2020, to its own first release: LightWave 2023, which is due in "Q4 2023".
The upgrades are available from the new LightWave website – it's password-protected, but the password has been announced on the Discord server.
Unusually, LightWave Digital has chosen to include "shares in LightWave" as part of the offer – company shares, according to the same post on the LightWave Discord server.
A basic pre-order of LightWave 2023 costs $250, which gets you one share; $1,000 gets you five shares, plus "25% off LightWave 3D forever", which seems like something of a hostage to fortune.
There is currently no information about the new features scheduled for LightWave 2023 on the website, but Andrew Bishop has posted on Discord that the information is coming "soon".

Visit the Welcome to the Future of LightWave Discord server
Read more about LightWave on the product website
(Old Vizrt-era website: the link to the new one is in the story above)