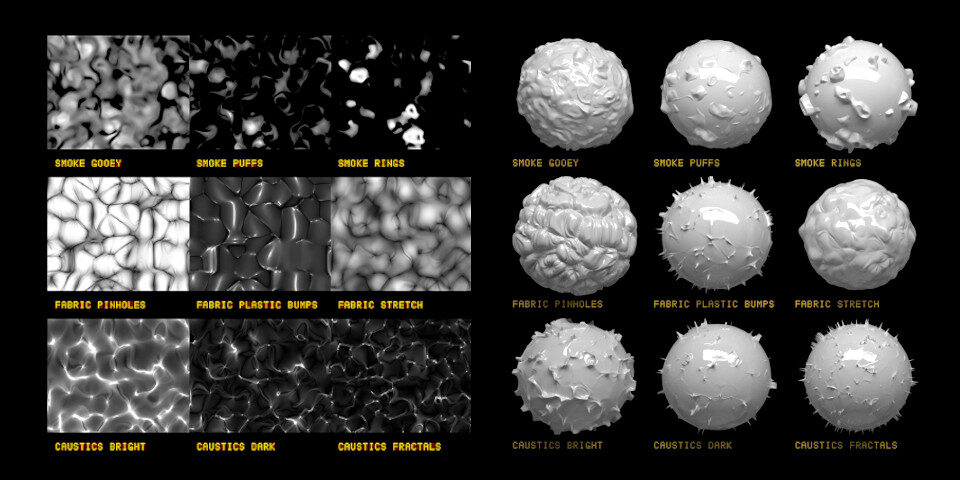 (Left) Noise patterns generated using the new Organic Noise OSL map in 3ds Max 2023.3, the latest version of Autodesk's 3D software. (Right) The result when using those noise patterns to displace 3D surfaces.

Autodesk has released 3ds Max 2023.3, the latest update to the 3D modelling and rendering software.
The release adds new OSL maps for generating organic noise patterns and randomising texture UVs, and improves performance of modifiers that convert meshes between polygons and triangles by up to 40%.
New OSL maps for generating organic noise patterns and randomising texture UVs
3ds Max 2023.3 introduces several new Open Shading Language (OSL) maps, including Organic Noise, for creating organic-looking noise, including patterns suitable for caustics, fabric surfaces and smoke.
It ships with "dozens" of presets, some of which are shown in the image above.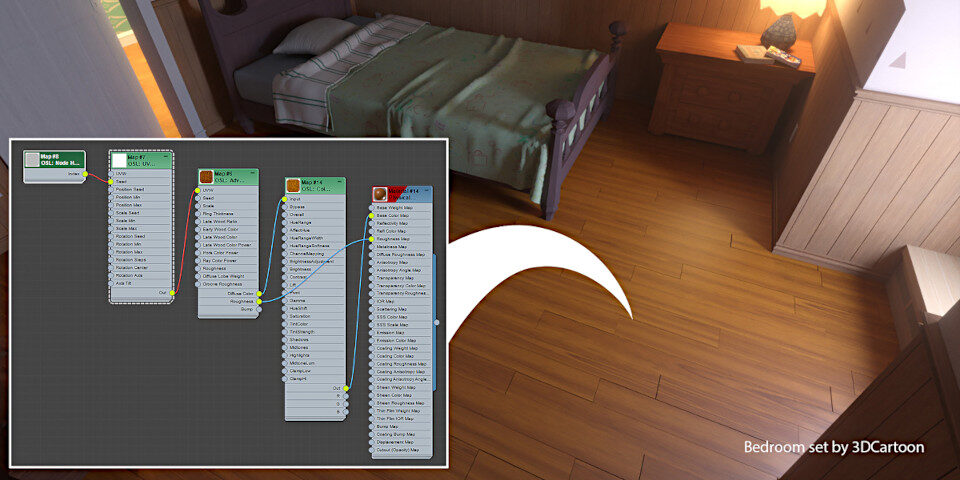 In addition, new UVW Randomizer 2D and 3D maps randomise the scale, offset and rotation of UV-mapped textures to generate natural-looking variation in scenes, in a similar way to VRayUVWRandomizer in V-Ray.
Performance improvements: faster conversion of meshes from polygons to triangles
3ds Max 2023.3 also improves performance when converting between polygonal and triangular meshes.
Modifiers that convert data from polygons to triangles or vice versa, like TurboSmooth and Turn To Poly, "can see up to a 40% speed improvement", and viewport performance "can benefit up to 35%".
Updates to the Arnold and Substance plugins
3ds Max's integration plugins for the Arnold renderer and Substance materials have also been updated.
The new version of MAXtoA – different parts of the documentation list slightly different version numbers – is described as a bugfix release: it doesn't add support for the features introduced in Arnold 7.1.4 last month.
The release notes for Substance in 3ds Max 2.4.9 aren't online, but it's described as adding support for Corona 8 and 9, the latest versions of Chaos Czech's production renderer.
Pricing and system requirements
3ds Max 2023.3 is available for Windows 10+. It is rental-only. Subscriptions cost $225/month or $1,785/year.
In many countries, artists earning under $100,000/year and working on projects valued at under $100,000/year qualify for Indie subscriptions, which cost $290/year.

Read an overview of the new features in 3ds Max 2023.3 on Autodesk's website
Read a full list of new features in 3ds Max 2023.3 in the online documentation
Tags: 3D modeling, 3ds max, 3ds Max 2023.3, 3ds Max Indie, animation, arch viz, architectural visualization, Arnold, autodesk, convert polygons to triangles, convert triangles to polygons, Corona, Corona 8, Corona 9, game development, Indie subscription, MAXtoA, motion graphics, new features, noise map, noise pattern, noise texture, Open Shading Language, organic noise, OSL, OSL Map, price, randomize UVs, rendering, Substance, system requirements, texturing, UVs, UVW Randomizer 2D, UVW Randomizer 3D, V-Ray, vfx, visual effects