Serif has released Affinity Photo 2.0, the latest version of its image editing and digital painting software.
For CG artists, the release adds a new Normals adjustment layer for editing the lighting information in normal maps and relighting 3D renders, and the option to save layer states to toggle between looks for an image.
Other key changes include an overhaul of the software's masking system, non-destructive development of RAW files, and a live mesh warp feature for product visualisation and print design.
The update was released alongside version 2.0 of Serif's other Affinity products, vector design software Affinity Designer 2.0 and page layout tool Affinity Publisher 2.0.
Serif has also introduced a new Universal License, which provides perpetual licenses of the Windows, macOS and iPad editions of all three applications for $169.99.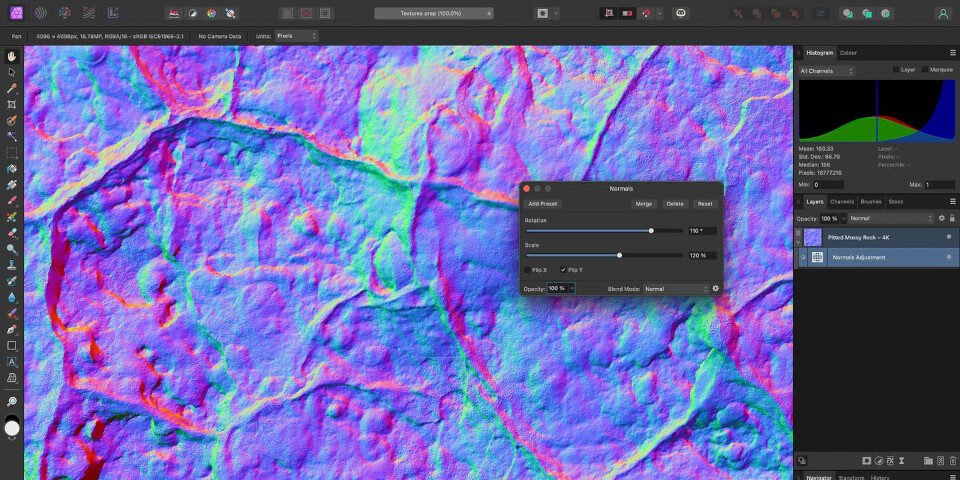 New Normals adjustment lets you edit the ligthing information in normal maps
For CG artists, one of the most interesting new features in Affinity Photo 2.0 is likely to be the new Normals adjustment layer, which enables artists to edit the lighting information in a normal map.
At 17:15 in the video above, you can see it in use to edit the direction and intensity of the lighting, and to flip the Y-axis – the green channel – of the map, to switch compatibility between DirectX and OpenGL renderers.
The video also shows how the feature can be used to relight 3D renders – or at least, to perform limited edits to the lighting within the scene – using a normal render pass generated in Blender.
Save layer states to toggle between variant looks for images
Another new feature in Affinity Photo 2.0 that may appeal CG artists is the option to save layer states.
It makes it possible to toggle quickly between different versions of an image – for example, variant looks created by post-processing a 3D render – by saving different configurations of layer visibility.
As well as creating layer states manually, users can control the visibility of layers based on their type, name, colour tag or lock status.
Create compound masks or masks based on the hue, luminosity or edges of objects in images
The update also reworks Affinity Photo's mask system, with the option to combine multiple mask layers non-destructively using add, intersect, subtract and XOR operations.
It is also now possible to create Live Masks for specific hue or luminosity ranges within an image, or Band-Pass masks focused around the edges of objects within the image.
New Live Mesh Warp, non-destructive RAW development and JPEG XL support
Other new features include Live Mesh Warp, which distorts an image non-destructively to match a template.
Potential uses include creating mock-ups of book or magazine pages by mapping the page layout onto a photo or 3D render of a blank page; or for creating mock-ups of label designs for product visualisation.
Photographers and retouching artists get the option to develop RAW files non-destructively, making it possible to change develop settings even after adding new layers or adjustments to the file.
The software's interface has also been updated, particularly to streamline layer workflow, and support has been added for the JPEG XL image format, also now supported in applications like Krita.
No upgrade pricing for users of Affinity Photo 1.x, but there is a launch discount
Initial reactions to the release – and, at the time of writing, it has only been out for a few hours – have been mixed, with some users criticising the lack of an upgrade path from version 1.x of the software.
In its replies to comments on YouTube, Serif said that it had chosen to make the 2.0 versions of its software available at a 40% launch discount rather than offering upgrade discounts, commenting: "As many of our apps are bought through third party App Stores we do not have a mechanism to offer upgrade pricing."
Buyers of Affinity Photo 2.0 will also get free updates until version 3.0 of the software is released: buyers of version 1.0 received free updates for seven years.
Other commenters criticised the lack of AI-based image-processing tools, like those that have been introduced in recent versions of Photoshop, and those available in Luminar and Topaz Labs' software.
Pricing and availability
Affinity Photo 2.0 is available for Windows 10+, macOS 10.15+ and iPadOS 15.0+.
The MSRP of perpetual licences of the desktop editions has risen to $69.99, up $15, while the MSRP of the iPad edition remains unchanged at $19.99. The new Universal License has a MSRP of $168.99.

Read an overview of the new features in Affinity Photo 2.0 and the other Affinity 2.0 updates
Tags: Affinity Designer, Affinity Designer 2.0, Affinity Photo, Affinity Photo 2.0, Affinity Publisher, Affinity Publisher 2.0, Band-Pass, Blender, compound mask, Concept Art, desktop publishing, digital painting, edit lighting in normal map, hue range, illustration, image editing, iPad, iPadOS, JPEG XL, live mask, Live Mesh Warp, luminosity range, macOS, masking, new features, non-destructive RAW development, Normals adjustment, page layout, price, price increase, price rise, product mock-up, product visualization, RAW, relight 3D render, retouching, save layer states, Serif, system requirements, Universal License, vector design, vector editing, Windows