Unity has unveiled Lion, a new tech demo showcasing the Unity game engine's capabilities for displaying high-fidelity CG creatures – in particular, its ability to handle hair and fur.
The demo, which runs in real time in 4K on a PlayStation 5, shows a CG lion cub playing with an adult lion, and features "millions of individual hair strands, all moving independently and uniquely, without artifacts".
Some of the new technology developed during its production is now available publicly via a new add-on package, while the rest is due to be released in Unity 2023.1.
The short was premiered at Siggraph 2022, where Unity is hosting a session on its underlying technology.
Created using many of the tools that Unity has acquired over the past year
The list of tools used to create Lion reads like Unity's own recent corporate shopping list, including tree-generation software SpeedTree Cinema and shot review system SyncSketch, both acquired last year.
They were complemented in production by tools developed by two other high-profile recent Unity acquisitions: rigging tools firm Ziva Dynamics, and legendary VFX house Weta Digital.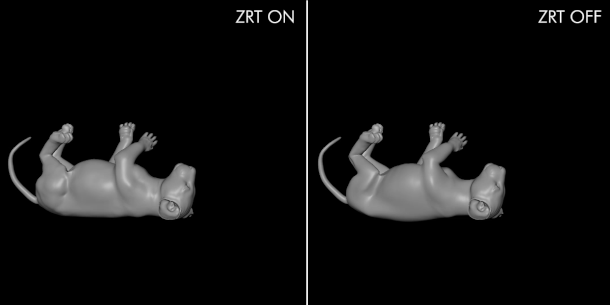 Lion uses machine-learning-based nonlinear deformation system Ziva RT for high-fidelity deformations of muscle and soft tissue (left), shown here in comparison to a more traditional game skinning set-up (right).

The offline assets for the demo were created by students from the Monster Emporium Animation School, using Ziva VFX, Ziva Dynamics' Maya soft tissue simulation plugin.
To improve real-time performance, the lion assets were then enhanced with using machine-learning-based nonlinear deformation system Ziva RT, executed dynamically using the upcoming Ziva RT Unity player.
Fur grooms were created using Weta's grooming tool Wig, currently in pre-alpha.
Showcases improvements to fur simulation and rendering in Unity itself
For fur simulation and rendering, the demo makes use of new technologies developed in-house at Unity, with GPU-driven clustered hair simulation enabling millions of hair strands to react dynamically in real time.
The approach was used in Enemies, Unity's previous tech demo, but for Lion, was scaled to "several orders of magnitude more hair strands".
The underlying technology is now available publicly, via the new Unity Hair System Package.
To render all of those millions of strands accurately, the demo makes use of upcoming improvements to Unity's High Definition Render Pipeline, including better physically based hair lighting models.
You can read a more detailed description of the changes in the blog post linked at the foot of this story.
Release dates and system requirements
The Unity Hair System package is available on GitHub. It is compatible with Unity 2020.2.0f1 and above.
Unity plans to make the other new hair simulation and rendering technology developed for Lion publicly available in Unity 2023.1, due for a stable release next year.
The software is compatible with Windows 7+, Ubuntu 18.04/20.04 and CentOS 7 Linux, and macOS 10.14+. It is available rental-only via free Personal subscriptions, or paid Pro and Plus plans.
Read more about the making of Lion on Unity's blog
Tags: Character Animation, character effects, character rigging, clustered hair simulation, Enemies, fur groom, game art, game development, Game Engine, hair rendering, hair simulation, HDRP, high definition render pipeline, Lion, machine learning, Maya, muscle simualation, nonlinear deformation, real-time rendering, release date, Siggraph 2022, soft tissue simulation, SpeedTree Cinema, SyncSketch, system requirements, tech demo, Unity, Unity 2023.1, Unity Hair System Package, Weta Digital, Wig, Ziva RT, Ziva RT Unity player, Ziva VFX