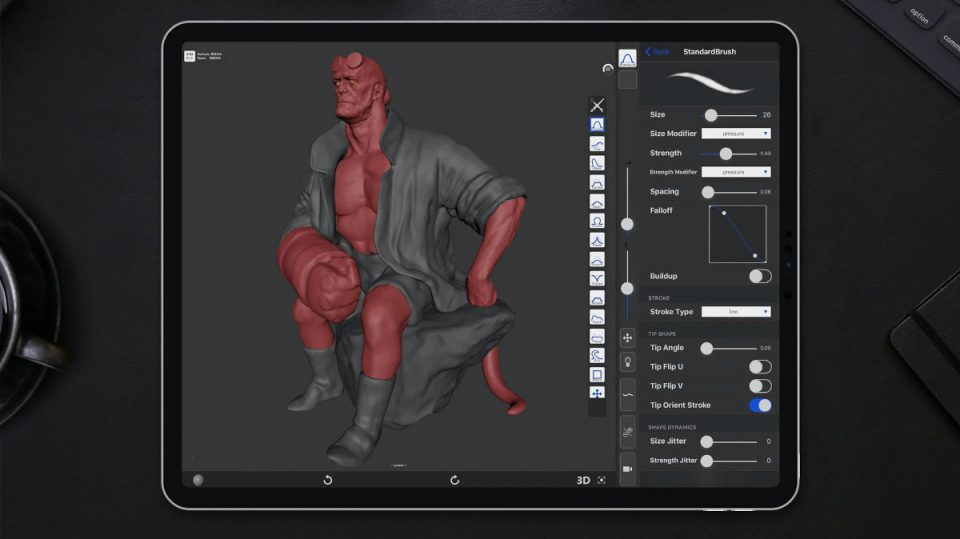 Originally posted on 21 November 2021. Scroll down for news of the new languages now supported.
Maxon has made Forger, its digital sculpting app for iPad, available to download for free.
The free edition is limited to three active files, and does not share data directly with Cinema 4D, Maxon's 3D animation software, but is otherwise fully functional.
Interoperability with Cinema 4D can be unlocked via a $14.99/year subscription, or as part of a Maxon One subscription to all of Maxon's software and training.
One of the oldest iPad sculpting apps, and still a very capable one
First released in 2011, Forger is one of the oldest dedicated sculpting apps for the iPad.
It provides a core set of sculpting brushes that will be famiilar to users of desktop tools like ZBrush, including Standard, Clay, Smooth, Move, Pull, Flatten, Polish, Inflate and Crease.
Users can sculpt either with a stylus – Forger supports the Apple Pencil – or via the multitouch interface.
Other key features include sculpting layers, masking, face grouping, a LazyMouse-style option for smoothing freehand strokes, symmetry, automated retopology, and basic vertex painting.
The app has been regularly updated since its release, and supports current VFX production standards, importing Alembic files and exporting USD files, in addition to older formats like OBJ and STL.
Maxon acquired Forger earlier this year, with its developer, former VFX TD Javier Edo, joining the company.
Now available free, if you don't need the new round-trip workflow with Cinema 4D
Instead of being available via a $9.99 perpetual licence, Forger is now available to download for free, with additional functionality being unlocked by a paid subcription.
Maxon made the changes in licensing last month, alongside the release of Cinema 4D R25 Hotfix 1 and Forger 1.8, which made it possible to move assets back and forth directly between the two applications.
That workflow is only available to subscribers, but it's currently one of only two differences between the free and commercial versions.
There doesn't seem to be a feature comparison table on Maxon's website, but when we contacted the firm to check the limitations of the free edtion, we were told:
"The free edition is limited to three active files and [there is] no interoperability with Cinema 4D."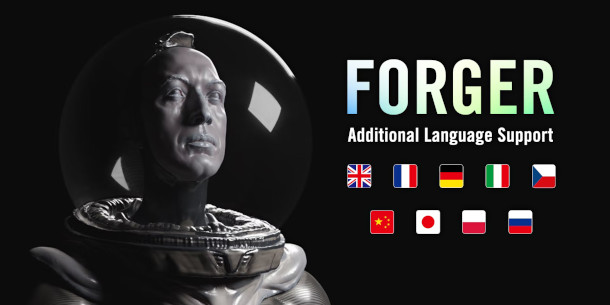 Updated 4 March 2022: Maxon has released Forger 1.8.6.
The update makes the app available natively in a greater range of languages, now including Chinese, Czech, French, German, Italian, Japanese, Polish, Russian and Spanish, as well as English.
Pricing and availability
Forger 1.8.6 is available for iPadOS 15.0+. It's a free download, with the restrictions listed above.
The extra functionality can be unlocked via in-app payments of $14.99/year, or by taking out a Maxon One subscription to all of Maxon's products, which costs $149/month or $1,199/year.

Read more about Forger on Maxon's product webpage
Download iPad sculpting app Forger for free from the App Store
Tags: 3D painting, Apple Pencil, Cinema 4D, Cinema 4D R25 Hotfix 1, Cinema 4D R25.015, digital sculpting, download, face group, Forger, Forger 1.8, Forger 1.8.6, free, free edition, interoperability with Cinema 4D, iPad, iPadOS, Javier Edo, language support, layers, LazyMouse, limitations, masking, Maxon, Maxon One, mobile, mobile sculpting app, price, restrictions, retopology, sculpting brushes, stylus, subscription, symmetry, system requirements, vertex painting