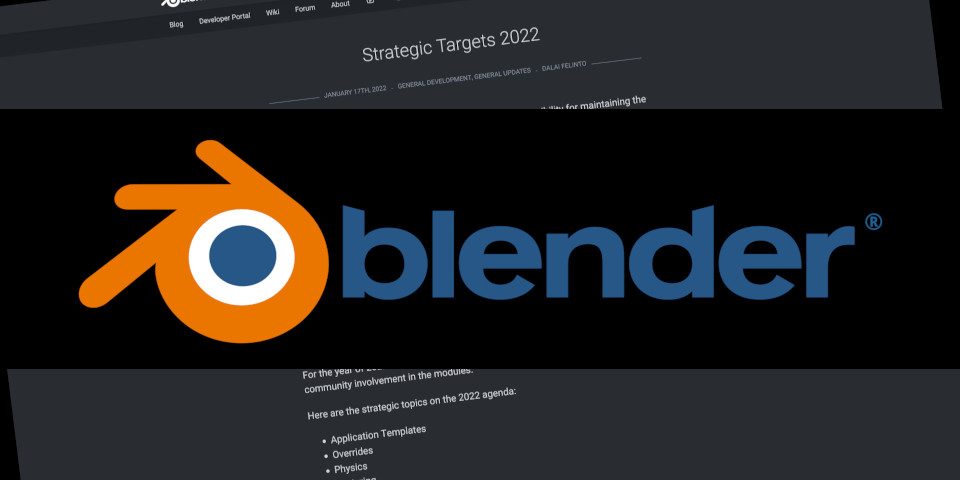 The Blender Institute has announced its key development targets for Blender this year, the list forming a brief 2022 roadmap for the open-source 3D software.
Proposed changes include a new node-based texturing system, the extension of the existing Geometry Nodes system to support physics, and the completion of Library Overrides and Application Templates.
Assuming that development goes to schedule, the new features should roll out in Blender 3.1 to 3.4.
The big ticket features for Blender in 2022
In a post on the Blender Developers blog, Blender development coordinator Dalai Felinto sets out the toolsets identified by the Blender Institute as "high priority strategic development projects" for 2022.
The list echoes last year's Blender 3.x product roadmap, but covers only the first part of the 3.x cycle.
Assuming that development runs to schedule, with a public release every quarter, there should be four major new versions of Blender out this year, beginning with Blender 3.1 in March 2022.
Updates to texturing, physics, Library Overrides and Application Templates
Of the four development projects proposed, the one currently least advanced is the overhaul of Blender's texturing tools.
The target calls for a "better non-destructive painting pipeline within Blender" through a "combination of node-based textures and mask painting", with brush management and performance listed as stretch goals.
A node-based physics system is also planned – in this case, through the expansion of the geometry nodes system introduced in Blender 2.92, beginning with particle and hair simulation.
The implementation is intended to support both interactive and final-quality simulation.
In addition, the Blender Institute has earmarked two ongoing development projects for completion in 2022: Library Overrides and Application Templates.
The former is a replacement for Blender's old Proxies system better suited to VFX and animation production pipelines, intended to make it easier to reference and reuse assets within Blender scenes.
The latter enables users to define custom configurations for the software without requiring a separate Blender installation or overwriting personal settings, currently available as an experimental feature.
Release dates and system requirements
Blender 3.1 is currently scheduled for a stable release on 9 March, with Blender 3.2 to 3.4 due later in 2022.
The software is available under an open-source GPL licence. The current stable release, Blender 3.0, is available for Windows 8.1+, macOS 10.13+ and Linux.
Read a list of key features planned for Blender in 2022 on the Blender Developers blog
Tags: 2022, 2022 Blender roadmap, 3D modeling, animation, Application Templates, arch viz, architectural visualization, Blender, Blender 3.1, Blender 3.2, Blender 3.3, Blender 3.4, Blender Foundation, Blender Institute, brush manamgement, custom configuration, development goals, development targets, digital sculpting, dynamics, game art, game development, hair simulation, Library Overrides, mask painting, motion graphics, new features, node-based, open source, particle system, physics, product roadmap, proxies, release date, simulation, system requirements, texturing, vfx, visual effects