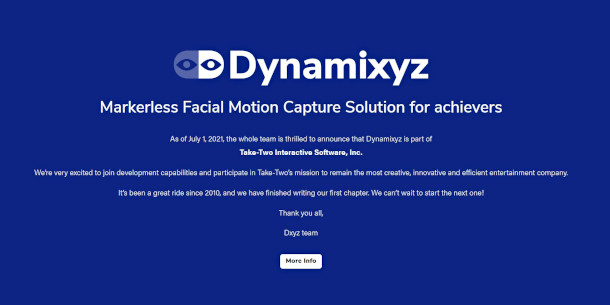 Dynamixyz's farewell message to its users. The firm's Performer facial mocap software was used by VFX firms like Framestore as well as game developers like Rockstar Games, part of its new owner Take-Two.

Games company Take-Two Interactive Software has acquired facial motion capture firm Dynamixyz. The financial terms of the deal were not disclosed.
Dynamixyz will now operate as a division of Take-Two, and will work exclusively with Take-Two's own publishing labels and studios, which include Rockstar Games and 2K.
The firm's products, which included markerless performance capture software Performer and head-mounted cameras, are no longer available for sale on the old Dynamixyz website.
Markerless facial mocap system Performer comes off the market
Founded in 2010, Dynamizyx built up a reputation in the industry for Performer, its software for processing video footage of an actor's face and retargeting the animation to a 3D character.
Tracking could be done offline or in real time, and the animation data exported to DCC applications including 3ds Max, Cinema 4D, Maya and MotionBuilder, or streamed to Unreal Engine or Unity.
Dynamixyz later built up a set of supporting products, including software for monitoring and controlling motion-capture sessions, and head-mounted camera systems.
Dynamixyz tech now available exclusively to Take-Two studios like Rockstar
The buyout makes Dynamixyz's technology exclusively available to Take-Two's own studios, including Rockstar Games, with which Dynamixyz had previously worked on Red Dead Redemption 2.
CEO Gaspard Breton will continue to oversee Dynamixyz, reporting to Take-Two EVP Scott Belmont.
Take-Two described Dynamixyz as having "a well-earned reputation for providing the widest and smartest range of facial motion capture solutions to the entertainment industry", and said that the buyout would enable it to "invest further in its internal development capabilities".
Dynamixyz's own farewell message on the homepage of its website reads: "It's been a great ride since 2010, and we have finished writing our first chapter. We can't wait to start the next one!"
Part of a recent series of buyouts of mocap tech firms by game developers
Dynamixyz becomes the latest facial motion-capture specialist to have been bought by one of its games clients, following Epic Games' acquisition of Cubic Motion and 3Lateral.
Unlike Dynamixyz, both firms primarily made their technology available directly to other studios as service bureaux, rather than as off-the-shelf products.
Dynamixyz's software was also used on high-profile VFX and animation projects, with Framestore using Performer for Hulk in Avengers: Endgame, and Unit Image using it on Netflix's Love, Death & Robots.
Read Take-Two's official announcement that it has acquired Dynamixyz
Tags: 3ds max, 3Lateral, acquisition, animation, Avengers: Endgame, buyout, Cinema 4D, Cubic Motion, Dynamixyz, Epic Games, facial capture, Framestore, game art, game development, Love Death & Robots, Maya, mocap, motion capture, MotionBuilder, no longer available, no longer sold, performance capture, Performer, Red Dead Redemption 2, Rockstar Games, Take-Two, Take-Two Interactive Software, Unit Image, Unity, Unreal Engine, vfx, visual effects