Wednesday, October 7th, 2020

Posted by Jim Thacker
Watch VIEW Conference 2020 online for free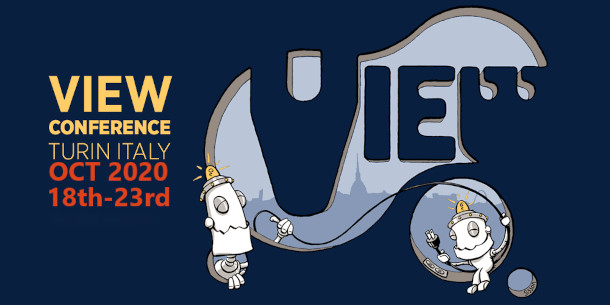 Originally posted on 7 September 2020. Scroll down for details of the free online event.
Italy's VIEW Conference has begun announcing speakers for this year's event, including a keynote by Pixar co-founder Ed Catmull, and sessions with the directors of many of the world's biggest animated features.
The conference – one of the few industry events due to take place physically this year – also features talks by Game of Thrones VFX supervisor Stefen Fangmeier and VFX legends Phil Tippett and Dennis Muren.
Updated 7 October: The conference is now an online-only event. Details below.
A Who's Who of the world of feature animation
Now in its 21st year, VIEW is one of Europe's leading CG festivals, with a five-day program of talks, workshops and screenings, alongside its own animation awards, the VIEW Award.
The keynote for the 2020 conference comes from Pixar co-founder – and former president of Walt Disney Animation Studios – Ed Catmull, while the speaker line-up is a real Who's Who for the world of animation.
Directors already confirmed to speak at the event include Spider-Man: Into the Spider-Verse's Peter Ramsey, The Willoughbys' Kris Pearn, and Tomm Moore, writer and director of the Oscar-nominated Song of the Sea.
The conference should also provide sneak peeks at two of next year's major animated features, with sessions from Joel Crawford, director of The Croods 2, and Kyle Balda, director of Minions: The Rise of Gru.
On the business side of the industry, Moana producer Osnat Shurer will be discussing her career and her current work as producer on Disney's upcoming animated feature Raya and The Last Dragon.

Talks on VFX and game development, plus practical workshops and masterclasses
Outside feature animation, the latest speaker to be confirmed for the 2020 conference is Stefen Fangmeier, VFX supervisor for the epic final season of Game of Thrones.
He will be joined by Roger Guyett, VFX supervisor for Star Wars: The Rise of Skywalker and Hal Hickel, animation supervisor for The Mandalorian, plus VFX industry legends Phil Tippett and Dennis Muren.
Speakers from the games industry include Nate Fox, Sucker Punch Productions' creative director for Ghost of Tsushima, EA founder Trip Hawkins, and Milan Jovovic, co-founder of mobile developer Nordeus.
The event will also feature a range of panel discussions and masterclasses, while Jeremy Clapin, director of the critically acclaimed – and Oscar-nominated – I Lost My Body – will be running a workshop on his experiences of moving from animated shorts to full-length features.

Updated 7 October 2020: The VIEW Conference has now become an online-only event – and access to all of the sessions, including the accompanying Business Innovation Summit, is now free to everyone.
A free pass gives you access to livestreams of the sessions as they take place; paid passes are also still available, and let you watch sessions on demand until at least 31 December 2020.

Dates and details
The VIEW Conference 2020 takes place from 18-23 October 2020. A free pass lets you watch each session live as it happens.
Light passes, which give on-demand access to standard talks, sessions and panels, cost €85 (around $100). Full conference passes cost €200 (around $240), and all-access passes €250 (around $300).
Prices exclude tax and Eventbrite fees. You can find more details here.

Read more about the 2020 VIEW Conference on the event website
See the full program of speaker sessions and workshops for the 2020 VIEW Conference
See videos of the free preVIEW sessions on the conference's YouTube channel