Wednesday, November 20th, 2019

Posted by Jim Thacker
Chaos Group ships V-Ray Next for 3ds Max Update 3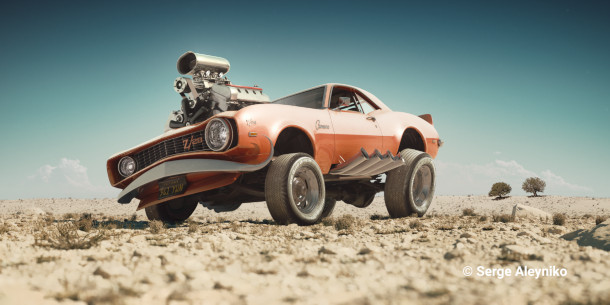 Chaos Group has released V-Ray Next for 3ds Max Update 3, the next update to the 3ds Max edition of the production renderer, adding support for hardware-accelerated ray tracing on Nvidia RTX graphics cards.
Support for RTX acceleration will now be rolled out across the other editions of the renderer, beginning with V-Ray Next for Maya.
Rendering now 'about 40%' faster when rendering on Nvidia RTX GPUs
There's only one major new feature in Update 3, although it's one that we suspect will be of interest to a lot of V-Ray for 3ds Max users: RTX acceleration.
V-Ray Next can now make use of the dedicated RT ray tracing cores in Nvidia's GeForce RTX, Titan RTX and Quadro RTX GPUs to speed up renders.
The new RTX engine, which uses Nvidia's OptiX API, is implemented as an alternative to the existing CUDA engine, and can be selected manually when rendering on an RTX card.


According to Chaos Group's blog post, the performance benefit varies according to how a scene is constructed, and the complexity of its shaders.
With the scenes from Chaos Group's learning resources shown above, the speed boost when switching from CUDA to RTX on "RTX GPUs" – the blog post doesn't specify which card – varies from 7% to 177%.
The average performance increase is "about 40%".
Support for hybrid rendering planned
RTX acceleration should work with all of the features currently supported by V-Ray GPU, V-Ray Next's GPU renderer, aside from rendering in "hybrid mode": that is, using both CPU and GPU.
Chaos Group says that it plans to add support for hybrid rendering in future, describing the release as "just the start of our initial implementation of RTX support".
RTX acceleration will now be rolled out across the company's other editions of V-Ray, beginning with V-Ray Next for Maya.
In addition, V-Ray Next for 3ds Max Update 3 adds support for deep EXR output when rendering with V-Ray GPU, plus a number of smaller feature improvements. You can find a full list of changes via the link below.
Pricing and system requirements
V-Ray Next for 3ds Max Update 3 is available for 64-bit 3ds Max 2013+, running on Windows 7+. A workstation licence and one render node costs $1,180. Rental starts at $470/year.
To make use of RTX acceleration, you will need a Nvidia RTX graphics card and Nvidia's latest driver: at the time of posting, version 441.28.
Read an overview of the new features in V-Ray Next for 3ds Max Update 3 in the online release notes