Tuesday, October 8th, 2019

Posted by Jim Thacker
Check out neat retopology tool QuadRemesher

Originally posted on 14 August 2019. Scroll down for news of the new Blender edition.
Exoside – aka developer Maxime Rouca – has released QuadRemesher, a promising new automatic retopology plugin for 3ds Max, Maya and Modo.
(Full disclosure: it actually shipped last month, but we didn't manage to cover it at the time.)
The software processes source meshes composed of triangles or a mixture of polygon types, such as sculpts or raw scan data, and converts them to evenly spaced quads suitable for animation.
Turn source models into clean all-quad geometry with user-customisable edge flow
Rouca has a proven pedigree in developing retopology tools, having developed the technology behind ZRemesher, ZBrush's retopology toolset, along with the software's Decimation Master plugin.
QuadRemesher applies those skills to 3ds Max, Maya and Modo, automatically converting source geometry into clean all-quad meshes with a user-specified target polygon count.
The plugin can be set to generate evenly sized quads, or to allow quad size to vary with surface curvature. Quad sized can also be controlled manually, by painting vertex colours.
The flow of edges in the new topology can be controlled by material boundaries, smoothing groups or surface normals. In future releases, it will also be possible to draw guide curves by hand.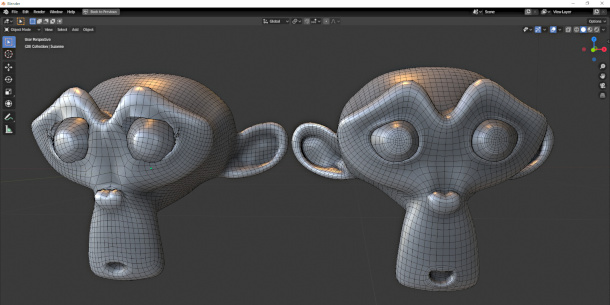 Blender's Suzanne model, retopologised using Blender 2.81's upcoming QuadriFlow Remesh operator (left) and with QuadRemesher for Blender (right), in an image created by Blender Artists forum user Xorrito.

Updated 8 October 2019: Exoside has released QuadRemesher for Blender. You can see early user feedback and comparisons with Blender's native retopology tools in this thread on the Blender Artists forum.
Pricing and system requirements
QuadRemesher is available for 3ds Max, Blender, Maya and Modo. The Blender, Maya and Modo plugins currently run on Windows and macOS only. Cinema 4D and Houdini versions are also in development.
A perpetual licence costs $109.90; rental costs $15.99/quarter, although subscriptions will be available at a discount until the end of 2019.

Read an overview of QuadRemesher on Exoside's website
Read a full list of features in QuadRemesher in the online documentation