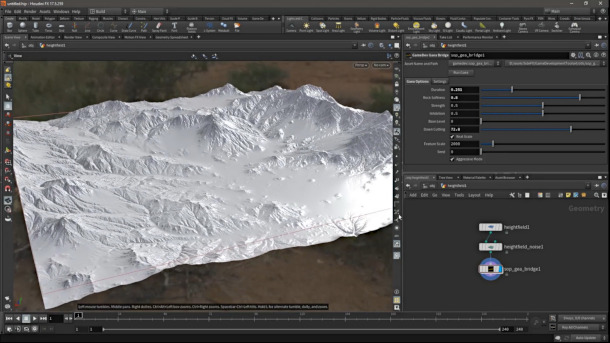 QuadSpinner has released Gaea 1.0.24, the latest update to its next-gen terrain design tool, introducing integration with Houdini.
The functionality makes Gaea's terrain controls accessible directly within SideFX's procedural software – and, if the scene is then exported as an HDA file, inside Unity or Unreal Engine.
Powerful procedural terrain generation plus artist-friendly direct sculpting
Released earlier this year, Gaea is intended to provide an artist-centric approach to terrain generation for games, combining powerful procedural controls with a range of direct input methods.
As well as by creating and editing a conventional scene graph, users can control terrain forms through a Photoshop-style layer system or by direct sculpting.
The software includes a procedural erosion system capable of mimicking snow, scree and sediment deposition, which can even be used to 'sculpt' fine details into a terrain.
Once generated, terrains can be exported as meshes, point clouds or height maps, with the option to generate LODs or variants via a built-in terrain mutation system.
New in Gaea 1.0.24: edit Gaea terrains directly inside Houdini or via Houdini Engine
Gaea 1.0.24 integrates Gaea with Houdini, SideFX's procedural 3D software, via a new Gaea Bridge node in SideFX's free Game Development Toolset.
The integration makes it possible to expose parameters in a Gaea graph, load the resulting .tor scene file in Houdini, then modify those parameters directly within the software.
According to SideFX senior technical artist Luiz Kruel, if the Houdini scene is then exported as an HDA file, it should also be possible to edit Gaea parameters inside software that can integrate with Houdini Engine.
That currently includes Unreal Engine and Unity, both of which have free Houdini Engine plugins.
Gaea now exports a map of exposed parameters as an XML file, so Quadspinner says that it should be straightforward for other DCC tools developers to create similar integrations in future.
Updates to the undo system and terrain export
Other changes in Gaea 1.0.24 include an overhaul of the software's undo system, which now generates "predictable results", and which gets a history drop-down.
There are also updates to several of the existing nodes, and to the terrain export process.
At the minute, the only place to find a full list of changes is on the download page of QuadSpinner's website, but the firm says that it plans to post a more detailed description on its blog.

New in Gaea 1.0.19 to Gaea 1.0.23: new terrain drawing tools, plus option to export tiled terrain
Other features new to Gaea since we last wrote about the software include a set of tools for drawing the major forms of terrain directly.
Gaea 1.0.19 introduced the workflow for islands, while Gaea 1.0.20 made it possible to draw mountains.
The same two updates added a Splat node, making it possible to combine multiple masks into the RGB channels of a colour map; and a new Cracks primitive.
The software can also now export terrain as tiles, making it easier to use within game engines.
Subsequent releases have added a new mesh exporter and a defaults system, making it possible to save custom default values for parameters and custom startup scenes.
Pricing and system requirements
Gaea is available for Windows 7+ only. The free Community Edition, which is licensed for commercial use, provides access to most of the key tools, but caps export resolution at 1K.
The Indie edition, which caps export resolution at 4K, costs $99; the Professional and Enterprise editions, which provide unlimited resolution plus a range of advanced features, cost $199 and $299 respectively.

Read more about the latest features in Gaea on the product download page
Read an overview of Gaea on QuadSpinner's website
Tags: Cracks primitive, defaults system, draw terrain, Featured Articles, free, Gaea, Gaea 1.0.19, Gaea 1.0.20, Gaea 1.0.21, Gaea 1.0.22, Gaea 1.0.23, Gaea 1.0.24, Gaea Bridge, Game Development Toolset, heightmap, Houdini, Houdini Engine, integration, LOD, new features, parametric editing, plugin, point cloud, price, procedural erosion, QuadSpinner, Splat node, system requirements, terrain design, terrain editing, terrain export, terrain generation, terrain mesh, terrain modeling, terrain sculpting, tiled terrain, UE4, Unity, Unreal Engine, variant terrain