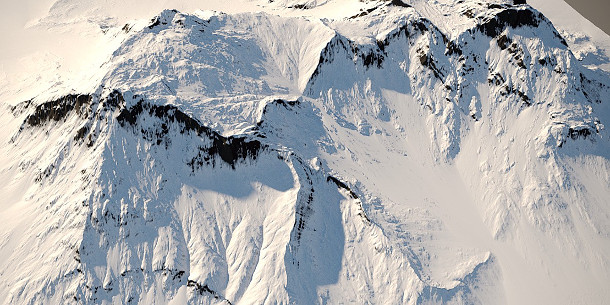 QuadSpinner has released Gaea 2480, the latest early access build of its promising landscape design tool, adding new scale controls for terrain erosion, and new options to control soil, rain and snow distribution.
The software, which is due for a full release this quarter, provides an artist-centric approach to terrain generation for games, combining powerful procedural controls with a range of direct input methods.
From World Machine plugins to standalone tools
Best known for its popular GeoGlyph add-on for World Machine, QuadSpinner has been developing its own standalone terrain-generation tool for some time now.
Originally known as The TOR Platform, Gaea's key selling point is its combination of procedural terrain generation with artist-friendly editing tools.
As well as a conventional graph interface, along the lines of that in World Machine, users can control terrain forms through Photoshop-style layers or paint-stroke-based direct sculpting.
New Erosion node with scale controls
New features in the 2480 build include Erosion, a "comprehensive" new node that provides artists with more control over the scale of landscape features generated by Gaea's erosion system.
Users can now specify the size of the largest erosion feature as well as the overall size of the terrain; and features should now be preserved between low-res preview builds and final 4K or 8K output.
There is also a new Convector node – "an exaggerated form of thermal erosion [tweaked] for stylized output" – designed for use with the Erosion node to generate steeper slopes and terraces.
More control over wind-blown soil, rain and snow build-up
Other new nodes include Soil Map, which models the way that wind-blown dust collects on terrain. Higher values increasingly move soil into crevices, leaving exposed surfaces bare.
Of the existing nodes, Flow Map now has an option to simulate constant rainfall as well as a weighted average; and Sediment has a new drift mode for creating large-scale effects like snowfields and glaciers.
Workflow and UI changes
Workflow changes include the option to display any output from a node in the 2D view, and to overlay 2D data on the 3D view as a coloured mask.
In addition, computationally expensive nodes can now be set up not to update automatically, reducing iteration times on complex terrain setups.
The UI has also been updated, with new icons for each node. Quadspinner says that it hopes the new designs will be easier to recognise in the long run, but if you've used earlier builds, it may take time to adjust.
Pricing and availability
Gaea is available in early access for Windows 7+ – there isn't a Mac or Linux version – with the official 1.0 release due in "early Q2 2018".
The Indie edition, which caps export resolution at 4K, costs $99; the Professional and Enterprise editions, which provide unlimited resolution plus a range of advanced features, cost $199 and $299 respectively.
All three editions are available at a discount during the early access period, and further discounts are available to registered users of GeoGlyph 1 and above.

Read a full list of new features in Gaea 2480 QuadSpinner's blog
Read an overview of Gaea on QuadSpinner's website
Tags: Convector, early access, erosion, flow map, Gaea, Gaea 2048, landscape generation, new features, price, QuadSpinner, rain, release date, Sediment, snow, soil, Soil Map, terrain generation, World Machine