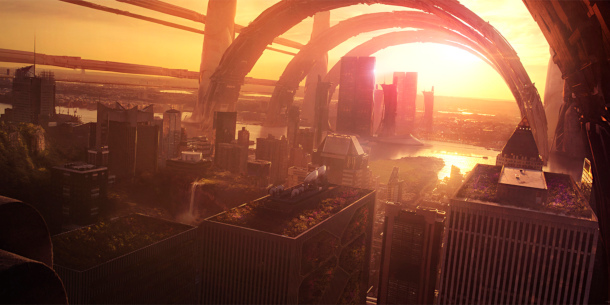 An image by Blur Studio matte painter Mike Johnson: just one of the works on display at Gnomon Gallery's free Artists of Blur exhibition, which showcases the personal art work of staff at the leading CG facility.

Hollywood's Gnomon Gallery is hosting Artists of Blur, a free exhibition showcasing personal artworks created by artists from legendary visual effects and animation facility Blur Studio.
The studio's credits range from VFX for Deadpool – which studio co-founder Tim Miller also directed – to a string of award-winning commercials and games cinematics.
The show itself spans a range of media, and features the work of 15 current Blur staff, including character artists Nicolas Collings, Damien Canderle and Krystal Sae Eua, and matte painter Mike Johnson.
Several are also graduates of the neighbouring Gnomon school, including 3D generalists Beat Reichenbach and Santhosh Koneru.
You can meet some of those artists at the opening reception for the exhibition, which takes place at the gallery from 8pm to 10.30pm PT on Saturday 11 May 2019. It's also free, but you'll need to register online first.
After that, the show runs until 1 July 2019. The gallery is open from 9am to 6pm Monday to Friday.

Read more about Artists of Blur on the Gnomon Gallery website
(Includes directions to the venue)

Full disclosure: CG Channel is owned by Gnomon.
Tags: Artists of Blur, artwork, Beat Reichenbach, Blur Studio, character design, character modeling, Concept Art, Damien Canderle, digital art, exhibition, free, game cinematic, Gnomon, gnomon gallery, Krystal Sae Eua, Matte Painting, Mike Johnson, Nicolas Collings, personal art, Santhosh Koneru, show, visual effects