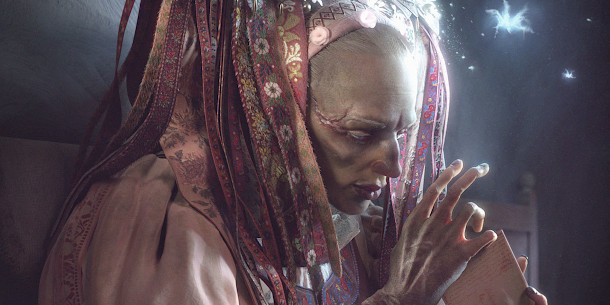 Bride by Blur Studio character artist – and former Gnomon student – Angela Rico. The image, based on a concept by Peter Polach, is one of the images on show at the free 2019 Gnomon Student Gallery show.

Visitors to Hollywood's Gnomon Gallery this spring will have the chance to discover the CG industry's next generation of star artists at the 2019 Gnomon Student Gallery show.
The free exhibition, which runs from 16 February to 10 May 2019, brings together new artworks by recent students at leading international CG school Gnomon.
The best new student artwork by one of the world's leading CG schools
Voted the world's best school for both VFX and animation at last year's Rookies awards, and School of the Year at its predecessor, the CG Student Awards, Gnomon turns out some of the best artists in the industry.
The 2019 Gnomon Student Gallery show gives visitors a chance to experience the quality of the work for themselves, as well as find out more about Gnomon's full-time programs and individual courses.
Curated by school founder Alex Alvarez, the exhibition showcases the best work from recent Gnomon students, including traditional sculpture, VFX, animation and VR projects, as well as still images.
Opens on 16 February, then free to attend until 10 May 2019
The 2019 Gnomon Student Gallery show is free to the public, and runs at the Gnomon Gallery from 16 February to 10 May 2019. The gallery is open from 9am to 6pm Monday to Friday.
The opening reception for the show, which takes place from 8:00-10:30pm on Saturday 16 February 2019, is also free to attend, although you'll need to register online in advance.
Refreshments will be provided, and the event offers a chance to meet Gnomon students, alumni and staff.
Read more about the 2019 Gnomon Student Gallery show on the Gnomon Gallery website
(Includes directions to the venue)

Full disclosure: CG Channel is owned by Gnomon.
Tags: 2019 Gnomon Student Show, best animation school, best VFX school, CG art, exhibition, free, Gnomon, gnomon gallery, Rookies awards, show, student art work, world's best student CG art