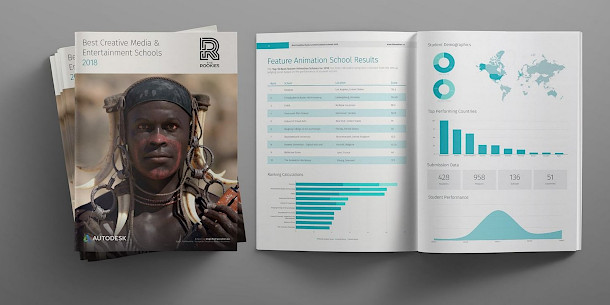 International student awards scheme The Rookies has released its 2018 rankings for the world's best CG schools, rating the performance of 580 schools in 87 countries.
The USA's Gnomon – School of VFX and Animation for Film and Games topped the Animation rankings for the second year running, also being rated the world's best school for visual effects.
Other category winners were unchanged from 2017, with Belgium's Howest leading in game development, the USA's SCAD in motion graphics, and Australia's CDW Studios and Flinders University in illustration.
One of the world's most comprehensive ranking schemes for CG schools
Since its foundation in 2009, The Rookies – formerly known as the CG Student Awards – has grown to become one of the world's largest and most prestigious awards schemes for young CG artists.
This year's awards attracted entries from 2,914 students worldwide, up 6% on last year.
Students' portfolios were judged by a panel of VFX, games and concept artists including illustrator and concept designer John Howe and Rob Coleman, Oscar-nominated head of animation at Animal Logic.
Individual entries were scored on seven creative and technical criteria, with the heaviest weighting assigned to employment potential, and a median score calculated for each school with at least four complete entries.
Further bonus points were awarded for each of a school's students reaching the list of finalists for a category.
"We feel that traditional school rankings [based on] peer and employer reviews and faculty-to-student ratio … are not adequate when ranking the best creative schools," said Rookies co-founder Andrew McDonald.
"This might work in an industry that follows a more-traditional career path. However, when it comes to technical and creative roles like visual effects, feature animation and games, it's a lot more complicated."
US school Gnomon was rated best in the world for both animation and visual effects in the 2018 rankings.

Gnomon rated world's best school for animation and visual effects
In four of the five categories, 2017's leading school retained its top spot: Gnomon for animation, Howest for game development, SCAD for motion graphics and CDW Studios and Flinders University for illustration.
The sole change was Gnomon, which displaced Germany's Filmakademie Baden-Württemberg as the world's leading school for visual effects.
By our count, 33 schools from North America, Europe, Asia and Australia reached at least one top ten, with the following 11 placing in more than one category. Asterisks indicate a school new to this list in 2018.
You can find a summary of the other winners via the link below, and download the full report – which also includes an explanation of the ranking methodology – by registering your email address.
Read full listings of the world's best CG schools in 2018 on The Rookies website

Full disclosure: CG Channel is owned by Gnomon – School of Visual Effects, Games and Animation.
Tags: 2018, Academy of Art University, animation, ArtFX, best CG schools, CDW Studios, digital illustration, Filmakademie Baden-Württemberg, Flinders University, game design, game development, Gnomon, Gnomon - School of VFX & Animation for Film & Games, Howest, international CG schools, motion graphics, Nanyang Polytechnic, New3dge, rankings, Ringling, Ringling College of Art and Design, Savannah College of Art and Design, SCAD, School of Visual Arts, SVA, The Rookies, The Rookies 2018, Think Tank Training Centre, Vancouver Film School, visual effects