3Dflow has released 3DF Zephyr 4.0, the latest version of its image-based modelling software, improving speed of processing, updating mesh decimation, and adding new camera calibration and preset managers.
The firm has also released a new product, FlowEngine: a C++ SDK based on its underlying technology.
Faster, more accurate geometry reconstruction
The main focus of the 4.0 release is the speed at with which geometry is generated: 3Dflow describes the Structure from Motion (SfM), Multi-view Stereo (Mvs) and meshing phases as all being faster.
In 3Dflow's own tests, SfM shows the largest consistent speed boost – anywhere between 20 and 80% – with MvS showing a smaller, but consistent, increase.
Meshing was most variable: on some data sets, times almost halved; on others, they actually increased.
In the before-and-after comparisons shown on 3DFlow's blog, the resulting geometry is also noticeably sharper and less noisy, particularly when using the new high-frequency gain option.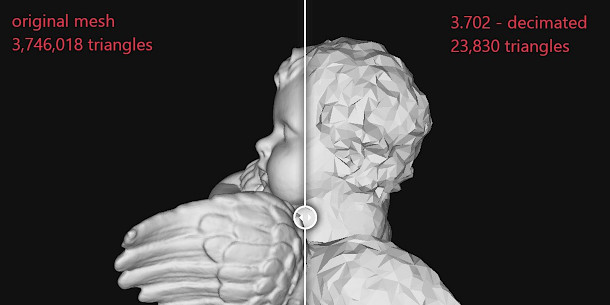 New mesh decimation and 'enhance mesh' algorithms
The release overhauls 3DF Zephyr's mesh decimation algorithm to preserve more detail from the high-resolution model when reducing a mesh to a target polygon count.
In addition, 3Dflow has introduced a new option, Enhance Mesh, that performs the operation in reverse, increasing geometry count to a user-specified level.
It's a post process, so it isn't recommended for projects on which absolute accuracy is required, and it sometimes just increases noise, but in some cases, the resulting 'fake' detail is quite noticeable.
New camera calibration and preset manager, plus new features for Aerial users
Other new features in version 4.0 include a camera calibration manager, which enables users to import calibration data corresponding to real-world cameras from 3Dflow's online database, or from an XML file.
Presets can also now be shared or downloaded from 3Dflow's server in the same way.
Users of the top-of-the-range Aerial edition of the software get two exclusive features: the option to generate a DTM (Digital Terrain Model) file, and to generate an orthophoto from unstructured point clouds.
There are also a number of smaller changes and improvements, including better 32-bit texture workflow, and support for all-quad meshes in OBJ or FBX format when exporting or re-importing meshes for texturing.
FlowEngine SDK now available as a separate commercial product
3DFlow has also released FlowEngine, its new C++ SDK aimed at developers who want to build photogrammetry capabilities into their own products.
It's priced on enquiry, although it looks as though the cost will be minimal for research work. It's available for Windows and Linux, and there is a free trial version, which processes up to 50 photos.
Pricing and availability
3DF Zephyr 4.0 itself is available for 64-bit Windows Vista and above.
The free version includes a basic range of tools, works with up to 50 source images or video frames, and runs on a single GPU; the $149 Lite edition supports up to 500 source images and two GPUs.
The higher-end editions, the $2,700 Pro edition and the $4,200 Aerial edition, support unlimited source images and multiple GPUs, and add a range of advanced features. See a comparison table here.
Read a full list of new features in 3DF Zephyr 4.0 on 3Dflow's blog
Tags: 3DF Zephyr, 3DF Zephyr 4, 3DF Zephyr 4.0, 3Dflow, aerial, benchmark, C#, camera calibration, decimation, densify, DTM, enhance mesh, FBX, FlowEngine, free, high-frequency gain, image based modeling, Lite, new features, OBJ, orthophoto, Photogrammetry, point cloud, preset, price, Pro, SDK