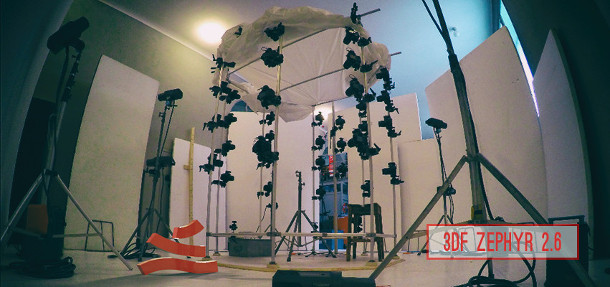 Originally posted on 27 June 2016. Scroll down for news of the 3DF Zephyr 2.7 update.
3Dflow has released 3DF Zephyr 2.6, the latest version of its image-based modelling software, adding new marker detection and batch-processing options, plus FBX export in the entertainment-focused Lite edition.
Aimed at architects and scientists as well as artists, the software reconstructs 3D geometry from a series of still photographs as textured 3D meshes or point clouds, along with the positions of the individual cameras.
New marker detection and export options
The main new features in version 2.6 are the new automatic marker and control point detection options available in the Pro and Aerial versions of the software, along with a new batch mode.
The Aerial version, which is intended for surveying and urban planning work, also gets a new profile tool in its DEM viewer; plus the option to generate contour lines on meshes.
New FBX export and UV import options in the Lite edition
For users of the Lite edition, intended for entertainment use, the main changes are the inclusion of features previously only available in more expensive editions of the software.
These include the option to import mesh UV data, and export files in FBX format.
All three versions of the software also get a new matches viewer tool and an X-Y axis alignment tool.
Updated 9 August 2016: 3DF Zephyr 2.7 is out. The update adds support for viewing point clouds, meshes and textured meshes directly inside the software, in a range of common file formats including OBJ and Collada.
There is also beta support for shooting with synchronised cameras – currently only Canon EOS DSLRs – along with a range of smaller new features including the option to extract frames from MOV files.
Pricing and availability
3DF Zephyr 2.7 is available for Windows Vista and above. The Aerial version costs $3,800; the Pro version costs $3,200; and the Lite version costs $199, all excluding VAT. See a comparison table here.
Read a full list of new features in 3DF Zephyr 2.7
Tags: 3DF Zephyr, 3DF Zephyr 2.6, 3DF Zephyr 2.7, 3Dflow, aerial, batch mode, batch processing, Canon EOS, contour lines, DEM, FBX, image-based modelling, Lite, marker detection, matches viewer, model viewer, new features, Photogrammetry, point cloud viewer, price, Pro, profile tool, synchronized shooting, UV import