Unity Technologies' highlights video for the entire Unity 2017 release cycle. Unity 2017.3, the final update in the cycle, primarily extends existing toolsets, including virtual cinematography and lightmap baking.

Unity Technologies has released Unity 2017.3, the next update to its game engine and development environment, and the final release in the Unity 2017 product cycle.
The update introduces a new Transform Tool, intended as a time-saving universal manipulator; and updates the Cinemachine virtual camera system, Progressive Lightmapper, video player and particle systems.
The release also coincides with that of OctaneRender for Unity, the new Unity edition of Otoy's GPU-based render engine, currently intended mainly for viewport rendering and offline rendering for cinematics.


New universal Transform Tool for speed of workflow
Compared to Unity 2017.1 or 2017.2, Unity 2017.3 is a smaller update, focusing mainly on extending existing feature sets rather than introducing new ones.
However, there is one entirely new feature: a new Transform Tool (shown above) intended as an all-in-one alternative to the individual Move, Rotate and Scale gizmos to speed up workflow.
It can be switched between global, local and screen-space modes, and has a range of snapping options.
New Cinemachine camera types mimic FPS and dolly cameras, and complex multi-camera rigs
Cinemachine, the virtual camera system introduced in 2017.1, gets quite a few new features, including first-person-shooter and dolly cameras, and a new 'MixingCamera'.
The latter is intended to mimic complex camera rigs, and is capable of driving "a continuous blend of up to eight virtual cameras from Timeline or game logic".
The system also now supports version 2 of the post-processing stack, the free add-on that provides colour grading tools and effects like depth of field and motion blur, which is currently in beta.

New mixed lighting options when baking lightmaps
Progressive Lightmapper, the lightmap baking toolkit added in Unity 5.6, gets three new 'mixed lighting' modes – one shown in the video above.
The new modes make it possible to bake either the direct or indirect lighting contributions to an environment but have the rest of the illumination calculate in real time.
Other changes include support for lightmaps in the BC6H compressed HDR format on PCs and consoles, and the option to generate lighting for LOD objects using real-time light probes as well as baked lightmaps.
Import and play back 180-degree and 360-degree video on the Skybox to create instant VR experiences
The new video player introduced in Unity 5.6 also gets an update, with the option to import 180-degree or 360-degree videos created in other applications, and play them back on the Skybox to create VR apps.
Videos can be imported in equirectangular format or a range of cubemap layouts.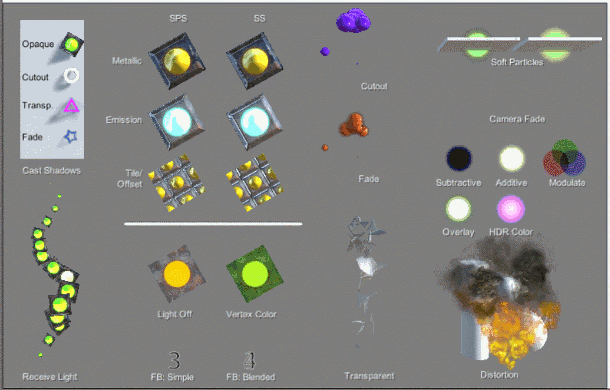 New particle shading system and cloth simulation options
New effects features include a new particle shading system, which makes it possible to create a range of more sophisticated effects, some of which are shown in the image above.
The particle Trails Module also gets a new Ribbon Mode, designed for effects like smoke trails.
Cloth simulation gets support for painting constraints onto the cloth manually, and more options for controlling collisions and self-collisions.
There are also the usual range of smaller features, performance improvements – notably to texture compression – and tools aimed at coders rather than artists. You can find a full list via the link below.
Pricing and availability
Unity 2017.3 is available for Windows 7+ and Mac OS X 10.9+ on a rental-only basis.
Free Personal subscriptions have a non-editable splash screen and can be used by anyone with revenue of up to $100,000/year; paid Plus and Pro plans cost $35/seat/month and $125/seat/month respectively.
Read more about the new features in Unity 2017.3 on Unity Technologies' blog
Tags: 180-degree video, baking, camera rig, Cinemachine, cloth simulation, dolly, first-person shooter, Gizmo, light probe, Lightmap, MixingCamera, new features, particle shading, particle system, particle trails, post-processing stack, price, Progressive Lightmapper, Ribbon Mode, Transform tool, Unity 2017 cycle, Unity 2017.3, Unity Technologies, video player. 360-degree video, virtual camera, virtual reality, VR