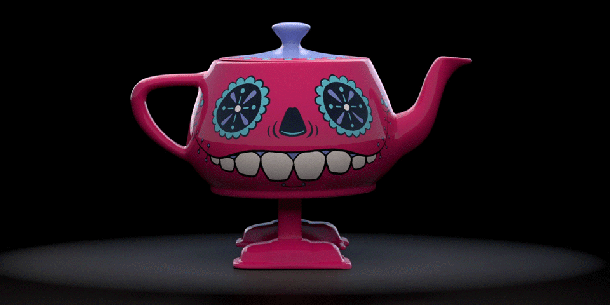 A 2017 promotional image for RenderMan. Pixar released version 21.5 of the renderer at Siggraph 2017, and also unveiled RenderMan 22 and new combined CPU/GPU rendering technology RenderMan XPU.

Not content with releasing RenderMan 21.5 at Siggraph 2017, Pixar also unveiled RenderMan 22 and RenderMan XPU: the next release of the renderer, and a work-in-progress technology.
The former is the next scheduled release of RenderMan, and will add a new live link between the renderer and compatible DCC applications, plus faster evaluation of shader networks.
The latter is a new "combined CPU and GPU solution", and will be rolled out after RenderMan 22.
RenderMan 22: live linking to compatible DCC applications
So far, Pixar hasn't posted a lot of information about the new features in RenderMan 22, but it has said that the release will feature "always-on" rendering in artist applications.
Any changes made to scene geometry, materials, lighting or cameras in a compatible application – currently, Maya, Katana, Houdini and Blender – will propagate to RenderMan in real time.
Pixar describes the system as delivering "incredible interactive frame rates" with the same renderer also used for batch renders.
Other features due in RenderMan 22 include "fast vectorized OSL shader network evaluation on Intel scalable-SIMD CPUs".
RenderMan XPU: new combined CPU and GPU rendering solution
There's even less information on RenderMan XPU, beyond the fact that it's a "combined CPU and GPU solution [that] renders on both CPUs and GPUs concurrently, taking full advantage of workstation resources".
However, the fact that Pixar feels that XPU is close enough to release to talk about at all is interesting.
Of RenderMan's main rivals, Arnold is still purely CPU-based, its much-anticipated GPU support having failed to materialise in Arnold 5 this year; while Redshift is GPU-based, and takes little advantage of the CPU.
V-Ray does have a new hybrid CPU/GPU rendering system, rolled out in V-Ray 3.6 for 3ds Max earlier this year, but it's only for the V-Ray RT interactive renderer, not the production renderer.
If Pixar can be first to release a hybrid solution that works on typical final-quality renders, it would be an important boost for RenderMan: a product that has had much of its thunder stolen by its rivals in recent years.
Pricing and availability
Pixar hasn't announced release dates or pricing for either RenderMan 22 or RenderMan XPU yet.
If the company had followed its usual schedule, RenderMan 22 would have come out last month instead of RenderMan 21.5, so we imagine it isn't too far away. RenderMan XPU is "scheduled after RenderMan 22".
The current release, RenderMan 21.5, is is available for 64-bit Windows 7+, Mac OS X 10.9+ and Linux glibc 2.12 or higher and gcc 4.4.5 and higher. New licences cost $495.
Read (a little) more about RenderMan 22 and RenderMan XPU on the product blog
Tags: always-on rendering, Arnold, CPU, GPU, GPU-based, hybrid rendering, live link, new features, Pixar. RenderMan, price, production renderer, Redshift, release date, renderer, rendering, RenderMan 21.5, RenderMan 22, RenderMan XPU, Siggraph 2017, V-Ray