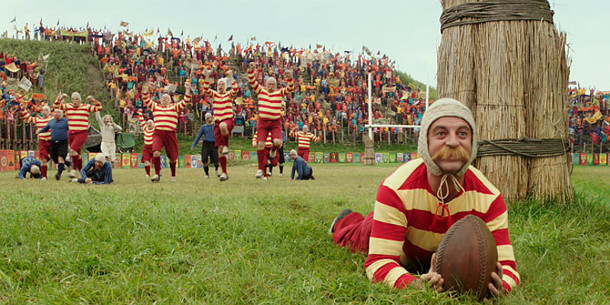 It's a try: Golaem has just released a new Personal Learning Edition of its eponymous crowd simulation system, enabling students and freelancers to learn the software at their own pace. Image: Mikros Image.

Golaem has released a Personal Learning Edition of Golaem, its crowd animation system for Maya, enabling students and freelancers to learn the software for free.
The PLE, which replaces the old time-limited demo of the software, has all of the features of the commercial edition, but applies what Golaem describes as a 'shading watermark' to renders.
In use at over 200 visual effects studios worldwide
First released in 2011, at which point it was known as Golaem Crowd, Golaem is now an industry-standard solution for visual effects, in use at over 200 studios worldwide.
They include some of the world's largest VFX houses, including Framestore, Double Negative and Cinesite.
New PLE edition is time-unlimited, but shades some crowd characters orange
Previously, the only legal way to learn the software – unless you studied at a school that taught it – was to download a time-limited evaluation licence and try to pick things up before the licence timed out.
Golaem has now replaced the eval licence with the Personal Learning Edition, which is feature- and time-unrestricted, although it has the simulation equivalent of a watermark on renders: when rendered, some characters are shaded orange, and when exporting geometry, some polygons are removed.
The firm describes this as the "least annoying" thing it could do to prevent commercial use of the PLE.
As well as making it possible to learn Golaem at your own pace, the new PLE should make it possible to do work that doesn't require rendering: for TDs to work on shots remotely, for example.
Universities can also apply for a free academic licence, which doesn't watermark renders.
Now also supports Redshift as well as other key production renderers
In other news, Golaem has just added support for Redshift, Redshift Rendering Technologies' GPU-based production renderer. You can find full details here.
Golaem also currently supports most other render engines used in commercial VFX production, including Arnold, V-Ray, RenderMan, 3Delight, Guerilla Render and mental ray.
Pricing and availability
Golaem PLE is available now for Maya 2014 and above, running on 64-bit Windows or Linux. It's free to download, but you'll need to fill out a registration form on Golaem's website first.
The current commercial release of the software, Golaem 5.0, costs $9,000 for a perpetual floating licence; while rental starts at $850/month.

Read more about the free Golaem Personal Learning Edition on Golaem's blog
Tags: 3Delight, Arnold, crowd animation, crowd simulation, educational, free, Golaem, Golaem 5, Golaem Crowd, Guerilla Render, Maya, mental ray, non-commercial, Personal Learning Edition, PLE, plugin, Redshift, RenderMan, V-Ray, watermarked