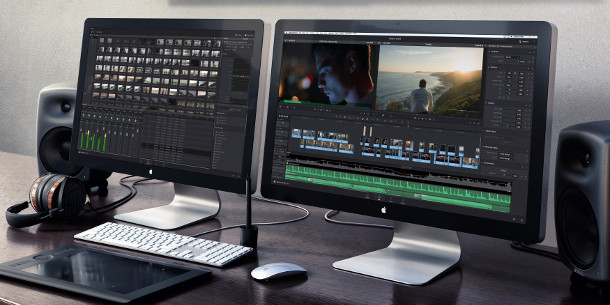 Originally posted on 13 August 2016. Scroll down for news of the 12.5.4 update.
Blackmagic Design has released DaVinci Resolve 12.5.1, the latest update to its colour correction and editing software, extending the ResolveFX effects framework and adding support for ProRes decoding on Windows.
New GPU-accelerated effects
The free update rounds out some of the feature sets introduced in DaVinci Resolve 12.5: notably ResolveFX, the software's new GPU-accelerated framework for effects, and colour and gamma transformations.
The 12.5.1 release adds two new effects, Generate Color and Tilt-shift Blur; while "many [existing effects get] additional parameters and controls … giving customers even more creative options".
Native ProRes decoding on Windows; improved H.264 and H.265 support
Outside of ResolveFX, the biggest changes are to video decoding and playback.
DaVinci Resolve 12.5.1 now supports ProRes decoding on Windows, meaning that users no longer require the now-deprecated QuickTime 7. It also now uses its own native 64-bit code to read and write .mov files.
Windows users also get support for UHD-resolution renders of H.264 files, while Linux users get decode support for the newer H.265 (HEVC) video compression standard.
Updates to editing and colour-correction tools
The software's existing editing and color correction toolsets get several new features and improvements.
Those to the editing toolset are probably the most significant, including the option to select clips based on flag, marker or clip colours on the timeline; and to import and export duration markers in EDLs.
Extended stereo workflows for users of the Studio edition
Finally, if you're using the $995 Studio edition of the software, the stereoscopic toolset has been extended.
Users can now convert a mono clip or timeline into stereoscopic 3D, and can create separate left and right-eye colour grades for the timeline node graph.
Resolve also now supports sequence and node render caching for stereo clips and timelines; and users can create stereo clips from mismatched source resolution files to compare low and hi-res versions of shots.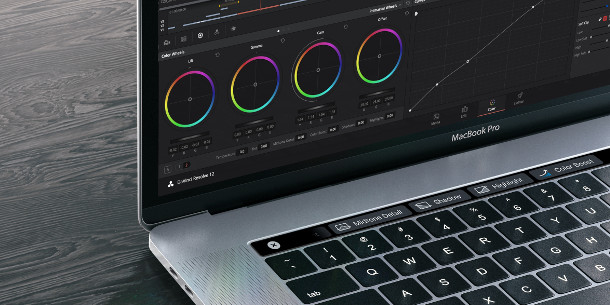 Updated 14 December 2016: Blackmagic Design has released Da Vinci Resolve 12.5.4.
The new update adds support for the Touch Bar on Apple's latest MacBook Pros, which automatically updates to show tools related to the task being performed, like an in-software marking menu.
Aside from that, the update primarily extends the range of video formats supported: notably the Rec. 2100 standard for HDR UHDTV footage when using DaVinci Resolve Color Management.
Other changes include support for Grass Valley's HQ and HQX codecs; better support for CR2 files from Canon EOS 5D Mark IV cameras; and preservation of super-white and sub-black data in ProRes 4444.
The update also improves grading and playback performance when working with "large node graphs".

Pricing and availability
DaVinci Resolve is available as a free edition, which is limited to UHD resolution when rendering projects, and which lacks some advanced tools; and as the full DaVinci Resolve Studio, which costs $995.
The free edition is available for Windows and Mac OS X, while DaVinci Resolve Studio is also available for Linux. The 12.5.4 update is free to registered users.

Read a full list of new features in DaVinci Resolve 12.5.4
Download the free edition of DaVinci Resolve 12.5.4
Tags: Blackmagic Design, codec, color correction, color grading, CR2, DaVinci Resolve, DaVinci Resolve 12.5.1, DaVinci Resolve 12.5.4, decoding, editing, effects, free, GPU-accelerated, HDR, HQ, HQX, MacBook Pro, MOV, MP3, new features, playback, price, ProRes, ProRes 4444, Rec. 2100, Resolve, Resolve 12.5.1, ResolveFX, stereo, stereoscopic, studio, Touch Bar, UHDTV, update, Windows