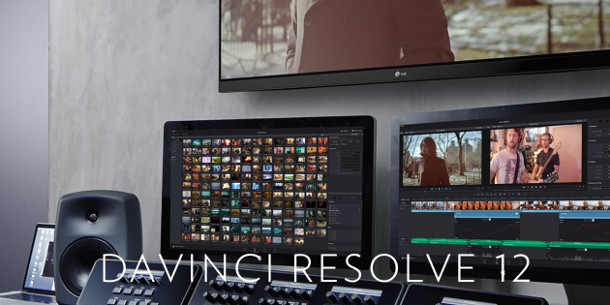 Blackmagic Design has released a public beta of DaVinci Resolve 12, the latest version of its colour correction software – and more recently, non-linear editing system.
The firm has also rebranded the Resolve product line-up, with the free Lite edition of the software becoming plain DaVinci Resolve, and the commercial edition becoming DaVinci Resolve Studio.
More rounded editing tools, extra grading power
First announced at NAB 2015, Resolve 12 fleshes out the editing toolset introduced in version 11, and extends the core colour grading functionality.
Below, you can read the brief summary of the new features from Blackmagic Design's news release; or you can read about them in more detail in our original story from NAB.
Enhancements to core editing tools such as all trim modes, multi-slip, slide, and ripple and role.
Editors can now select multiple points for dynamic trimming and asymmetric trimming of clips, even if they're on the same track
A new multi-camera editing feature that lets editors cut programs from multiple sources in real time. This includes the ability to automatically synchronise different clips and camera angles together based on timecode, any given in/out points, or sound
Timelines can now be nested, edited together, and expanded or collapsed in place to greatly simplify the editing of large, multi-scene projects
New transition curves to let editors create and edit custom curves for transition parameters
New on-screen controls to see and adjust motion paths directly in the timeline viewer for more intuitive animation of titles, graphics, video layers, and more
Big updates to core grading and colour correction tools for colourists, including an easier to use curves interface, automatic colour analysis and matching between two or more clips, an incredibly accurate 3D perspective tracker, and a new 3D keyer with improved matte finesse options
Custom smart filters for a faster colour grading set-up across projects
New tools to ripple grades across multiple clips and flatten pre and post-group grades into a clip's individual grade
An entirely new high performance audio engine that offers higher sampling rates and greatly improved realtime audio playback performance
In addition, Blackmagic has announced a couple of new features not announced at NAB, including support for Intel's Iris and Iris Pro embedded graphics, making the software usable on a wider range of laptops.
There is also a new Smooth Cut transition to morph between frames in interview footage in the same way as Premiere Pro CC 2015's Morph Cut, avoiding the need to cover jump cuts with B-roll.
Pricing and availability
DaVinci Resolve 12 is available now in beta. The free edition, now renamed DaVinci Resolve, is available for Windows and Mac OS X; the $995 edition, renamed DaVinci Resolve Studio, is now also available for Linux.
The free edition contains most of the toolsets from the paid version, including the new features in version 12, but is limited to UHD resolution when rendering projects.
Read a full list of features in DaVinci Resolve 12 and DaVinci Resolve 12 Studio
(Includes download link for Resolve 12)
Tags: beta, Blackmagic Design, color correction, color grading, comparison, DaVinci Resolve, DaVinci Resolve 12, editing, Linux, Lite, new features, price, Smooth Cut, studio