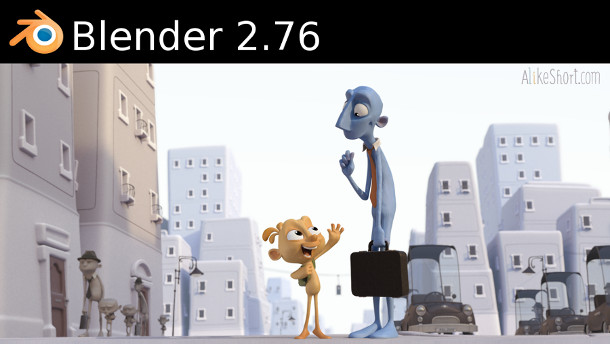 Originally posted on 21 September 2015. Scroll down for details of the final release.
The Blender Foundation has posted the first release candidate for Blender 2.76, the latest update to the open-source 3D tool, adding support for OpenSubdiv and improving viewport performance.
Initial support for OpenSubdiv, but still some issues to resolve
The headline feature this time round is initial support for OpenSubdiv, Pixar's set of open-source libraries for GPU-accelerated evaluation of subdivision surfaces.
The release notes describe the work as being aimed at "making viewport animation of hi-res characters more real-time, helping animators to see a final result [at a higher frame rate]".
The integration was originally demoed last year, at which point it was planned for Blender 2.72, and there are still quite a few issues to be ironed out.
These include lack of support for UV maps in the viewport display, and a number of tools not working on OpenSubdiv meshes. In addition, smooth normals are incorrect: a "high priority" for future development.
You'll also need to be running Blender in Windows or Linux on a Nvidia GPU if you want the full experience: there's currently no OS X support, Intel cards are disabled, and some features are disabled on AMD hardware.
You can read a discussion of the underlying technical issues, along with a more detailed description of the OpenSubdiv feature set in the online documentation.
Better support for AMD GPUs in Cycles, better viewport performance
However, cross-platform support has been improved in the Cycles render engine, which now runs on AMD GPUs on Macs for the first time, at least if you're using OS X El Capitan, due for public release this month.
Support for AMD GPUs under Windows and Linux, reinstated in Blender 2.75, has been further improved. In addition, the Viewport 2.0-style viewport display introduced in Blender 2.74 gets a "huge" performance boost.
New animation and modelling tools, new workflow boosters
The animation and modelling toolsets also get updates, including support for bone selection groups in the former, and new Flatten Faces and Edge Offset tools in the latter.
The sequencer gets a new text effect that can be exported as subtitles; and the node editor gets an Auto-Offset feature (above), which automatically respaces existing nodes when you drop a new node into a network.
Updated 12 October: Blender 2.76 has now been released officially. As well as those mentioned above, new features include absolute grid snapping in the 3D view, and the option to use tiled strokes when sculpting.
Blender is available for Windows, Linux and Mac OS X.
Read a full list of new features in Blender 2.76 in the online documentation
Tags: AMD GPUs, AMD support, Auto Paint, Blender, Blender 2.76, Blender Foundation, bone selection groups, Cycles, edge offset, flatten faces, GPU-accelerated, new features, Node Editor, OpenSubDiv, RC1, real time, release candidate, Sequencer, subdivision, viewport performance