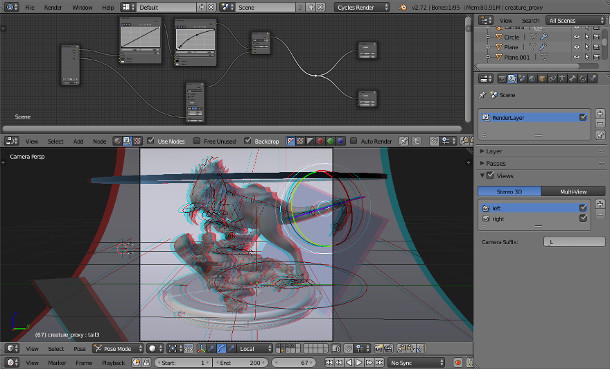 Originally posted on 26 May 2015. Scroll down for news of the official release.
The Blender Foundation has released a test build of Blender 2.75, a "massive" new update to the open-source 3D package, adding new stereoscopic rendering options and support for AMD GPUs in the Cycles renderer.
New stereoscopic and multi-view rendering
The largest new feature set in Blender 2.75 looks to be support for stereoscopic and multi-view rendering.
The toolset includes standard controls like interocular distance, convergence distance and convergence mode; and outputs in anaglyph, interlaced, time-sequential and side-by-side formats.
The new functionality is integrated with Blender's built-in compositor.
Cycles now supports AMD GPUs properly
In addition, Cycles, Blender's GPU-accelerated physically based renderer, now supports AMD GPUs properly, thanks to improved support for OpenCL as well as CUDA.
The OpenCL Cycles kernel has been split into smaller parts, which improves performance and stability, although some key features – notably, motion blur, SSS and volumetrics – aren't yet implemented.
New Delta Mush system, improved viewport display
Another interesting addition to Blender 2.75 is the new Corrective Smooth modifier: an implementation of Rhythm & Hues' Delta Mush system, recently also incorporated into Maya 2016.
The online documentation is still a work in progress, but Delta Mush systems enable software to smooth arbitrary deformation on a mesh without losing the detail of the model: for example, to fix rigging artefacts.
In addition, the more realistic Viewport-2.0-style viewport display introduced in Blender 2.74 has been updated to improve the depth of field effects.
Other new features include an improved Decimate modifier, support for symmetrical projection painting, and updates to the animation system and game engine.
Updated 1 July: Blender 2.75 has now been released officially for Windows, Linux and Mac OS X.
As well as the features listed in our original story, the release adds the option to preview fonts in the file browser; and a new Use Placeholder option in the camera sequencer to automatically replace missing frames in clips.
Read a full list of new features in Blender 2.75
Tags: AMD, Blender, Blender 2.75, Blender Foundation, compositing, Corrective Smooth, Cycles, Delta Mush, download, free, GPU-accelerated, Multi View, new features, open source, OpenCL, painting, rendering, retopology, stereo, stereoscopic, symmetry