3D capture developer BlueVishnu has launched a novel crowdfunding campaign to take its xxArray full-body capture system on a tour of 14 US cities.
Anyone backing the campaign and turning up at one of the live scanning sessions will be able to get a "cinema-quality" 3D scan of themselves, complete with LODs and texture maps.
So what is xxArray?
A "Michelin-Man-shaped array" of 90 Nikon D5200 and D5300 cameras, the xxArray captures an actor's full body in what BlueVishnu CEO Alexx Henry describes as a "relaxed T-pose".
Capture takes 1/100 sec, with the geometry being reconstructed photogrammetrically.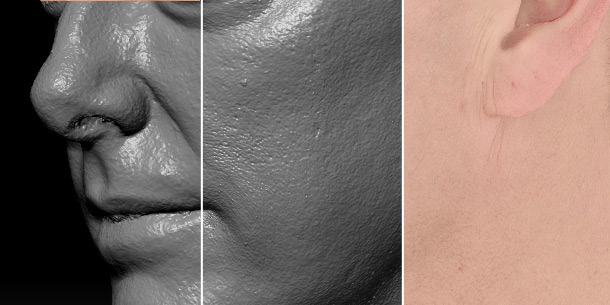 xxArray's output. Left to right: raw scan data, scan data with high-frequency displacement, flat RGB textures.
BlueVishnu hasn't provided an exact figure for capture accuracy, but Henry describes resolution as "sub-millimetre" for an actor's face; slightly lower for the rest of the body.
The multi-million-polygon base capture geometry can then be decimated to level of detail assets – typically 500,000 polygons and 2-4,000 polygons – sharing common UV space.
The system captures diffuse textures simultaneously, also at very high resolution – up to 128K for VR work.
Where can I see the results?
So far, the best public demonstrations of xxArray's capabilities is Rise, Nurulize's impressive recent VR demo, which runs at 4K in Unreal Engine 4, and can be viewed on an Oculus Rift DK2 headset.
As well as offering a bespoke capture service to VFX studios and AAA game developers, BlueVishnu hopes to market the xxArray to the traditionally lower-resolution world of WebGL applications.
Henry recently collaborated with Verold Studio to produce an interactive wake screen for Amazon's Kindle Fire HDX based on teen sci-fi movie Earth to Echo, including 3D scans of the cast.
"3D capture isn't on the radar for these companies, but there's so much benefit even for WebGL," he says.
Try it for yourself
You can now put that claim to the test – at least, if you live in one of the 14 major cities BlueVishnu hopes to visit on its crowdfunded US tour, and can attend your local scanning session.
A pledge of $99 will get you a full-body 3D scan of yourself as a WebGL avatar, with the option to pay more for a 3D printed bust or figurine, in poses ranging from 'bookend' to 'kung fu master'.
Anyone interested in using the data professionally can opt for a bespoke scan, which costs from $159.
A further $195 gets you access to a developer's kit including the 3D model, LODs and texture maps for use under a Creative Commons Non-Commercial licence. Commercial use licences are available on request.
If BlueVishnu hits its $100,000 funding target, the tour should kick off in Chicago on 11-12 September and end in Los Angeles on 7-8 November.
Read more about the xxArray US tour on its Kickstarter campaign page
Tags: 3D capture, 3D scanning, Alexx Henry, BlueVishnu, crowdfunding, Earth to Echo, facial, full body, game development, Kickstarter, Nurulize, Photogrammetry, Rise, Verold Studio, visual effects, VR, WebGL, xxArray