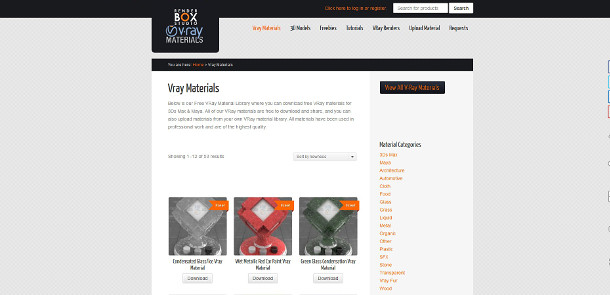 Originally posted on 8 April. Scroll down for updates.
UK design and visualisation firm RenderBox Studio has launched a new Freebies section on its website, including a collection of over 50 free Maya, 3ds Max and V-Ray materials.
The files are split into standard thematic categories (architecture, automotive, cloth, organic, and so on), and come with preview renders.
Bonus models and texture packs
In addition, there are a few other oddments, including ten displacement maps for water drops, a set of eight leather textures, and even a model of a Star Wars clone trooper's helmet.
RenderBox says that it aims to update the collection regularly, and plans to release free model and HDRI sky packs in future. You can donate to support the project, or upload materials of your own to give away.
Updated 21 July: Since our original story, RenderBox Studio has expanded the site to 85 free V-Ray materials.
The new content includes five pearlescent car paint materials based on TVR factory colours, and six show car paint materials. You can find both sets in the Automotive section of the site.
Download the free materials from RenderBox Studio's website
Tags: 3ds max, automotive, car paint, download, free, materials, Maya, models, RenderBox Studio, textures, V-Ray