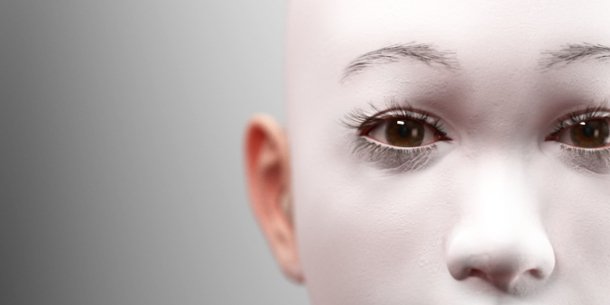 Thomas Marqué's Geisha project, created with an earlier version of MakeHuman. The veteran open-source character-generation tool has just reached a milestone stable 1.0.0 release.
Now that johnnies-come-lately like Autodesk Character Generator and Mixamo's Fuse have had their turn in the spotlight, it's time to check out another, older free character generator.
Veteran open-source character-creation tool MakeHuman has just reached a milestone stable 1.0.0 release.
Improved base mesh, more morph controls
In development for over a decade, MakeHuman enables users to generate characters of custom age, gender, build and ethnicity and export them as OBJs, Collada files or in a custom format designed for use with Blender.
Characters can be customised via a fairly standard slider-based interface. According to the handy infographic on the development team's blog, there are now 1,170 separate morph controls.
Although the output of early versions of the software could be variable, over the past couple of years, the base mesh has been revised to contain only quads, and to adjust edge loops for animation.
According to the blog, the mesh is now optmised for "subdivision surface [work] … Mudbox and ZBrush".
Once created, a character can be further detailed via the new libraries of "high-quality assets such as very realistic polygonal hair, teeth, eyes and skins" and a set of ready-made clothing assets.
And since content created with MakeHuman is licensed under a CC Zero licence, it can be used commercially, including in closed-source games.
Download it now
MakeHuman 1.0.0 is available for Windows, Linux and Mac OS X. There are separate downloads for the Blender tools and MakeTarget, a standalone app for creating morph target libraries for the software.

Read more about MakeHuman 1.0.0 on the MakeHuman blog
Tags: Autodesk Character Generator, Blender, character creation, character generation, clothing, Collada, Featured Articles, free, Fuse, hair, licensing, MakeHuman, MakeHuman 1.0.0, Mixamo, Mudbox, OBJ, open source, stable, stock character, textures, ZBrush